Use These 5 Laundry Hacks To Save Money on Your Next Utility Bill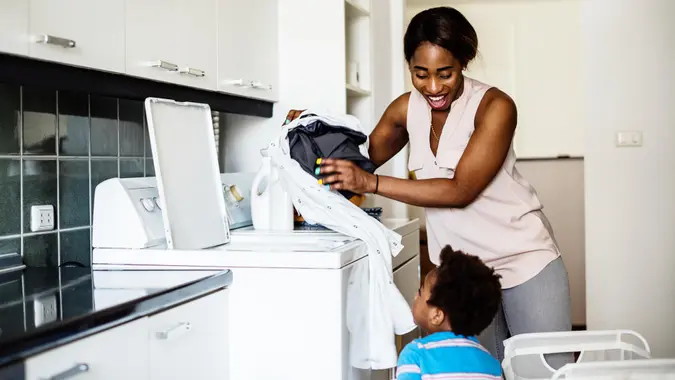 Rawpixel / Getty Images/iStockphoto
Electricity bills have become a huge financial burden for many Americans. A recent GOBankingRates survey found that 44% of Americans have struggled to pay their utility bills in the past six to 12 months, with 36% saying that their electricity bill, in particular, has been difficult to keep up with.
Among the costliest appliances in your home are you washing machine and your dryer, with a combined cost of doing laundry adding up to more than $115 a year for the electricity alone for many households, according to IGS Energy.
If you're looking for ways to cut down on the energy costs of doing laundry, consider implementing these tips.
Wash All Your Clothes in Cold Water
Washing your lights in warm water could be hiking up your electricity bill.
"In general, the washing machine is a very efficient appliance. What costs a lot of money is heating the water that goes into the washing machine," said Cyndi Bray, inventor of Wad-Free and household energy savings expert.
Bray recommends always opting for cold water instead of warm or hot water when washing your clothes.
Make Your Money Work for You
"A lot of people were raised with washing in [warm] water, but a lot of the detergent that's on the market these days is actually formulated to work best in cold water," she said. "Not only that, when you use cold water, fabric lasts a lot longer."
Put Your Dryer on a Lower Heat Setting
You might think that cranking the heat up on your dryer is the most efficient way to dry your clothes, but this can actually end up costing you more.
"The clothes dryer is one of the [most] inefficient appliances in the household," Bray said. "Even the Energy Star dryers on the market use a lot more energy than you would think, so I recommend turning the temperature in the dryer down to the lowest setting you have. Even if you have to run the dryer for a longer period of time, you save a lot of energy over running it on high."
In addition to saving on your utilities, using a lower heat setting can help your clothes and sheets last longer.
Make Your Money Work for You
"All of the fibers in the fabric are going to be a lot happier," Bray said. "They're going to last longer, they're not going to fade as much, you're not going to get as much overdrying, which also results in things like static cling and harsh wrinkles. So again, it's a win-win."
Do Multiple Loads on a Single Day
You might be inclined to spread out your laundry loads over a number of days, but this is not energy efficient.
"Have a laundry day, when you do one load consecutively after another," Bray said. "You're going to realize the savings in the dryer because you're going to recycle the air in the dryer again and again, and you're not going to have to reheat the air in the dryer. That's going to make your laundry more efficient."
Only Run Full Loads
When you have the convenience of your own washer and dryer, it's easy to just throw a couple of items in that you want to clean ASAP. But this is a waste of energy — and therefore money.
Make Your Money Work for You
"Doing laundry is a lot like running a dishwasher," Bray said. "I recommend doing full loads. You never want to overstuff the washer or the dryer, but running them at capacity instead of just doing a couple of items here and there will save a lot of energy."
In addition, you'll also use less water and less detergent.
Prevent Sheets and Blankets From Wadding Up
It's a common occurrence when washing sheets, blankets and duvet covers that these pieces will ball up, trapping other pieces of laundry and preventing them from getting clean or getting dry.
"You have to take it out, unravel it and run the dryer again and again because the sheets aren't dry," Bray said.
Bray invented a solution to this problem, a product called Wad-Free.
"It prevents your sheets from twisting and tangling and balling up, so they come out cleaner," Bray said. "[Your laundry will also] dry up to 75% faster with fewer wrinkles. So you save time, you save money and you save a whole lot of energy when you're doing your bedding."
Make Your Money Work for You
Survey methodology: GOBankingRates surveyed 1,091 Americans ages 18 and older from across the country between Aug. 14 and Aug. 16, 2023, asking 20 different questions: (1) Have you had trouble paying your utility bills (gas, electric, heat, internet, etc.) in the last six to 12 months?; (2) Which of the following bills/expenses has been the hardest to keep up with over the past year?; (3) Have you bought a car/truck in the last six to 12 months?; (4) Have you ever been on food stamps?; (5) Have you or would you use artificial intelligence (AI) to earn a passive income?; (6) Where do you shop for the best deals on groceries?; (7) What is your current annual income?; (8) How much were you able to contribute to your savings this year?; (9) How much have your savings/investments decreased over the past year?; (10) Next year's (2024) Social Security Cost of Living Adjustment (COLA) will be 3% instead of the 8.7% it saw in 2023. Will this affect you?; (11) What assets do you have in your retirement portfolio? (Select all that apply.); (12) How much money do you currently have saved for retirement?; (13) How much personal savings do you currently have?; (14) What's the first step you would take if you were starting a small business?; (15) If given the choice between your current job and starting your own business, which would you choose?; (16) If you have any plans to start a small business, what is the timeline?; (17) How much do you currently spend on rent?; (18) How much do you currently pay monthly on your mortgage?; (19) How much has your housing (rent, mortgage, etc.) gone up over the past year?; and (20) How long do you believe it will take you to save, in order to buy a house? GOBankingRates used PureSpectrum's survey platform to conduct the poll.
More From GOBankingRates