5 Programs That Can Help You Pay Your Electricity Bills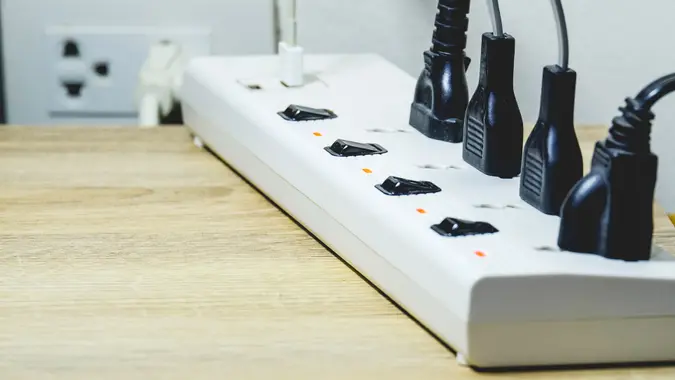 Supattra Mongkolsahakul / Shutterstock.com
Electricity is essential, but it isn't cheap. If you're having trouble paying your bill, you're not alone.
Over the past six to 12 months, 44% of people have had trouble paying a utility bill, according to a recent GOBankingRates survey. Specifically, 36% of respondents said they have been having the most trouble keeping up with their electric bills.
As of 2022, the average residential electric bill in the U.S. was $137 per month, according to the U.S. Energy Information Administration. The average residential gas bill is about $63 per month.
You can't reasonably live without electricity, so this is a bill you can't avoid. However, there are several programs that can help you pay your bill or make it more affordable.
Taking advantage of these initiatives can relieve the stress associated with having trouble paying your electric bill, while simultaneously maintaining a comfortable home. Keep reading to learn more about these programs, so you can take action.
Also, unplug these appliances that hike up your bill.
Low Income Home Energy Assistance Program
"The Low Income Home Energy Assistance Program helps individuals in every state afford their utility bills," said Annette Harris, accredited financial counselor and owner of Harris Financial Coaching. "LIHEAP helps individuals receiving state aid to heat and cool their homes."
Make Your Money Work for You
She said eligibility is income based and those at or below the poverty level are prioritized.
"In addition to providing assistance for paying utility bills, it helps families repair their heating or air conditioner units," she said. "Heating and cooling repairs can be expensive, and many individuals go without making the necessary repairs due to a lack of funds."
Beyond that, she said, LIHEAP provides valuable educational resources that can help you effectively manage your utility bills.
"Through this program, households can gain access to a variety of helpful tools and information designed to help them conserve energy, reduce costs and maintain a safe and comfortable living environment," she said. "LIHEAP is an essential source of support for families in need."
Weatherization Assistance Program
If your home isn't properly protected from the elements, Kerry Sherin, consumer advocate and CFO at Ownerly, recommended applying to be part of the Weatherization Assistance Program.
"[It] can lower energy expenses for low-income households by boosting home energy efficiency, while protecting their health and safety," she said.
Eligibility for this government-sponsored program is limited to individuals at or below 200% of the federal poverty level. The elderly, disabled individuals, families with children and high-energy users receive funding priority.
Make Your Money Work for You
If you're selected, an onsite energy audit will be conducted at your home to determine the most cost-effective ways to reduce energy. A variety of weatherization services may be provided, such as sealing air leaks, installing insulation and repairing or updating your heating system.
Each year, this program provides services to approximately 35,000 homes, according to the Department of Energy. The weatherization improvements and upgrades save households an average of $372 or more per year.
Energy Audit
If you don't qualify for WAP, conducting an energy audit is still a good idea.
"An energy audit can help you identify how much energy your home consumes and what you can do to make it more efficient," Sherin said. "Many energy providers offer this service for free."
This might be available free of charge through your electricity provider. For example, FirstEnergy offers this complimentary service to Pennsylvania customers.
You also could opt for the two free federally sponsored tools that measure your energy use — Home Energy Yardstick and Energy Star Home Advisor. The former measures your home's annual energy usage compared with similar homes, while the latter allows you to create a customized home profile, receive recommendations and monitor your progress toward greater energy efficiency.
Make Your Money Work for You
Sign Up for OhmConnect
"Residents in California, New York and Texas can join OhmConnect for free and receive a text message during an OhmHour — a time when the electrical grid is stressed and their utility is about to switch to dirty fossil-fuel power," said Cisco DeVries, CEO of OhmConnect, a California-based clean energy program that pays residents to reduce their energy consumption when the grid is stressed.
If it sounds too simple, it's not. If you're willing to power down during OhmHour, you'll be rewarded with cash and prizes, DeVries said.
For example, a family in Bakersfield, California, earned $1,200 in three months with the program and a family in Fresno, California, received $150 in 45 days, while simultaneously bringing their Pacific Gas and Electric Company bill down from $1,000 to $150 per month, DeVries said.
"So unplug that computer and leave the laundry for an hour while you have a family game night outside with the kids," he said. "Not only will you save money on your energy bill, you'll save the planet and you'll be rewarded while making memories with your kids."
Make Your Money Work for You
An all-around win, you'll get to enjoy bonus time with your family while also saving money.
Seek Out Local Resources
It's possible your electric provider, local municipality or state offers assistance programs to help pay your bill.
For example, Florida has an Emergency Home Energy Assistance for the Elderly (EHEAP) program that helps low-income households with at least one resident age 60 or older. Households must be experiencing a home energy emergency and can receive this type of financial assistance up to two times per year.
Additionally, the Pennsylvania Public Utility Commission has customer assistance programs that help low-income residential customers keep their utilities on. The company will work with you to establish an amount you can afford to pay, based on your household income.
Struggling to afford electricity can be very stressful, but you have options. If you're unable to pay your bill, hopefully you'll be able to use at least one of the resources above to get the financial assistance you need.
Make Your Money Work for You
More From GOBankingRates