Suze Orman: Why You Need an Inventory of Everything Valuable in Your Home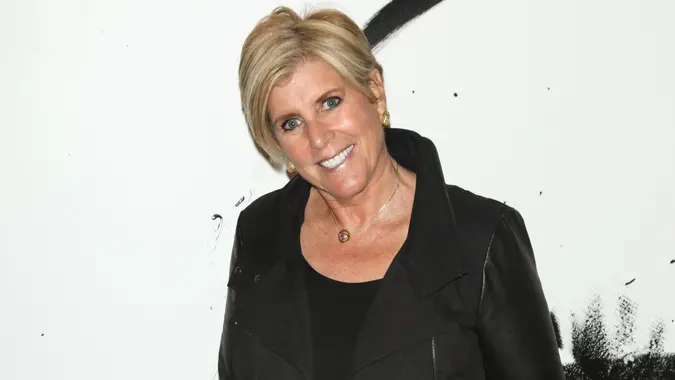 Mediapunch / Shutterstock.com
Former financial advisor, bestselling author and podcast host, Suze Orman, has a wealth of personal finance advice, including how to protect your valuable personal possessions.
In a recent episode of her Women & Money podcast, Orman stressed the importance of having a complete inventory of all your valuables in case of unexpected disasters. She outlined several key reasons you need a detailed list with photos for insurance and peace of mind.
Be Prepared for Sudden Disasters
Orman emphasized that with natural disasters, fires, floods and other catastrophes happening more frequently, you need to be prepared for the unexpected:
"We are living in a time and a place where anything can happen at any time. It upsets me greatly the war that's going on in Ukraine. I can't even believe that it's still going on. I look at the devastation there, and I think about all the people there — especially Kyiv — because you have to remember my father was from there."
Orman also brought up that disaster can strike suddenly, as it did in Maui, where a flood wiped out an entire town in minutes. She said, "So I really want to stress that all of you think about that, and if something were to happen like that, what would you do?"
Make Your Money Work for You
Have Essential Documents on Hand
A key part of preparation is having copies of your essential documents so you can access them if the originals are destroyed. 
"Do people who don't live with you have copies of them?" she asked. "Do they have copies of everything that you want to have a copy of — your marriage certificate, pictures that you want? Because it is possible that other people can hold very valuable things for you that don't live anywhere near where you live." 
She suggested keeping things like birth certificates, insurance policies and cherished photos in the cloud or with a trusted person far away so you can retrieve copies if necessary.
Inventory Possessions for Insurance Claims
Orman explained that having a detailed list of your possessions is crucial for filing complete insurance claims if your home is destroyed. 
"Can you really remember every single thing that is in your home?" Orman asked her audience. Orman said she did a program called the Insurance Evaluator, which includes a home inventory tracker. She is planning to find out if she can put the home inventory tracker on her Women & Community app, so her audience will be able to use it to go room by room in their homes and take pictures of their personal possessions and record their values.
Without an inventory, you won't be able to fully claim possessions you forget about. Orman recounted stories of fire survivors who were heartbroken over irreplaceable items they couldn't claim because they lacked records.
Save Precious Memories and Mementos
A home inventory also ensures you have photos of precious irreplaceable mementos and heirlooms that have sentimental value beyond their monetary worth. 
Make Your Money Work for You
As Orman shared, "Having gone through the Oakland fires way back when, where 3,000 homes were destroyed and doing so much work with the fire insurance of these people, the biggest thing that was devastating wasn't the fact that they lost their home, so to speak, but was they lost their pictures, they lost the mementos and the things that they can't ever replace."
Orman makes a good point: No amount of money can bring back priceless memories if photos and keepsakes are destroyed. A thorough inventory provides a record so these cherished items can be accounted for.
Spare Loved Ones Difficulty
Another reason Orman advised home inventories is to spare your loved ones added stress if something happens to you. 
"If your house was to catch fire or all of a sudden, a tornado with no warning came through and your house is just sticks and stones and everything in it is gone. What are you gonna tell the insurance company?"
Without a list, your grieving family will struggle figuring out what to claim. An inventory provides ease during an already difficult time. 
Gain Peace of Mind
Knowing you have a complete documented list of your home's contents provides comfort and peace of mind. 
Orman said, "I can promise all of you if you do everything I asked today on the podcast, as well as what I want you to say every day, I promise you, you will be unstoppable."
Make Your Money Work for You
While no one likes to think about disasters, Orman makes a compelling case for why taking time now to inventory your valuables and documents could spare you and loved ones much hardship down the road if the unexpected occurs. We can all follow her advice for safety and peace of mind.
More From GOBankingRates