6 Things You Must Do When Your Utility Bill Unexpectedly Increases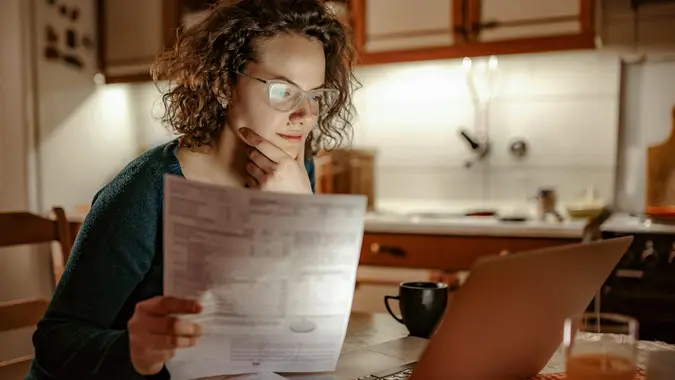 CreativeDJ / Getty Images
In the last few years, it's been hard to ignore rising prices all around us. And it can be especially frustrating when you're making every effort to save money, just to see costs rise beyond your control.
However, some bills have surprisingly shot up without much warning. One of those expenses is probably your utility bill.
But what can you do when your utility bill increases unexpectedly without warning? Here are some steps to take when you see a surge in your utility charges.
1. Check With Your Local Utility Company for Energy Efficiency Programs and Incentives
"Many utilities offer complimentary energy efficiency audits," said Christine Ciavardini, client relationship manager for MD Energy Advisors.
You can ask for an audit to see what's happening in case there's anything that you can improve on your end. You could be engaging in bad habits that are bringing the energy bill up on your end or using appliances that aren't energy efficient. 
"Utility companies will also offer generous incentives and rebates for equipment replacement," Ciavardini said.
While you may have to spend some money upfront on replacing equipment or making upgrades, you can save money in the long run by investing in energy-efficient products. You have to find out what's causing your utility bill to go up. 
Make Your Money Work for You
2. Ensure That This Isn't an Error
"You want to make sure that it is not an error on the side of the utility company," said Sebastian Jania, owner of Ontario Property Buyers. "The best way to do this is to get some kind of a meter reading which can show whether the bill should actually be higher or not."
There's a chance that there could be an error on your utility bill, as the meter readings aren't always perfect. You could have someone from the utility company come in for an inspection to double-check that everything's in working order. 
If it turns out that the meter reading was an error, then you don't have to worry about future utility bills. If the meter reading indicates that your usage has increased, you know what needs to be done moving forward. 
3. Check If There's an Energy Leak
"Sometimes consumption increases due to an energy leak," Jania shared.
If there's an energy leak, you'll at least know what's causing your utility bill to go up, and you can work on resolving this issue. It's important to note that equipment breaks down over time, and it's normal for your home to require some basic maintenance. 
4. Find Out If the Utility Company Raised Prices
While working with the utility company to examine your bill, you can simply ask if the prices have increased. If you don't get a clear answer, you could check a local Facebook Group or ask if others have seen a similar pattern with their bill. 
Make Your Money Work for You
If it turns out that the meter reading has been accurate and that everything's in working order on your end, then you're going to want to think about the next two options. 
5. Adjust Your Habits
"If the bill is higher due to the utility company's costs going up, it's important that one start to assess their personal consumption of the given utility and see whether there are ways that they can optimize their use to reduce their bill," Jania said. "An example of this would be to use electricity only at certain times of the day where the rate per kilowatt hour is the lowest; the same could apply to other utilities if there are more favorable times to use them."
If the utility company has raised rates and there isn't a cheaper alternative, you will have to change your habits.
How can you change your habits with utility costs to lower your bill?
Watch out for phantom power use. Some items may be turned off, but they're still using up energy.
Consider drying your clothing and hair. Dryer use adds up, and it could bring your bill up depending on how often you do laundry. 
Turn off your lights. You'll want to get into the habit of turning off all lights that aren't in use.
Adjust your thermostat. You could save some money by dressing warmer around the house and turning off the when you're not home for any length of time.
Replace your filters. You're going to want to ensure that your HVAC unit has a fresh filter.
Switch your light to LED bulbs. You could lower your electric use by changing up your light bulbs.  
Cover your windows and doors. Air leakages through windows and doors could be bringing up your heating costs. 
Make Your Money Work for You
A few minor adjustments to your habits could bring down your utility bill. Over time, you won't even notice these changes. 
6. Look Into Your Financial Situation
"If one's utility bills are higher and they've gone through all the other suggested steps, one may have to assess how they will get sufficient funds to cover the increase in cost," Jania said. "Some ways that they can do this are to either reduce their expenses by moving into a smaller home they can take on a second job or start a side gig to assist."
You will want to look into your finances to see if you can cut costs somewhere else to account for your increased utility bill. As frustrating as it is to see prices going up, this is the reality of inflation that we can't ignore.
More From GOBankingRates