The Price of Water Across America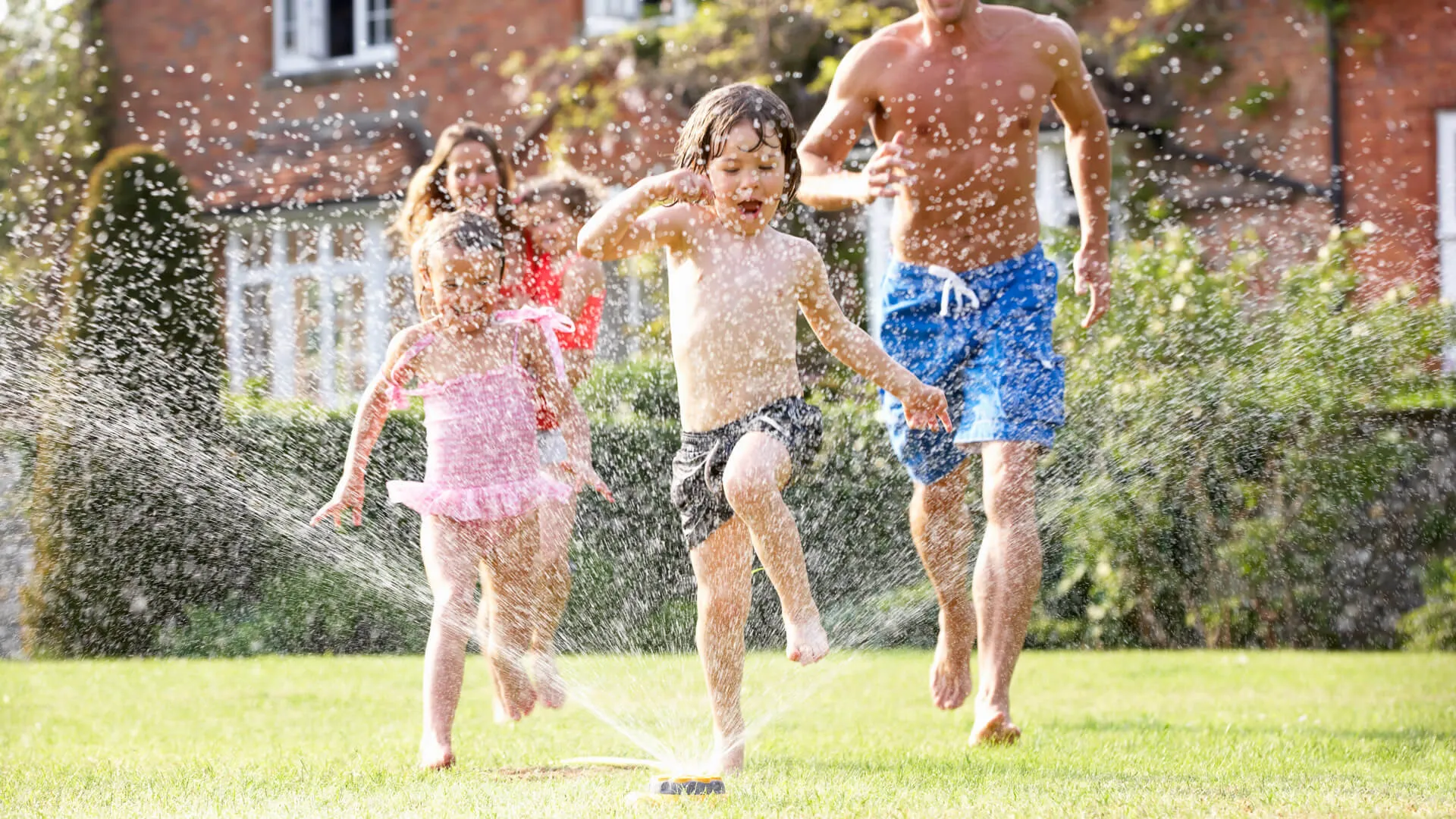 Water is neither free nor cheap and the costs varies hugely from one city to the next. GOBankingRates analyzed 2017 water usage data from the nonprofit network Circle of Blue, looking at how much families in 30 American cities pay for their water bill, ordered from most to least expensive. Based on the average water bill price calculated for a family of four using 50, 100 or 150 gallons of water per person per day, the study revealed that water prices are as diverse as the cities themselves.
While Circle of Blue reports that U.S. water rates have soared an average of 50 percent since 2010, there's an oasis of hope in the desert: Between 2016 and 2017, rates increased only increased 4 percent on average in those cities.
Click through to find out how your city's water usage compares with the rest of the U.S. so you can find ways to save money on water.
Make Your Money Work for You
Santa Fe, N.M. — Average Cost: $164.22
According to Circle of Blue's 30-city survey, Santa Fe families who use 150 gallons of water per day, per person pay more than any other major U.S. city, at a rate of $284.10. Price might not equal quality, though; thousands of New Mexico residents, including many in Santa Fe County, struggle with water that exceeds both state and federally recommended contaminant levels. If you're planning a trip, maybe skip this overrated tourist destination until the water improves.
San Francisco — Average Cost: $131.46
Expensive housing isn't the only problem plaguing San Francisco. Circle of Blue reports that the price of water in Golden Gate City experienced a double-digit increase between 2011 and 2014, just as it did in Atlanta, Las Vegas and Chicago. In California, high water prices commonly result from a combination of arid weather, rapid climate change and an aging infrastructure.
Austin, Texas — Average Cost: $119.94
Though GOBankingRates considered data from five Texas cities, the water prices were surprisingly disparate. The capital city of Austin is a particular outlier, as it exercises a new type of fixed water charge; every consumer pays a $7.10 base rate, but additional fixed rates are charged depending on usage. Since 2010, water prices for a family of four using 100 gallons of water per person, per day, have risen more than 150 percent, according to Circle of Blue.
San Diego — Average Cost: $119.85
America's Finest City has both real estate bubbles and water bubbles, it seems. In California, a huge decentralized mass of more than 400 public water agencies, private wells and small water systems makes water delivery a difficult proposition, especially among existing climate change and infrastructure issues. San Diego families who use 150 gallons of water per day might find themselves paying out an average of $186.33 each month.
Make Your Money Work for You
Seattle — Average Cost: $106.39
Water bill prices in Seattle reach nearly $160 for high-usage families. On top of that, the U.S. Department of Energy reports that Seattle's wastewater rate is higher than that of most U.S. cities because of required investments in aging sewage infrastructure and overflow into Puget Sound. Overall, Seattle Public Utilities saw an annual price escalation of 7.26 percent between 2008 and 2016.
Los Angeles — Average Cost: $101.31
Circle of Blue's 2017 data points to a staggering 71 percent increase in water rates between 2010 and 2017 in Los Angeles. The City of Angels might be in for a water crisis; as Laura Feinstein of the Pacific Institute explained to the Los Angeles Times in 2017, "Climate change is making our supplies less reliable. At some point the bill comes due."
Atlanta — Average Cost: $91.92
According to data compiled by Vox in 2018, it's not unreasonable for families in Atlanta to spend more than 12 percent of their annual income on water bills — that's more than three times the amount that the Environmental Protection Agency estimates a family should pay for water.
Boston — Average Cost: $82.54
All Boston residents have access to the Renew Boston energy efficiency program, which has provided low- and no-cost energy efficiency upgrades to homeowners, renters and small businesses since 2009. In terms of water conservation, the program covers gear such as low-flow shower heads and sink aerators at no cost to help reduce Bostonians.
San Jose — Average Cost: $81.46
Water prices by state aren't too flattering for drought-ridden California. Introduced by state Sen. Bill Dodd (D-Napa), Senate Bill 998 would remodel the Golden State's water delivery systems into something resembling electric or phone utilities, in which failure to pay would result in softer enforcement with water disconnections used only as a last resort.
Tucson, Ariz. — Average Cost: $77.13
Bad news for high-use families already paying water bill prices up to an average of $132.36 in Tucson: The city is proposing water-rate increases for 725,000 customers in 2018. The good news is that adjustments would only increase monthly service charges by $5.82 by the 2022 fiscal year, and that the effort is part of a conservation program to keep Tucson's water and wastewater rates under control.
Make Your Money Work for You
Philadelphia — Average Cost: $71.66
With a poverty rate of 26 percent, Philadelphia's leadership is very aware that the poorest Americans are hit hardest by water costs — which is exactly why the City of Brotherly Love is offering breaks for low-income families. In 2017, Philly introduced tiered rate structures for customers with incomes at or below 150 percent of the poverty line.
Houston — Average Cost: $71.22
According to the Houston Chronicle and Houston Public Works, 6,362 homeowners saw their water bills double during or directly following Hurricane Harvey in 2017, and some residents received bills in excess of $1,000 because of water line damage. Fortunately, Houston Public Works will enact a one-time adjustment to forgive these sorts of bills, eating the cost of about $650,000.
Charlotte, N.C. — Average Cost: $70.90
Charlotte, according to Circle of Blue, saw its water rates increase more than 50 percent over a five-year period. The price of water in the Queen City isn't all bad, however; families of four who use 50 gallons of water per person, per day, incur bills of only about $21.
Indianapolis — Average Cost: $67.46
Reporting in 2017 from local news station RTV6 indicated that the average Indianapolis homeowner pays $300 in monthly utility bills, with water and wastewater rates specifically increasing over the past decade. Nonprofit advocacy group the Citizens Action Coalition reported earlier this year that those bills could be going up. Indianapolis Power & Light Company, the group said, has requested an increase that could increase customers' monthly fixed charge by 59 percent to $27 a month, before energy costs.
Must-Read: This Is How Much oney You Need to Live Comfortably in Your City
San Antonio — Average Cost: $65.39
At an average water cost per month of $65.39, San Antonio falls right in the middle of the Texas cities analyzed by GOBankingRates. Unfortunately, this middle ground might not last long. Residents of Leon Valley, an enclave of San Antonio, saw their water bills triple in 2017 because of the cost of building new wells.
Make Your Money Work for You
New York City — Average Cost: $60.96
At only $60.96 for a family of four that uses 100 gallons daily per person, the water bill prices in the Big Apple aren't quite as harsh as New York City's cost of living. New Yorkers take pride in the billion gallons of unfiltered water that their city pumps every day, and a $1 billion water system investment commitment aims to keep it that way.
Columbus, Ohio — Average Cost: $57.30
Ranked No. 18 out of 30 cities, Columbus stands in the mid-range of average water prices by state. With minimal usage of 50 gallons per person, per day, Columbus families can see average bills of $31.86; for three times the usage, those families pay an average of $82.74.
Dallas — Average Cost: $55.40
For families that use the least amount of water, Dallas is among the cheapest of the cities surveyed. If each member of your four-person family uses 50 gallons per day, you might only be looking at a bill of $21.35.
Fort Worth, Texas — Average Cost: $54.29
With the two cities separated only by the Dallas/Fort Worth International Airport, you'd expect the water costs per month in Dallas and Fort Worth to be fairly similar — and you'd be absolutely right. With mid-range water usage of 100 daily gallons per person, Fort Worth residents pay about $52.77 compared to $50.71 in Dallas.
Baltimore — Average Cost: $54.10
In the summer of 2017, Baltimore hiked its water rates approximately 9 percent, raising the average monthly bill by about $7. Another increase is expected this summer to help pay for infrastructure upgrades. In an effort to ease the burden on its most vulnerable residents, the city has aimed to double enrollment in utility discount programs that assist the poor and elderly.
Las Vegas — Average Cost: $52.38
Despite the decidedly middling average cost of water in Vegas, debates rage about the region's future water supplies. As the state considers a 250-mile, $15 billion pipeline to send rural groundwater to Las Vegas, some people question its need.
Make Your Money Work for You
Chicago — Average Cost: $45.72
Chicagoans are paying a premium for their water. In late 2017, the Chicago Tribune reported the Illinois American and Aqua Illinois private utility companies — which serve a combined 51,535 customers in and around the Windy City area — charge 20 to 70 percent higher prices than public water systems using the same Lake Michigan sources. But Chicago still ranks on the mid- to low-end of water costs compared with other citites.
Denver — Average Cost: $44.50
Denver prices its water via an increasing block rate, but it bases the size of the blocks solely on winter consumption. This makes for a conservation-friendly system that prices more consistent indoor use at a lower rate and less common outdoor use at a higher rate.
Find Out: Why Your Next Trip Should Be to Denver
Detroit — Average Cost: $44.42
Rising water prices tend to have a disproportionately negative effect on the poor, a situation for which Detroit is an unfortunate poster child. Bridge Magazine, a publication of The Center for Michigan, reported that between 2014 and 2016, nearly 84,000 Motor City customers had their water shut off because of an inability to pay.
Jacksonville, Fla. — Average Cost: $43.30
Though Jacksonville was among the most affordable of the 30 cities surveyed, there are several cities and communities in the Sunshine State with lower rates, according to the Jacksonville Energy Authority. As of 2017, those areas included Orlando, Tampa and Tallahassee.
Phoenix — Average Cost: $41.45
Of the 30 major cities analyzed by Circle of Blue, Phoenix boasts the most affordable water prices for families that conserve water. Families of four that use 50 gallons per individual, per day, might see monthly water costs as low as $12.22.
Milwaukee — Average Cost: $41.13
Low-usage households in Milwaukee already pay water bills as low as $24.97 per month, and new revenue streams could keep rates low. In late 2017, Milwaukee won the right to sell Lake Michigan water to the City of Waukesha, a water-supply deal estimated to save Waukesha $40 million in connection fees and pump significant revenue into Milwaukee Water Works' bank account.
Make Your Money Work for You
Fresno, Calif. — Average Cost: $31.02
In Fresno, households have enjoyed generally low water utility prices. However, if they buy a new-construction home, they will indirectly pay more for water. In 2017, the city approved attaching a $4,246 fee to every new single-family home built, with the money funding groundwater recharge basins, new wells and better delivery systems for residents.
Salt Lake City — Average Cost: $30.65
Salt Lake City families that tend toward the higher end of water usage enjoy some of the lowest rates of the cities surveyed. A family of four that uses 150 gallons of water per person, per day, racks up a monthly bill of only $42.08. That's less than one-sixth of the cost in Santa Fe, N.M., the most expensive city for water in the study.
Memphis, Tenn. — Average Cost: $29.38
In a survey of more than 50 cities done by Memphis Light, Gas and Water Division — the largest three-service municipal utility company in America — Memphis earned the top spot for the lowest combined winter residential utility bills from 2013 through 2017. That includes electric, gas, water and wastewater bills.
Water Prices Across the U.S.
Water prices in American cities vary greatly for a number of reasons, including: infastructure, small water systems and climate change, to name a few reasons. If you're not ready to move to Fresno or Salt Lake City, you can save money on water costs by making more concious decisions like taking shorter or fewer showers, washing your dishes by hand instead of using a dishwasher and flushing the toilet less frequently — if you can handle it.
If you're in Memphis, Phoenix or any of the other best cities for water pricces, you're saving tons on water, but what about gas? Click to find out if you're getting the cheapest gas price in your state.
Methodology: GOBankingRates.com analyzed water usages across 30 major cities in the U.S. by looking at the water bill for a family of four that uses 50, 100, 150 gallons of water per person, per day, sourced from Circle of Blue. Average monthly cost was calculated by averaging costs at these three levels. Cities were then ranked according to this calculated average.
About the Author