Vacation Like Royalty at America's Most Luxurious Mansion Hotels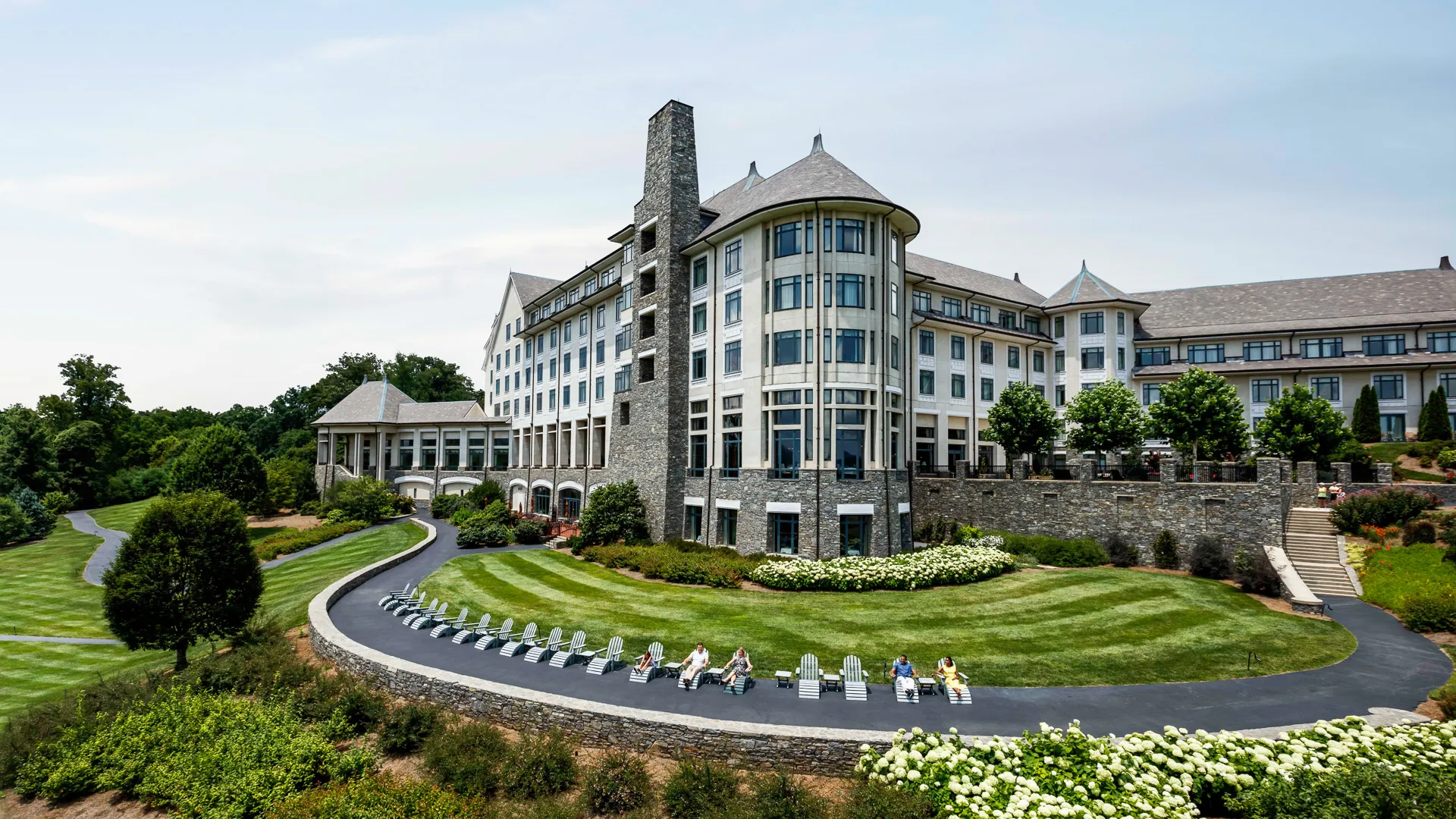 Countless hotels across the country bill themselves as "luxury" properties. But if you truly want elegance, character and a personal touch on your travels, pass on the run-of-the-mill chain hotels. Instead, book a room at a mansion hotel.
Some were built in the Gilded Age of the late 19th century, but whatever their date of design, mansion hotels feature meticulous grounds and stupendous service. These period homes embody more than just turn-of-the-century opulence — they promise a memorable experience for even the most discerning travelers. For your next vacation, feel like American royalty in one of these hotels.
Wentworth Mansion — Charleston, S.C.
Named the No. 1 Small City Hotel in the United States by Travel + Leisure in 2015, the Wentworth Mansion in downtown Charleston provides a taste of Southern charm in the most regal of settings.
Construction on the historic home began in 1881 and completed in 1886. The mansion was built for a wealthy cotton factor, phosphate manufacturer and coastwise shipper who lived there with his wife and 13 children. It was converted into a hotel in 1997.
Rooms are appointed with king-sized beds and oversized whirlpool tubs — some even have gas fireplaces — while amenities include a full breakfast, afternoon wine and hors d'oeuvres, and evening port, sherry and brandy to sip on. Take a carriage ride along the cobblestone streets, tour the antebellum homes or visit the immaculate plantations and gardens to truly be transported back in time. Mansion suites are available at $555 per night.
Make Your Money Work for You
Glenmere — Chester, N.Y.
One of the first country homes in the United States, Glenmere brought European elegance to upstate New York. Designed in 1911 to reflect an opulent Tuscan villa, the mansion and gardens are just 50 miles from New York City, making it an appealing escape from the hustle and bustle of the big city.
After a day of touring the Big Apple's most famous sites, such as the Empire State Building, the National September 11 Memorial & Museum or the Metropolitan Museum of Art, retreat to your stunning reprieve. Each of the 18 rooms is equipped with marble baths, state-of-the art audio-visual systems and Italian linens. If you really want to make an entrance, you may opt to arrive by private helicopter right to the front lawn of the estate. Suites range from $1,295 to $3,585 a night, making it one pricey hotel room.
The Chanler at Cliff Walk — Newport, R.I.
The Chanler at Cliff Walk is one of the top landmarks in Rhode Island and embodies old-world elegance in Newport.
Located on the famed 3.5-mile Cliff Walk, the property was commissioned by a New York congressman as a summer retreat for him and his heiress wife. The cozy "cottage," as the stately Newport homes were called, has hosted a number of dignified guests, including poet Henry Wadsworth Longfellow and President Theodore Roosevelt. It has changed hands a number of times over the years, functioning as everything from a school for girls to naval housing before finally being converted into a hotel in 1944.
Explore the best of Newport by visiting Fort Adams, biking the East Bay or boating in what has been dubbed the "Sailing Capital of the World." To make your stay seamless, the sophisticated seaside property boasts a complimentary car service, free bikes, yoga classes and personal beach and bath butlers. Suites range from $725 to $945 a night.
Make Your Money Work for You
Melrose Mansion — New Orleans
An antebellum home skirting along the French Quarter, the Melrose Mansion is in a prime spot for guests to be dazzled by the sights, smells and sounds of New Orleans. Since the mansion is within walking distance of Bourbon Street and the French Quarter, you can take in the smooth jazz and tasty Creole bites of the Big Easy. Make sure to try Café du Monde's famous beignets.
Constructed in 1885 as a single-family residence, the home became a low-key bordello during the Prohibition era, and rooms later were rented to local nightclub dancers. Now with the property painstakingly restored, guests can take advantage of the pool, communal coffee and continental breakfast, 24/7 workout facility, and nightly wine and cheese happy hours. Suites cost just under $600 per night.
The Inn on Biltmore Estate — Asheville, N.C.
One of the country's most historic sites, Biltmore House was named a National Historic Landmark in 1963.
The Biltmore Estate is billed as the largest home in America and is one of Asheville's most popular attractions. Situated on a whopping 8,000-acres along the Blue Ridge Parkway, the 250-room French Renaissance chateau was completed in 1895 and built for George Washington Vanderbilt III. It is open for tours.
On the property is The Inn on Biltmore Estate, a luxurious, amenity-rich hotel that boasts suites and a host of complimentary services, such as shoe shines, shuttle service, and live piano and jazz. While in Asheville, stroll the boutiques and breweries of the downtown streets, stopping for a bite wherever the urge strikes, or drive the Blue Ridge Parkway. Suites range from $1,150 to $2,250 a night.
Make Your Money Work for You
The Ivy Hotel — Baltimore
A wealthy banker commissioned this lavish property in 1889, but he unfortunately did not live to see its completion. A regal home in the prestigious Mount Vernon neighborhood, The Ivy is the perfect base for exploring Baltimore.
Whether you opt to take in the historic ships and maritime history of the area, visit the Inner Harbor or focus on the modern aspects of the city — such as the food halls and professional sports — there's something for everyone from family travelers to Civil War buffs.
When you're ready to retreat to the hotel, you'll find a number of prime amenities free of charge. Everything is included in your room rate except dinner and spa treatments. Guests are also spoiled with a private car to take them around town, a made-to-order breakfast, afternoon tea, cocktails and midnight snacks. Suites rent for $775 to $1,500 a night.
Hotel del Coronado — Coronado, Calif.
This is one of the best hotels for a romantic weekend getaway. Opened in 1888, Hotel del Coronado was one of the first luxury vacation destinations on the West Coast. Getting to the resort took on average seven days by train, and many of the elite guests arrived with servants in tow, planning to bunker down for months.
The property has hosted dozens of celebrities and still attracts Hollywood A-listers. It has provided the backdrop for a number of movies, most notably "Some Like It Hot" starring Marilyn Monroe, Tony Curtis and Jack Lemmon.
You have the best of San Diego at your fingertips with beaches and bays as far as the eye can see. In fact, modern beachfront villas have been added right to the property, but you can still rent the original Victorian mansion rooms if you prefer the character. Suites range from $559 to $1,709 a night with an optional bed and breakfast.
Make Your Money Work for You
Nottoway Plantation & Resort — White Castle, La.
One of the historic hotels of America, Nottoway Plantation was commissioned in the 1850s by a sugar planter who aspired to build the finest mansion on the Mississippi River.
The South's largest antebellum mansion, the 31-acre property is located between Louisiana's three largest cities: Baton Rouge, New Orleans and Lafayette. It's an ideal base to explore the bayous and the cities before returning to enjoy the property's exclusive outdoor pool and tennis courts. Honeymoon suites rent for $234 a night.
Keswick Hall & Golf Club — Keswick, Va.
Originally called Villa Crawford, Keswick was a private residence in 1912 before it was turned into a country club in 1948. The impressive Italian abode was transformed into the golf clubhouse, as tennis courts and cabanas were added to the already sprawling landscape. It got yet another facelift in 1990 when the widower of acclaimed designer Laura Ashley bought the property and turned it into a country house hotel.
Now, on-site recreation includes everything from archery, golf, paddleboard and croquet to hiking, arts and crafts, gardening and cooking classes, making it a true destination resort. Set against the gorgeous backdrop of the Blue Ridge Mountains, it's hard to imagine having any reason to leave. Rooms start at $189, based on availability.
Hayes Mansion — San Jose
Once a lavish private Spanish Colonial Revival-style manor, the 100-year old Hayes estate is now listed on the National Register of Historic Places. Dolce Hotels and Resorts manages the property, ensuring every modern convenience has been updated and added to the old-world mansion.
Stay and relax at the spa on-site or head further afield to indulge in the nearby wine regions, tour the Monterey area or take in all the culture and cuisine San Francisco has to offer. For a taste of affordable Northern California luxury, suites start at $179.25 per night.
Wilburton Inn — Manchester Village, Vt.
When describing the Wilburton Inn, Rand McNally's guide "The Best Bed & Breakfasts & Country Inns" said, "If there's a more romantic or peaceful setting in the world, I have yet to find it."
One of the U.S.'s most diverse mansions turned into hotels, the 30-acre property consists of seven guesthouses, a farm, museum and sculpture garden that are all still family-run. It's one of the best places to see Vermont's kaleidoscope of fall colors or be intellectually stimulated by attending a writing workshop or retreat at The Museum of the Creative Process. Suites start at $250 per night.
Make Your Money Work for You
Cranwell Spa and Golf Resort — Lenox, Mass.
Once home to everyone from wealthy industrialists to clergymen, the Cranwell is a Tudor-style mansion with brilliant views of the Berkshires. A member of the national trust historic hotels of America, the prestigious property boasts 105 rooms, suites and cottages to rent.
There is a golf course, cross-country skiing and snowshoe trails, croquet, bocce and a Frisbee field on site. Get a taste of the area at the Norman Rockwell Museum, Hancock Shaker Village or Arrowhead, which was the home of author Herman Melville. Suites range from $349 to $449 per night.
The Payne Mansion Hotel — San Francisco
The Payne Mansion survived the great fire of 1906 to become the historic landmark it is today. The traditional, 10-room Victorian is located in the heart of San Francisco, just steps from all the city has to offer.
There's so much to explore in San Francisco: the Marina District, Market Street, Union Square, Pier 39, Alcatraz and more. Hop a cable car and soak up the culture and diversity in the city by the bay.
Guests have access to a full range of services, including same day wash and fold laundry, as well as on-demand car service. Suites run from $749 to $849 a night.
Glen Cove Mansion — Glen Cove, N.Y.
Originally called The Manor, the 55-acre Glen Cove estate was named by Country Life magazine as one of the 12 best country houses in America. The Long Island property embodies the best of a bygone era and has been the backdrop to many major motion pictures, such as "North by Northwest."
The area is famous for its white sand beaches, so grab a kayak, snorkel or standup paddleboard and enjoy. Guests will want to take advantage of the on-site sauna, steam room, spin studio, bowling lanes, and tennis and basketball courts before retreating to their alcove for the evening. Suites range from $325 to $450.
The Sayre Mansion — Bethlehem, Pa.
Robert Heysham Sayre was one of the chief engineers of the Lehigh Valley railroad, and the property he moved to in 1858 was a grand celebration of his career. Nearby is the award-winning Lehigh Valley wine trail, the Blue Mountains ski area, whitewater rafting, plus a handful of nature preserves and wildlife sanctuaries.
On the property are Tesla charging stations, which are just one of the many green initiatives of the current innkeepers. Suites range from $269 to $315 and include a freshly cooked gourmet breakfast.
Make Your Money Work for You
Crescent Hotel & Spa — Eureka Springs, Ark.
A historic mansion in the Ozark Mountains, the Crescent Hotel has been operational since 1886. The 15-acre estate is nestled near endless parks, lakes and gardens for hikers, bikers, fishermen and avid outdoor enthusiasts.
After dark, you simply must see if there's any truth to the claim that the Crescent is "America's most haunted hotel" by taking a spooky ghost tour. Suites run from $379.86 to $399.86.
Historic Hotels of Lake Geneva — Lake Geneva, Wis.
Two historic mansions that offer strikingly unique experiences, the Baker House (1885) and the Maxwell Mansion (1856) have distinct ambiances suited for different travel styles.
The Baker House is much more representative of the period, outfitted with private butlers and chambermaids to arrange your pillows, prepare cocktails and cater to your every whim. The rooms inside the Maxwell Mansion also radiate vintage, old-world charm, yet the attached Carriage House and Stable Suites have been updated to reflect an "urBarn" chicness.
Lake Geneva offers four seasons of outdoor activities, such as adventure parks, apple picking, sledding and water sports. The grandest suite in Baker House will set you back $425 a night, while the Maxwell Mansion and Stable Suites cost $250 to $295.
The Mansion at Casa Madrona — Sausalito, Calif.
Built in 1885, the Mansion at Casa Madrona was designed for timeless opulence. For the ultimate experience, the crème de la crème of the airy mansion is the Alexandrite Suite, a 3,500-square-foot master residence equipped with a full media center, private deck and chef's kitchen. Exclusive packages can be customized that include private chefs, personal staff and yacht excursions.
Sausalito is located on the water, giving guests plenty of options for board sports, fishing and boating. Suites start at $687 a night to live in modern luxury.
Hotel Lombardy — Washington, D.C.
A landmark building in the heart of the Washington, D.C., business district, the Lombardy is a testament to 1920s glamour. Just steps from the White House, the Pennsylvania Avenue property has hosted countless dignitaries, celebrities and VIP visitors.
Guests can enjoy a complimentary shoe shine, then head out to tour famous D.C. sites such as the National Mall, museums or the National Zoo. Suites start at $197.10 per night.
Make Your Money Work for You
The American Club — Kohler, Wis.
In the late 19th century, a man converted a cast-iron water trough into a bathtub, an innovation that made Kohler a household name for bath and kitchen needs. And as the need for workers grew, the Kohler Co. opened what is now known as The American Club in 1918 as a place to house the company's single, immigrant employees. Their $27.50 a month rent included a private room, laundry, three meals a day and access to the massive Tudor property's pub, bowling alley, barber shop and classes in citizenship and English.
Eventually, as the company grew, so did the workers' families. They moved into their own homes and the boarding house grew vacant and fell into disrepair. While The American Club wasn't built as a family mansion, company owner Herbert V. Kohler Jr., thought it could become an elegant village inn.
Relaunched in 1981 as a five-star, five-diamond hotel, the destination resort now boasts four award-winning championship golf courses, 12 restaurants and one of the few five-star spas in the world. It is surrounded by nearly 800 acres of wilderness for plenty of R&R in nature. Suites range from $706 to $1,045 per night. The most impressive suite is the Eau de Vie, which features a one-of-a-kind shower experience with chromatherapy tub.
And nearby is Riverbend, the family mansion commissioned by Walter J. Kohler in the early 1920s. The 31 luxurious guest rooms are available to members only.
Hotel prices were sourced in early October 2017 for a stay on Nov. 3 and 4, 2017.