8 Money-Saving Tips for Traveling With Pets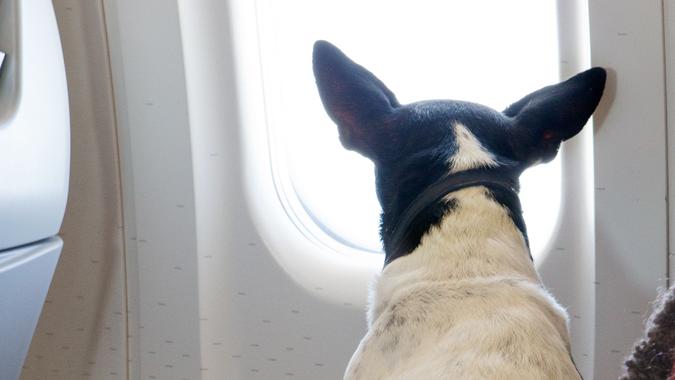 nycshooter / iStock.com
With the holidays nearly upon us, many people will be traveling to visit relatives, near and far. For families with beloved pets they can't leave behind, this means planning to travel with your pet. While keeping your pet safe and happy is paramount, nobody wants to spend a lot of extra money doing so. Here we look at ways to find the most affordable way to travel with your pets.
Know the Airline Fees
If you're going to be traveling by plane, know ahead of time what you can expect to pay to bring a pet on board, be they in a travel carrier beneath your seat, or in the cargo hold. According to Naveen Dittakavi, founder and CEO of Next Vacay, there are plenty of pet-friendly airlines. "There are many reasons why travelers choose to take their furry companion with them on their flight, whether they're traveling for business, vacation, or visiting family over the holidays. In fact, traveling with pets is more common than ever before. We found that there was a 950% increase in searches for  'pet-friendly airlines in cabin' in the last 12 months."
Make Your Money Work for You
Most airlines charge between $35 to $200 per pet, each way. However, JetBlue has a program called JetPaws, in which members can earn points toward reducing these fees.
Drive
A cheaper alternative to paying airline fees is to just drive with your pet to your destination, if that is possible. "The cheapest way to travel with a pet of any size is to drive your own car," said Nora Glover, founder and editor in chief of Catademy.com. She does warn, however, that since driving can be stressful, especially to cats, it may be necessary to tranquilize the animal for maximum comfort.
Research Pet-Friendly Hotels
A little bit of research can help you find hotels with low to no fees for staying with your pet, said Ravi Parikh, CEO of RoverPass. "If you need to stay in a hotel, check around for one with lower pet fees. Many hotels offer a one-time fee, which can be a great deal if you'll be staying for several days."
Make Your Money Work for You
Ask Your Accommodation About Pets
Whether you book a hotel, an Airbnb, VRBO place or camp somewhere, you want to make sure you call ahead to see if pets are welcome, said Ashley Jacobs, CEO and founder of Sitting for a Cause, a pet-sitting website. "You don't want to get to your destination and then be turned away because your pet doesn't meet the restrictions implemented by the place you intended to stay," she said.
Consider the Carrier
You want to be sure that your pet carrier meets the specific criteria for your flight or you could be turned away, Dittakavi said. "Make sure to check the airline's carrier size requirement this will help you decide the size and type of carrier you are allowed."
Additionally, he pointed out that since your pet carrier will also become your carry-on item, "try and find one with extra compartments to store any essentials you'll need for your journey."
Make Your Money Work for You
Visit the Vet
Before you travel, be sure to take your pet to the vet for a check up and clearance, so that you don't have any surprise health issues arise on your trip, Dittakavi encouraged. Finding an out of town vet can be both difficult and expensive.
Learn More: 13 Insider Secrets From Travel Agents That Will Save You Money
Pack Enough Snacks and Food
It's worth it to overpack on snacks and pet food, said Finn Cardiff, a travel blogger and pet owner, and founder of Beachfix. "There is never any guarantee that you will be able to find the exact type of food or treats that your pet eats and it could also be more expensive in different places. Always pack enough food and treats to last you your whole trip and ensure your pet stays healthy and helps you to save money as you won't have to buy it from somewhere else."
Look For Free, Pet-Friendly Recreation
When you do arrive at your destination, try to engage in free, pet-friendly recreation, said Meika Welds, a personal finance blogger and founder of Working Momspiration. "Even though you're traveling and you want to enjoy different landmarks, opt for free activities like the park or an affordable outdoor restaurant that allows pets."
More From GOBankingRates