How To Effectively Start Planning Your Wedding Now Risk-Free

10 min Read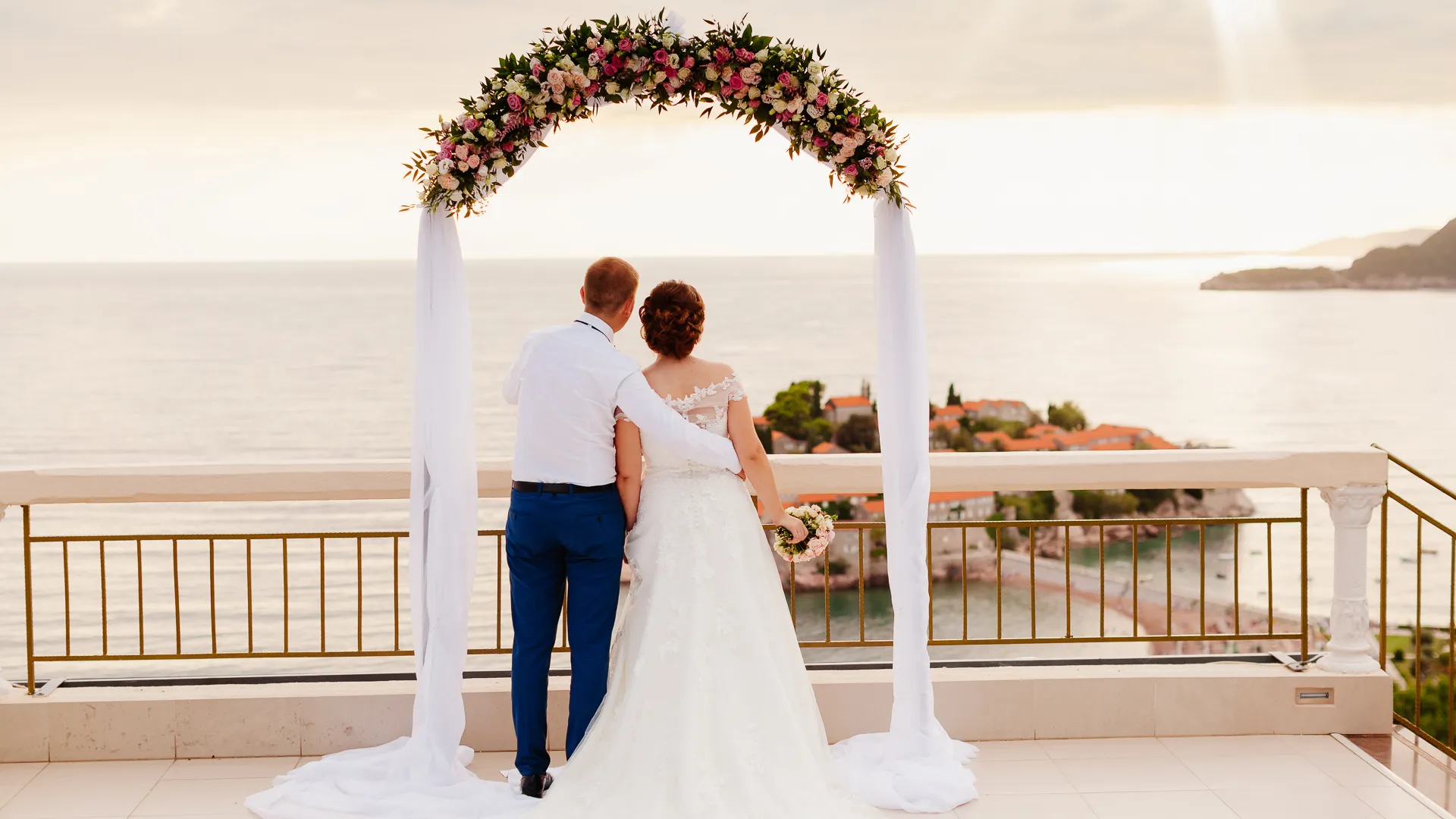 Make Your Money Work for You
Hire a Wedding Planner
Although this would be an added expense, it could be very helpful to hire a professional to help you navigate the ins and outs of wedding planning during this unique time.
"Hiring a wedding planner is a great way to make sure you are planning a wedding that is safe for all your guests," said Robyn Bruns, principal event planner and owner of Red Letter Event Planning. "A wedding planner is an investment that is a resource to navigate through contracts that will be more detailed on cancellation clauses and other circumstances that can upend your wedding plans."
The average cost to hire a wedding or event planner is $1,500, according to The Knot.
Wedding Etiquette: How Much To Give (and Spend)
Plan Your Guest List Based on Local Regulations
Different areas of the country have different regulations in place regarding how many people are allowed to gather for an event. Although these regulations are subject to change — which means that planning a wedding based on current guidelines isn't entirely without risk — you should keep these limits in mind before sending out any save the dates.
"The best route to go right now is to plan to have a smaller wedding," said Juls Sharpley, founder of the Aspen, Colorado-based event planning service Bubbles & Bowties. "In my area, last summer we were allowed to have events with up to 50 guests, and by the end of fall, we were hosting events with up to 100 guests. I think it is safest to plan weddings of up to 100 guests at this time in my market."
For Your Future: 10 Tips To Talk To Your Significant Other About Money
Make Sure You Are Aligned With Your Vendors and Venue Regarding Coronavirus-Related Cancellations
"It is important to have really honest and open conversations with your vendors and venue about COVID policies, contract clauses, and circumstances surrounding possible government restrictions that may lead to cancellations or postponements," Sharpley said. "One thing couples need to be aware of is that now, you are choosing to plan a wedding in the midst of a global pandemic, and venues/vendors may not be as flexible this time around as they were with contracts that were signed pre-COVID."
Once you come up with an agreement, make sure it's in writing as part of the contract.
"If you're working with a vendor or venue that does not have a specific COVID clause, I would highly recommend requesting one," Sharpley said. "Contracts and clauses in them are not meant to be scary; they are meant to be a reference point for how things are handled in specific instances. COVID is a very specific and delicate instance that should be addressed separately."
"The biggest thing to look for is what happens to your deposits if you need to postpone due to COVID-19," added Kaleigh Northrup, owner and chief event producer at Kay Northrup Events. "It's ideal if a vendor will let you postpone and transfer any deposits paid to the new date, but there may be a postponement fee depending on the vendor."
Check Out: The No. 1 Financial Deal Breaker for Couples in Every State
Make Your Money Work for You
Spread Out Your Scheduled Payments
Depending on the agreement you come to with your venue and vendors, you may or may not be able to get any money you've already paid back in the event you need to cancel or postpone due to the coronavirus.
"To limit your potential financial loss, negotiate the lowest deposit you can and ask to have payments delayed so you're not giving additional payments until closer to the date when you have a better idea what's happening," said Melisa Imberman, owner of The Event Of A Lifetime, Inc., a full-service event planning company serving the New York City area.
For Richer, for Poorer: Merge Your Finances the Smart Way When You Get Married
Ensure That Vendor Contracts Include an 'In Case of Emergency' Alternative
"Whether it's an unforeseen trip to the hospital or car accident, make sure that there is a replacement for your vendor," said Kimberly Sisti, owner and lead designer at the San Diego-based wedding planning company Sisti & Co. "Even if the vendor is not sure who it will be when signing the contract, that's fine."
Make sure your vendor has committed to providing an alternative in the event that their designated staffer gets the coronavirus.
"Clients sometimes think that if their vendor gets sick they lose out, but that's not true at all," Sisti said. "Vendors always have stand-ins for emergencies, and your wedding is no different."
Consider Planning Your Wedding for 2022
To avoid the stress of whittling down your guest list or keeping your guests socially distanced, you might want to plan your wedding for next year.
"If you are a couple who is dead set on a wedding of 200-plus guests with lots of dancing and social interactions, then I do think it's best to plan for 2022 instead of 2021 to ensure you can have the wedding you really want," Sharpley said. "However, for many of our clients, it has been more important to go ahead and get married and move forward with starting their lives together, and that has meant our couples were willing to make other sacrifices in order to make that happen sooner than later."
Make Your Money Work for You
Or, Plan For a Very Intimate Celebration
If you want to minimize risks and tie the knot in 2021, keep the guest list even smaller than local limits allow.
"A smaller wedding, regardless of what is allowed in your specific locale, is an absolute must until herd immunity is reached," said Loren Petrowski, owner of the officiant service Marry You in Hawaii. "You definitely do not want your wedding to be known as a super-spreader event, but one of joy and love. You can always plan a larger ceremony and reception in the future if you are still longing for one."
"If you are set on getting married in 2021, you can do an elopement with just the two of you or maybe with just your families, or possibly a virtual hybrid option so more guests could join in from afar," she continued.
One major benefit of a smaller wedding is the smaller budget you'll need to make it happen. You can put those savings toward a honeymoon later in the year or next year, or a down payment on a home.
Cut Costs: How I'm Sticking to a Budget and Spending Less During COVID-19
Budget For Extra Safety Precautions
"To go through every precaution, guests and vendors should be tested three days out and have a rapid test as they enter," Petrowski said. "Tables will be spread out and potentially seat only within guests' own bubble. Masks will be recommended while dancing, if there is dancing. These are just a few examples that may seem extreme, but unless you'd like to wait for herd immunity or when CDC regulations have relaxed a bit, these are really a few responsible ways to have a wedding at this time."
Keeping your guests safe if you choose to have a wedding during the pandemic will likely come at an added expense. FDA-approved rapid testing kits are currently only available by prescription and cost $50 each, NBC News reported. In addition, you may want to provide guests with masks and sanitizers.
"It is recommended that you have a sanitation station at every major touchpoint at the event," said JoAnn Gregoli, owner of the wedding and event planning service Elegant Occasions by JoAnn Gregoli. "I also try to incorporate personalized sanitizer amenity kits which include monogrammed masks, mini hand sanitizers and gloves to gift the guests. We are living in a time that we have to embrace the new way of life, and why not offer gifting they can use?"
What Is Household Income? Knowing Yours Can Help You Budget and Save
Make Your Money Work for You
Choose a Venue With Outdoor Space
"If you can select a venue that has outdoor space, that is optimal to make guests feel safe and secure," Gregoli said.
If you do opt for an indoor venue, make sure there is plenty of space left between tables, and even between seats at the same table. Opt to keep doors and windows open to increase airflow.
Expect to pay an average of $10,500 for your venue, according to The Knot.
Ditch the Buffet
Buffets may be a more cost-effective option than a plated meal, but they're also a great way to spread germs.
"When it comes to foodservice, avoid the old-fashioned buffets," Gregoli said.
As a cost-effective alternative to table service, Gregoli recommends renting food trucks.
"Food trucks make for safe and versatile food selections," she said. "Food trucks are now becoming the most coveted food option during this pandemic."
The cost to rent a food truck will vary widely based on the cuisine type. A taco truck may cost as little as $15 per guest to rent, while a gourmet food truck can cost as much as $70 per guest.
Have a Plan B
Washington, D.C.-based event and wedding planner Andrew Roby of Andrew Roby Events recommends working with a wedding planner to develop a backup plan.
"Have two plans in place," he said. "Plan A is under normal circumstances where you can have your maximum guest count. Plan B is under a COVID environment where you are subject to the guest count deemed by local authorizes. Your planner will be able to guide you."
Keep Reading: How To Be 'Financially Resilient' — Even in Times of Crisis
Make Your Money Work for You
Plan Everything Now, but Wait To Book Until Things Are Back to 'Normal'
If you're hesitant to set a date now, that doesn't mean you need to put all of your planning on hold.
"Use pandemic downtime for wedding planning," said Marie Kubin, CEO of the nationwide event rental service Rent My Wedding. "Even if you don't have a date or venue selected, you can still plan pretty much every other aspect of the wedding. Decide on the centerpiece colors and types of flowers. Choose your table linen fabric. Pick out a backdrop for the head table. Keep notes of everything you choose, so you have it ready when it does come time to hire your vendors."
Delaying the wedding also gives you more time to save up for all the expenses that go with it. The average wedding now costs $33,900, according to The Knot.
More From GOBankingRates
About the Author