Inflation Dating: How Much It Costs Now Compared to Last Year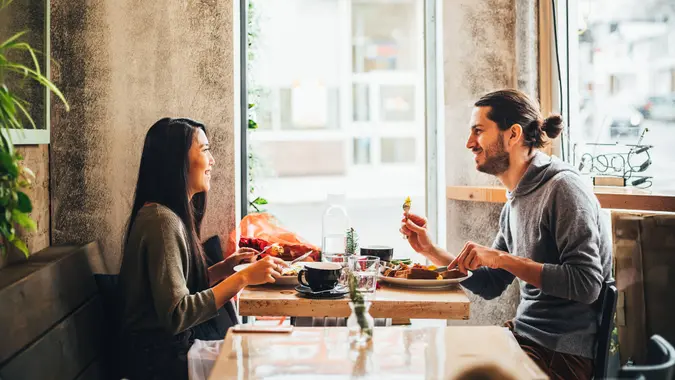 FOTOGRAFIA INC. / iStock.com
Dating, like virtually everything this year, has become significantly more expensive across the board for singles due to inflation.
In our GOBankingRates infographic, based on the latest Bureau of Labor Statistics (BLS) Consumer Expenditure report, we take a look at how much yearly dating costs have increased from 2021 to 2022. Plus, we share helpful tips for reducing overall dating costs to prevent going into debt. Check it out along with our breakdown below.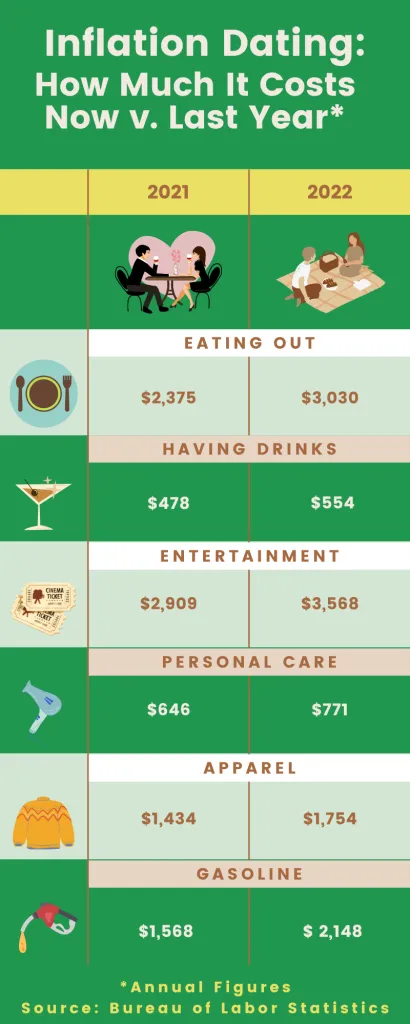 Personal Care and Apparel
First impressions are everything on a first date. This is especially true of the singles who find their dates through online dating apps and are meeting for the first time. Personal care expenses, like haircuts and well-kept fingernails, have increased significantly from $646 spent overall in 2021 to $771 in 2022.
Similarly, apparel has become more expensive. The annual figures in 2021 were $1,434. In 2022, those going out on dates are spending $1,754 on apparel items ranging from new clothes to new shoes.
Gasoline
Whether you're meeting at a coffee shop or a movie theater on your first date, chances are fairly likely you'll be driving there and back. Gas prices have increased throughout 2022 with annual figures now at $2,148. This significantly contrasts with 2021's overall gas figures of $1,568.
Eating Out and Having Drinks
Dining out while dating has experienced a dramatic increase since 2021. Then, the figures were priced at $2,375 annually. Now, meals are up to $3,030. 
Make Your Money Work for You
Drinks have also experienced a price hike although it is, fortunately, not in the thousands. BLS figures show daters who actively purchase drinks in 2022 pay $554 annually versus $478 in 2021.
Entertainment
Entertainment costs, similar to dining out and having drinks, means factoring in expenses for two people for a wide range of entertainment options like movies, theater performances, concerts and general fees and admissions. In 2021, the annual figures for entertainment were $2,909 annually. The numbers are now at $3,568, an increase of 22.7%. 
Tips for Reducing Overall Dating Costs
While many singles may wish they had more money to date or think a larger disposable income could make the experience easier, the truth is dating is expensive. 
Actually, if you think about it, dating was never not expensive. Drinks, dinner, outfits, parking costs — everything adds up. But this doesn't mean you need to give up on dating altogether. Sophy Singer, co-founder and executive matchmaker at Sophy Love, said you simply need to think outside the box when planning dates. 
Think back to the early days of the COVID-19 pandemic. Just as singles pivoted from dinner and movies to walks in the park and picnics, Singer said we can pivot from $100 dates to relatively inexpensive ones. 
Chances are also likely the person you're taking out is open to this pivot and welcomes the idea of low-cost dates. There's a lot of undue stress, both personal and financial, put on traditional dinner dates.
In these settings, everyone present in an expensive restaurant may be worried about something unrelated to the person they're on the date with. One person may be afraid they might have their credit card declined at the end of the night if they order too much. The other person might feel nervous if they wore white and are eating or drinking something which could stain their clothes. (An outfit they might plan on returning the next day or are renting for the occasion!)
Make Your Money Work for You
Opting for a low-cost date — like a walk, grabbing ice cream or coffee or making a home-cooked meal together — gives you the opportunity to get to know one another without all the financial pressures of a traditional date night. Singer said these are often dates which are more memorable and meaningful, too.
"None of this means you can't treat your potential partners to a nice night out, but it doesn't have to be the activity for the first date," said Singer.
Those dating amid inflation may use Singer's recommendation of making their first date a video date. This not only saves money, but it gives you the opportunity to get a feel for the person before ever meeting them face-to-face.
More From GOBankingRates