7 Stats Highlighting How Much Money Americans Waste on Nonessentials — Why We Do It and How To Stop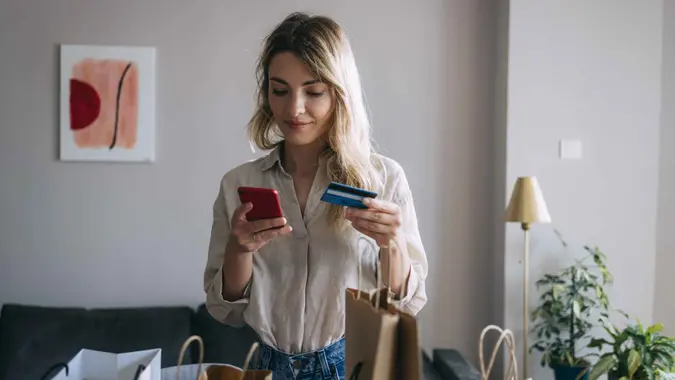 FreshSplash / iStock.com
Despite designer Marie Kondo's minimalism ethos that had people throwing away items that "no longer spark joy," Americans still have too much stuff, based on statistics from several sources.
Let's look at seven recent stats that show we how much money we waste — and some expert tips on how to stop frivolous spending.
$18,000 per year: the amount Americans spend, per person, on nonessentials according to a survey by Ladder and OnePoll, as reported by Vox.
$1.45 trillion: the value of the global luxury goods market in 2022, according to a Bain & Co. report
4.7%: the increase in retail sales, year-over-year, from January 2022 to January 2023, per the U.S. Department of Commerce.
$3,768: the average cost of impulse buys individual Americans make each year, according to Ramsey Solutions.
72%: the increase in impulse spending since 2020, according to Ramsey Solutions' State of Personal Finance study.
21%: the percentage of Americans who spend money on a self-storage unit in 2023, with 40% saying they use one because they don't have enough space at home. Another 15% plan to use one in the future, according to reporting by StorageCafe.com.
11.3 million tons: the amount of clothing thrown away each year in the U.S., equal to 85% of all textiles, or 81.5 pounds of clothing per person, according to Earth.org.
Whether you're paying extra for storage space to stow furniture, clothing, or household goods — or simply tossing clothing that still has life left in it because you're overwhelmed by clutter — there are ways to stop the cycle of wasteful spending.
Stop Scrolling, Start Budgeting
As Rachel Cruze of Ramsey Solutions wrote, since 66% of all impulse buys happen in bed on a smartphone, stop scrolling. Don't mindlessly search Amazon or browse Pinterest when you're tired and your defenses are down. It also helps not to store your credit or debit card information in shopping apps. Taking that extra step to get up and grab your credit card could make you more inclined to wait until morning, when you can really think about whether or not you need the item.
Make Your Money Work for You
Secondly, sticking to a budget can help curb impulse spending. However, make sure to leave some discretionary funds — what Cruze called "fun money." That gives you the freedom to make impulse purchases but ensure they fit your budget and won't derail your financial goals.
If you feel your spending has gotten out of control, you might want to consider a spending freeze for a month. For that month, don't spend any money on non-essential items. Some people take the challenge to an extreme and freeze all spending, relying on groceries they have on-hand and personal items they've stocked up.
A spending freeze can reset your mindset about shopping and break counterproductive spending habits. Selling items no longer in use can also help to declutter your home, and bring in some extra finances to pay down debt.
You don't have to contribute to statistics related to wasteful spending — or add more junk to landfills. Recognizing impulse shopping as a problem is the first step to making positive changes for your financial future.
More From GOBankingRates