More Than One Out of Every Six Americans Have No Savings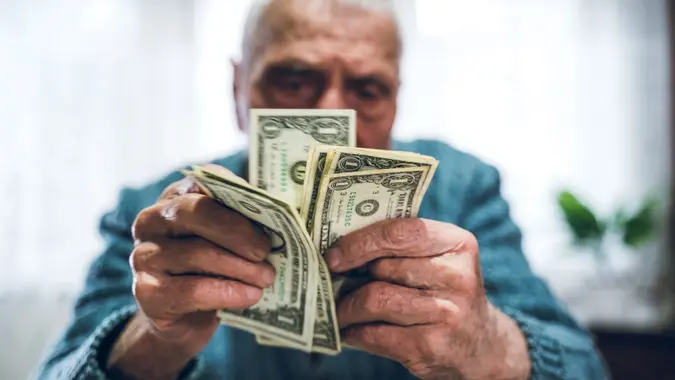 urbazon / iStock.com
Conventional financial wisdom suggests that you should have enough savings to cover three to six months of your averagFe expenses. Unfortunately, data indicates that most Americans fall woefully short of this goal. In its most recent survey, GOBankingRates conducted a poll of over 1,000 adult Americans about their savings habits and general financial outlook. Perhaps the most startling finding was that almost 18% of respondents had absolutely no savings.
Mortgage Interest Rate Forecast for 2023: When Will Rates Go Down?
See: 3 Signs You're Serious About Raising Your Credit Score
If you find yourself in this situation as well, it's important to take steps to start building your wealth, both to avoid going into debt and to provide for your financial future. Here's a look at some of the other notable results from the GOBankingRates survey, along with suggestions as to how you can start boosting your wealth. 
Highlighted Results From Survey Respondents
The headline figure that more than 1 in 6 polled Americans has absolutely no savings is definitely the most jarring result from the GOBankingRates survey. But perhaps the most distressing finding is that about 24% of those 65 and older have no savings at all, the largest percentage of any age group. By contrast, just under 14% of 18- to 24-year-olds reported they have no savings at all.  
Make Your Money Work for You
A significant amount of survey respondents indicated they are worried about losing their jobs. Although only about 21% of survey respondents reported being laid off in the past 12 months, almost 31% indicated they were "somewhat" or "very" worried about being laid off from their current position.
The ability to pay bills, including their housing expenses, was of concern to more than two-thirds of survey respondents. The survey also revealed that utility expenses have gone through the roof over the past year, with over 63% of participants indicating that their utility bills were up between 25% and 50% over the past year. 
Live Richer Podcast: Scamdemic – Don't Fall Victim to These Money Scams
Tips on How To Increase Your Wealth 
Costs tend to naturally increase over time due to the effects of inflation. Things have gotten particularly expensive over the past year, as confirmed by the respondents in the survey. The best solution to deal with the lifelong increase in expenses is to continually build your wealth. Even if you're starting from ground zero, there's always a way to start boosting your wealth. While you may not become a millionaire overnight, starting a wealth-building plan as soon as you can — and sticking to it — is the best way to generate long-term equity. Here are some tips to get started. 
Make Your Money Work for You
Start Immediately
The real key to generating long-term wealth is time. The earlier you can start, the more money you're likely to have by the time you retire or reach whatever financial goal you have. This is due to the power of compound interest. Imagine you start a wealth-building plan with just $200 per month, invested at a return of 10% per year. If you start at age 35, that $200 per month will grow to about $452,000. But if you instead start at age 20, by the time you're 65 that figure will be over $2 million. This highlights just how important it is to start early if you're trying to build long-term wealth.
Automate Your Investments
One of the cornerstones of wealth-building is consistent investment. Even if your intentions are in the right place, it's easy to forget or overlook putting away money every month. This is why automation is an important part of building wealth, as it ensures that you're making your regular contributions. It also takes money out of your account before you "accidentally" spend it. 
Save Until It Hurts — and Then Increase It
If you're serious about building wealth, it should "hurt" a bit every month. In other words, you should be sacrificing some current expenditures in favor of your long-term financial success. If you can comfortably save 5% of your income, for example, try doubling that amount to 10%. Certainly, that will sting, at least at first. But over time, you'll adapt to your high rate of savings, and you'll be rewarded in the long run. 
Make Your Money Work for You
Don't Be Too Conservative
Although you'll want to start your financial plan with a high-yield savings account for your emergency fund, after you've tucked away about three to six months of expenses, you'll want to get more aggressive with your funds. While you shouldn't go overboard on speculative investments, a U.S. stock index fund is a great start. While historically averaging a return of about 10% a year, the U.S. stock market has also never lost money over any 20-year rolling period. 
Take Advantage of Tax-Advantaged Accounts
One of the biggest contributors to wealth in America is the 401(k) plan. If you work for an employer that offers one, be sure to take maximum advantage of it. At the very least, contribute enough to snag your full employee match, which is the closest thing you can get to "free money." Typically, employers will match as much as 100% of the first 5% or so that you contribute to your own account. Coupled with the tax-deferred nature of these accounts — and the pretax contributions you can make on your own — the 401(k) can be a great account for building long-term wealth.
More From GOBankingRates
Methodology: GOBankingRates surveyed 1,002 Americans aged 18 and older from across the country on between January 30 and February 1, 2023, asking six different questions: (1) How much savings do you have?; (2) If you lost your job, what would be your immediate concern?; (3) How much do you take financial advice from influencers/personalities on social media, TV/Radio/podcast personalities or other financial experts in the media?; (4) Have you been laid off from your job in the last 12 months?; (5) How worried are you about layoffs/being laid off from your current position?; and (6) How much has your energy/utilities bill changed over the last year?. GOBankingRates used PureSpectrum's survey platform to conduct the poll.
Make Your Money Work for You