13 Billion-Dollar City Projects That Will Save You Money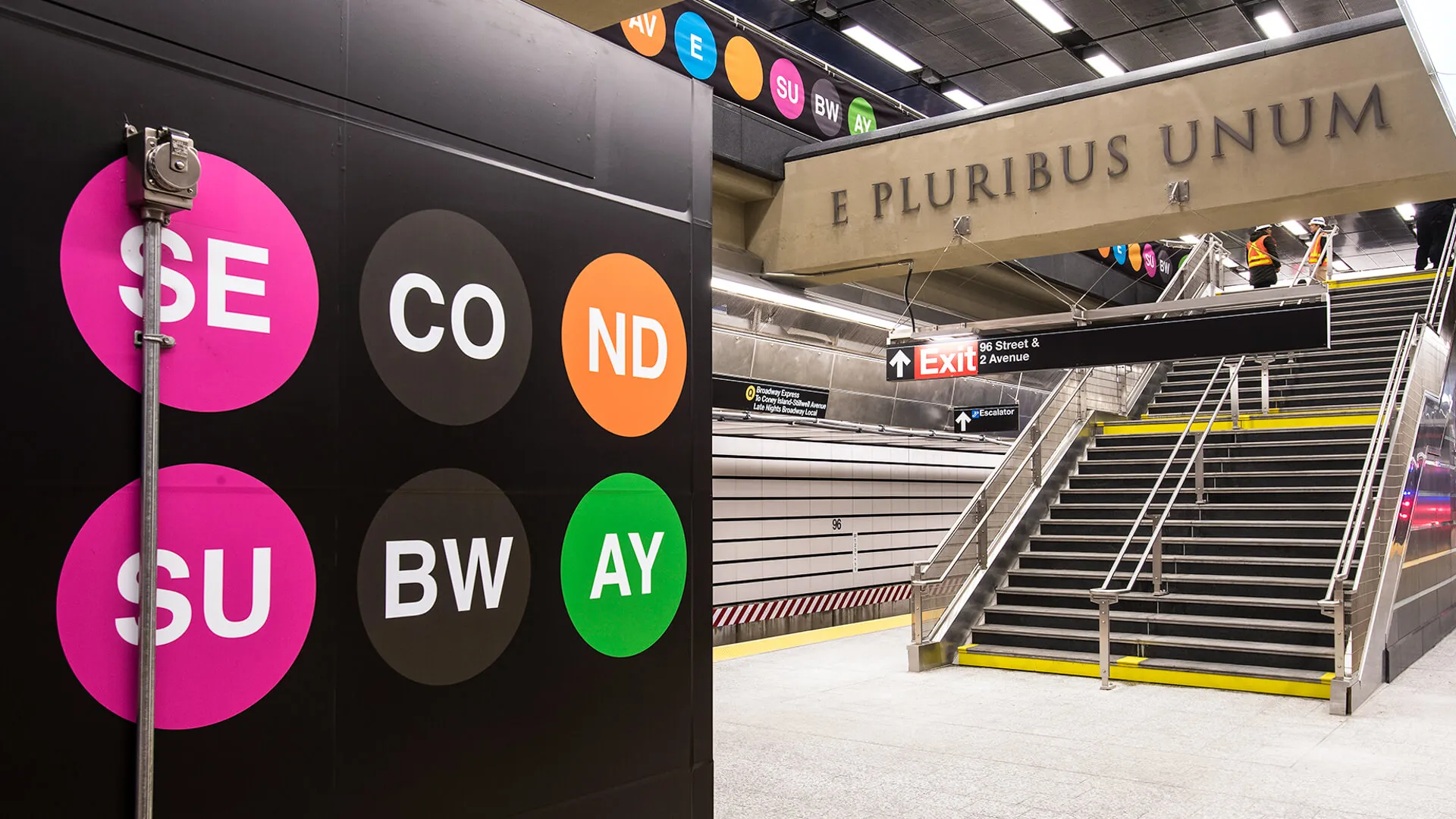 Few things display the results of your tax dollars the way big, billion-dollar infrastructure projects do. From bridges and freeways to rail lines and subways, the biggest public works projects always are expensive and often are controversial.
At their best, though, they improve the quality of life, increase tourism, boost businesses, lighten commutes and save residents real money in the long run. Here are 13 public works projects that save their residents money. 
Last updated: Nov. 12, 2020
Make Your Money Work for You
Los Angeles Purple Line Extension
Estimated cost: $9.5 billion 
In 2015, work began on a long-awaited extension of the Purple Line subway in West Los Angeles. In total, the project will cover about nine miles of new subway lines. Construction is divided up into three sections, and the first phase is projected for completion in 2024, with the entire project done by 2027. The original $9.3 billion price tag, which includes financing, recently grew by $200 million.
How It Saves Money: High-Capacity, High-Speed Commuting Alternative
The project will bring fast, reliable service to some of the busiest areas in L.A., including Westwood, Century City, Beverly Hills and Miracle Mile. That will give commuters in some of the city's most congested corridors the chance to leave their cars at home and hop on a train instead.
According to the American Public Transportation Association (APTA), the average Angeleno saves $11,179 by taking public transportation instead of driving. That figure includes both the cost of owning and driving a car.
Maryland Purple Line
Estimated cost: $5.6 billion
On the other end of the country in Maryland, another Purple Line is emerging, this time in the form of a 16-mile light-rail line that will connect Montgomery and Prince George's counties from Bethesda to New Carrollton.
By the time it's operational — the original 2022 launch date was delayed to 2023, but recent contract disputes will likely push that back several years — the emissions-free electric rail will connect to the existing Metrorail Red, Green and Orange lines. The 21-station line is expected to take 17,000 cars off the road each day, resulting in a savings of 1 million gallons of gas over 20 years.
How It Saves Money: Saving Big Bucks With Public Transportation
According to the APTA, Marylanders could save almost as much as their counterparts in Los Angeles by ditching their cars in favor of using public transportation. By eliminating expenses such as gas, parking and the cost of vehicle ownership, the average commuter in Baltimore could save $840 a month, or $10,079 a year.
Make Your Money Work for You
Google's Bay Area Housing Plan
Estimated cost: $1 billion
Google, one of the largest employers in California's Bay Area, committed $1 billion in land and money to build affordable housing in what is one of the  country's least affordable regions. Google is investing $750 million in company-owned land and another $250 million in incentives for developers to create homes for low- and middle-income families.
By July 2020, one year after the plan's unveiling, Google had invested hundreds of millions of dollars in six different projects. 
How It Saves Money: Affordable Housing Where Virtually None Exists
The median price of a home in the Bay Area recently dropped to $928,000, which is still among the highest housing costs in America. Google's 10-year plan will add as many as 20,000 new homes for people who could never otherwise afford one in the Bay Area. By comparison, just 3,000 homes were built in the entire South Bay in 2018.
Find Out: How To Save on All Your Monthly Expenses and Bills
Hunters Point Naval Shipyard Housing Project
Estimated cost: $15 billion
Since before World War II, Hunters Point Naval Shipyard has occupied one of the choicest pieces of real estate in America — a peninsula on San Francisco's southeastern waterfront that extends into the San Francisco Bay. The Navy is undertaking a massive environmental cleanup effort to make the land suitable for public use and will transfer it to the city.
How It Saves Money: The Chance To Buy a Home on the Bay
Once cleanup is complete, the shipyard redevelopment effort will include public parks and other open spaces, new businesses, support for existing businesses, an artists community and, most importantly, more than 10,000 new residential properties. As many as 40% of those new units will be slated for below-market affordable housing in one of the nation's most notoriously expensive cities. 
Make Your Money Work for You
I-4 Ultimate Project
Estimated cost: $2.3 billion
Known as the "Orlando Expressway," I-4 long has been the backbone of Central Florida's transportation infrastructure, but the interstate has been in need of an upgrade after a half-century of massive population growth.
The I-4 Ultimate Project is reconstructing 21 miles of the roadway at its most critical point through Orlando, including express lanes, rebuilt interchanges, new signage and efficient traffic management. It will be finished and open to the public in 2021.
How It Saves Money: Tax Savings, Free Lanes and Lives Saved
Dubbed the most dangerous interstate in America, a person died on I-4 every 12 days on average between 2010 and 2015, which the updated infrastructure is expected to reduce.
The new I-4 will add tolls where there were none before, but they're optional — commuters can choose to travel on free lanes. The thought is that those willing to pay the tolls will find less congestion, and increased safety, as will those who see fewer cars in the free lanes. 
Gordie Howe International Bridge
Estimated cost: $5.7 billion
Spanning more than a half-mile over the Detroit River between Detroit and Windsor, Canada, the Gordie Howe International Bridge will be among the five longest bridges in North America once it's finished in 2024. Complete with green pedestrian and bike paths, port-of-entry immigration centers and six total lanes, the cable-stayed bridge project also will widen and improve joining roads on both sides of the connection. It is scheduled to open to the public by the end of 2024.
How It Saves Money: Streamlined International Shipping and New Jobs
In terms of dollars and cents, the Gordie Howe International Bridge offers residents more opportunities to make money than to save money. The trucking industry, in particular, is expected to benefit from access to a much faster, cheaper and more direct route between the heavily traveled Detroit-Toronto corridor. The building of the bridge itself is expected to create 2,500 new jobs, which will have a secondary impact on local retail sales across all industries. 
Make Your Money Work for You
O'Hare Modernization Project
Estimated cost: $8.5 billion
Serving more than 900,000 flights in 2018, Chicago's O'Hare International Airport is the busiest airport in America, and it's getting a major overhaul. The largest airport construction initiative in the country, the O'Hare Modernization Project will create more room for both international and domestic carriers while adding dozens of new gates. It also will reconfigure and expand several runways, create a cutting-edge global terminal and add several concourses. 
How It Saves Money: Easier Flying and Cheaper Flights
The modernization project already is making O'Hare a much more attractive hub for airlines across the world. There is stiff competition for space in the newly renovated airport, thanks to the impact the project will have on ease of travel. That includes far fewer delays and much easier transfers. All that competition certainly will lead to reduced airfares, not to mention the massive economic impact the project will have on the region as new businesses make O'Hare their hub of choice. 
LaGuardia Modernization Project
Estimated cost: $8 billion
Like O'Hare, New York's LaGuardia Airport is a major hub that long has suffered from outdated infrastructure. Thanks to the LaGuardia Modernization Project, however, the airport is getting 37 new gates spread across four new concourses.
The initiative will provide the entire airport with updated technology, new retail and restaurants and improvements to surrounding infrastructure. It will be America's first new major airport in a quarter-century.
How It Saves Money: Single-Ride Trips to the Airport
The city will reap all the benefits that come with major airport upgrades — fewer delays, shorter lines, cheaper airfare, more flights and new jobs. New Yorkers, however — and the city's millions of annual visitors — also stand to gain a direct financial benefit. The upgrades will link each of LaGuardia's terminals to the No. 7 subway line and the Long Island Rail Road via AirTrain.
That means you'll be able to get directly to your terminal from virtually anywhere in New York City with a single Metro Card swipe — no cabs, no Ubers, no shuttles. 
Everything You Need To Know About Budgeting: How To Create a Budget You Can Live With
Make Your Money Work for You
Los Angeles International Airport Landside Access Modernization Program
Estimated cost: $14 billion
LAX is one of America's busiest but least-loved airports. That, however, should change soon because of an enormous rehab project — the Landside Access Modernization Program — that will modernize nearly every aspect of the airport.
Among the most significant upgrades is the installation of an electric, driverless train called the Automated People Mover, to go along with a new rail connection, a massive new wing, a new inner core, faster security and new shopping, food and retail options. Upgrades are scheduled to take place through 2028. 
How It Saves Money: A Tidal Wave of New Jobs
The largest public-works project in Los Angeles history, the Landside Access Modernization Program will make flying cheaper, easier, faster and more efficient for anyone who enters LAX. For area residents, however, there's a mountain of money waiting to be earned. The official Discover Los Angeles website estimates the project will create an astonishing 121,000 annual construction jobs until work wraps up in 2028.
Rebuild Illinois Capital Plan
Estimated cost: $45 billion
Four bipartisan legislative bills were drafted to create the sweeping $45 billion statewide investment known as the Rebuild Illinois Capital Plan. Among the initiatives are massive investments in education, healthcare, transportation, the environment, broadband deployment and state facilities. It also will expand gaming, legalize sports betting, and provide revenue for both horizontal and vertical construction.
How It Saves Money: Jobs and Economic Expansion 
The initiative depends on fairly steep hikes to cigarette and gas taxes, but even smokers and commuters stand to reap significant gains from the massive economic expansion that will follow. Much of the individual financial benefit will be indirect in the form of 540,000 new jobs; shortened commutes; healthcare that is cheaper, better and more readily available; and modern infrastructure that is easier and less expensive to maintain. 
Make Your Money Work for You
California High-Speed Rail
Estimated cost: $80.3 billion
One of the most expensive and controversial public works projects in the country, the California High-Speed Rail is often known as the Bullet Train. It gets its name from its incredible speed. The Bullet Train will launch riders at 220 mph from downtown Los Angeles to San Francisco — a 380-mile journey — in just two hours and 40 minutes. The project now is slated to cost double the $40 billion voters originally approved in 2008.
How It Saves Money: Cheap, Lightning-Fast Travel
No one knows for sure what a ticket to travel between the Golden State's top two destination cities will cost when the Bullet Train enters service in 2028. In 2015, however, planners estimated the cost of a single ticket would be between $50 and $86. Even on the high side, that's quite a deal. The average flight between L.A. and San Francisco averages $119.
Sepulveda Pass Tunnel
Estimated cost: $6 billion-plus
For generations, the Santa Monica Mountains have served as the single-biggest bottleneck in all of Los Angeles' notoriously congested network of roads. The mountains separate Los Angeles from the San Fernando Valley — known informally just as "The Valley" — which are two of the most densely populated areas in America. All traffic to and from must pass through a handful of choke points in canyons and passes.
The Sepulveda Pass Tunnel is being studied as a fast and reliable public transportation alternative. There currently are four proposals, including three rail lines and one monorail.
How It Saves Money: A Chance To Ditch High-Priced Car Commuting
If approved, the Sepulveda Pass Tunnel would be one of the most ambitious public-works projects in the city's history. It would result in something Angelenos have been dreaming of for years: an alternative to the crushing grind that is the 405 freeway.
If the project enables residents to abandon their cars in favor of public transportation, the average commuter could save $932 a month and countless hours wasted in the worst-of-the-worst L.A. traffic.
Second Avenue Subway Project
Estimated cost: $17 billion
The Second Avenue Subway Project is the most significant expansion of the New York City subway system in a half-century. Builders finished the first of two phases in 2017, and by the time the second phase is finished, the system's millions of daily riders will enjoy 8 1/2 new miles of transit lines along Manhattan's East Side. The project will bring 16 new stations from 125th Street in East Harlem to Lower Manhattan–at an estimated cost of  $2.5 billion per mile.
How It Saves Money: Cashing In by Ditching Your Car
The Second Avenue subway line will provide much-needed relief for the congestion that plagues New York City's subways. That said, the Big Apple is home to the most comprehensive subway system in America, and riding it can save you big bucks compared to driving a car. Nowhere in America is car commuting more expensive. Drivers in the Big Apple pay an average of $14,612 more a year than their subterranean counterparts.
More From GOBankingRates
Photos are for illustrative purposes only. As a result, some of the images may not reflect the projects listed in this article.
About the Author