11% of Americans Have No Savings: 6 Expert Tricks To Motivate Yourself To Save More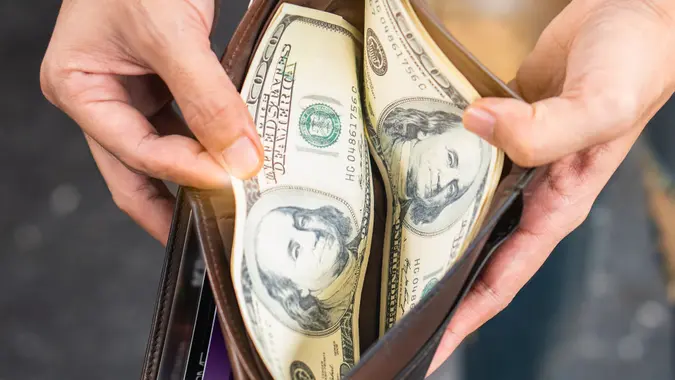 Chan2545 / iStock.com
Saving money can be a difficult habit to form, especially if you're living paycheck-to-paycheck. A recent survey by GOBankingRates found that nearly 11% of Americans have no savings at all. This means they're unable to pay for surprises like medical bills or auto repairs, which can easily put them into debt.
If you're part of the 11%, now is the time to start making small changes that will make a lasting impact on your savings account — whether you're just getting started or retirement is quickly approaching. 
With some advice from industry experts, we've come up with six tricks to help motivate your saving habits so you can build a financial safety net and feel more comfortable.
Visualize Your Plan and Be Specific
It's easy to say you want to start saving money, but it's even easier to push it off until later. Don't let procrastination get the best of you. Start by coming up with a plan that works for you. 
"Envisioning your financial goals can be a powerful motivator to save more," said Grant Sabatier, founder of Millennial Money. "Whether you're saving for an emergency fund, dream home or exotic getaway, make your vision tangible. Write down specifics about your goal, make a vision board with inspiring pictures or print photos that represent what you're saving for."
Sabatier went on to talk about how he likes to put reminders where he'll see them each day. It could be the refrigerator or on his desk. This provides him with a reminder of what he's working towards.
Make Your Money Work for You
Once you have your plan and you've taken the time to create visuals, it's time to put it into place. Look at your monthly budget and determine how much you can afford to put towards your monthly goal. If you need to adjust your budget to make your plan work, this is the time to do that.
Money Savings Challenge
For some people, saving money is hard, and that's okay. Come up with a way to make saving money fun. Starting a money-saving challenge can be a great way to motivate yourself.
One of the more popular challenges is the no spend challenge. Over a 30-day period, you'll eliminate all non-essential spending. That means no eating out at restaurants, shopping for clothes, going to movies or spending that isn't necessary. At the end of 30 days, see how much money you have left over in your budget. This amount can then be moved to your savings account.
Make Things Automatic
The easiest way to save money is not to have to think about it at all. This can be done by paying yourself first and making it automatic.
If you're paid at your job through direct deposit, talk with your HR department about splitting your paychecks between two accounts. You can have most of your check deposited in your checking account, and then a small portion can be moved into your savings account automatically on payday.
"You don't have to put a lot of cash away each month to build up savings," says Andrea Woroch, consumer finance expert at AndreaWoroch.com. "Focus on small amounts you won't miss, such as $10 a week or $25 a month to start, and set up automatic transfers to a separate account so it's out of sight and out of mind."
Make Your Money Work for You
You can use this same tactic for your retirement savings. If you have access to a 401(k), have your contributions taken directly from your paycheck. This way, you won't even realize the money is gone.
Reward Yourself
Most of us are motivated by gratification. It helps us feel good about ourselves and our accomplishments. To keep yourself motivated to continue saving money each month, reward yourself for accomplishments.
One way you can do this is to set a monthly savings goal. If you hit your goal, reward yourself with something special. Maybe that's a treat from Starbucks or something else that makes you happy. Just make sure you keep it small so it doesn't affect how much you saved.
Track Your Progress
Make sure you allow yourself to stay accountable. By tracking your monthly progress, you'll see what you've accomplished and the work you have left to do. This is going to help keep you motivated to continue moving forward.
There are a lot of budgeting apps available that will allow you to track your progress right from your smartphone. A couple of favorites are Mint and You Need a Budget.
Don't Compare Yourself to Others
One of the worst things you can do when saving money is to compare yourself to someone else. Everyone's budget is different, so if your friends can save more than you, it could diminish your motivation. 
Make Your Money Work for You
Remember that the only thing that matters is reaching your personal goals. Your goal isn't to save the same or more than someone else.
The Bottom Line
If you're struggling to save money each month or finding it difficult to stay motivated, look for ways that help make things easier. Maybe it's setting up a money savings challenge or rewarding yourself when you meet or exceed your monthly goals. Or it could be as simple as making it automatic so you can take a hands-off approach.
Find what works for you; before you know it, you'll be a savings expert.
GOBankingRates surveyed 1,091 Americans aged 18 and older from across the country between Aug. 14 and Aug. 16, 2023, asking twenty different questions: (1) Have you had trouble paying your utility (gas, electric, heat, internet, etc.) bills in the last 6-12 months?; (2) Which of the following bills/expenses has been the hardest to keep up with over the past year?; (3) Have you bought a car/truck in the last 6-12 months?; (4) Have you ever been on food stamps?; (5) Have you or would you use artificial intelligence (AI) to earn a passive income?; (6) Where do you shop for the best deals on groceries?; (7) What is your current annual income?; (8) How much were you able to contribute to your savings this year?; (9) How much have your savings/investments decreased over the past year?; (10) Next year's (2024) Social Security Cost of Living Adjustment (COLA) will be 3% instead of the 8.7% it saw in 2023. Will this affect you?; (11) What assets do you have in your retirement portfolio? (select all that apply); (12) How much money do you currently have saved for retirement?; (13) How much personal savings do you currently have?; (14) What's the first step you would take if you were starting a small business?; (15) If given the choice between your current job and starting your own business, which would you choose?; (16) If you have any plans to start a small business, what is the timeline?; (17) How much do you currently spend on rent?; (18) How much do you currently pay monthly on your mortgage?; (19) How much has your housing (rent, mortgage, etc.) gone up over the past year?; and (20) How long do you believe it will take you to save, in order to buy a house?. GOBankingRates used PureSpectrum's survey platform to conduct the poll.
More From GOBankingRates