How This Financial Planner Lost $107,000 — and What You Can Learn From His Mistake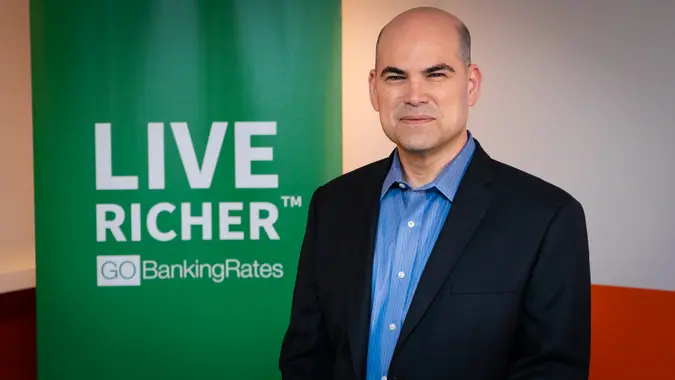 Chase Brock / GOBankingRates
We recently held our second edition of GOBankingRates' Live Richer Speaker Series, which is an exciting opportunity for me to introduce the financial experts and influencers in my network to a wider audience, and get invaluable tips and advice about everything from taxes to investing. This month we heard from Stuart Ritter, a certified financial planner at T. Rowe Price, who talked to us about how to set money goals and save for them. He also got candid about his own major money misstep, and what he learned from it.
Just because Stuart Ritter is a financial pro, it doesn't mean he hasn't made his share of money mistakes. In between graduating from college and going to graduate school, Ritter spent two years in the working world, and earned the equivalent of $107,000 in today's dollars.
"To this day I have no idea what I spent that money on," he said. "I lived in an apartment so I had rent, and I had a car and groceries and gas and stuff like that, but $107,000 is a lot of money. It has always bothered me that I still have no idea what I spent that money on."
Although he'll never get the money back, Ritter said he learned a valuable lesson from the experience.
Read: How to Set Career and Financial Goals You'll Actually Achieve
"It taught me to think about not just, 'Is this something I want to do right now?' but 'How does it compare to something I might want to do later?'" he said. "Recognizing that the decisions I made in the moment were affecting both the things that I could think of at the time and things I hadn't thought of yet was one of the lessons I took away from it."
Make Your Money Work for You
Ritter explains the importance of balancing your immediate wants and needs versus saving for future wants and needs. 
"The idea of balance is key," he said. "Us financial planners, I know we have a reputation that if you come talk to us, we're going to say that you have to sit at home in the dark and eat nothing but macaroni and cheese. It's not that Draconian. You don't want to deprive who you are today of the opportunities that you have. At the same time, you don't want to deprive who you're going to be of opportunities that you're going to want in the future. That balance will shift, you'll make some mistakes, you'll have some regrets, but if in general, you're making those thoughtful decisions and you can look back and say, 'Yeah, I did a pretty good job,' that's where you want to get to."
Do Better: 58% of Americans Have Less Than $1,000 in Savings
Ritter also said that it's important to have a reasonable view of what you want to have in life.
"There's that apocryphal question of, 'Is the glass half full or half empty?,'" he said. "If you think of it as the glass is the stuff I want, and the water is the stuff I have, is it half full or half empty? Another way to think of it is — maybe the glass is too big. Maybe what you think you're supposed to have is too much. And if you moderate that, then there's a better alignment between what you have and what you want."
Make Your Money Work for You
Try It: The Ultimate Financial Planning Guide — Do It Like the Pros in 8 Steps
Finally, he advised not to take on any debt if you can help it.
"If you take on debt, you're spending your own future income," said Ritter. "You're deciding that the person you're going to be in the future is going to have to take some of their money and spend it on whatever you're buying today, and not spend it on the things that that person who you're going to be in the future is going to want then."
Click through to read more about the surprising truths about millennials and their financial expectations.
More on Financial Planning
Gabrielle Olya contributed to the reporting for this article.