Housing Costs Don't Follow '30% Rule' in These 3 States — 3 Ways To Make Your Rent More Affordable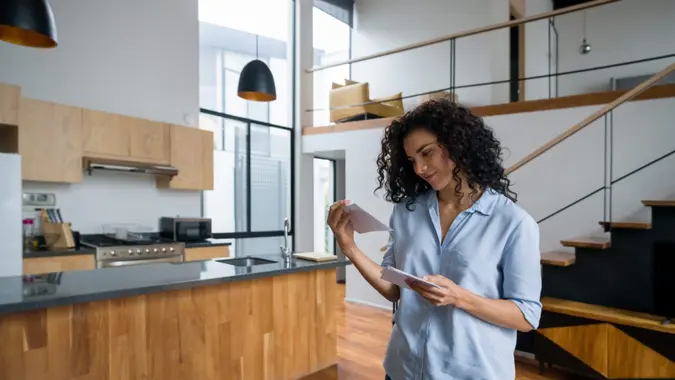 andresr / Getty Images
One traditional rule in finance advises people not to spend more than 30% of their income on housing. Banks often use this rule when qualifying homebuyers for a mortgage. They look for a debt-to-income ratio of 43%, where no more than 43% of your money goes toward debt. Of that, roughly 28% should go to your new mortgage payment.
For renters, a similar rule applies, with 30% of income going toward housing, which would include basic utilities such as electric, water, and home heating, according to SoFi.
But a new report from Moody's Analytic shows that it's virtually impossible for individuals to find apartments that can fit that budget in Massachusetts, Florida, and New York.
The national average rent-to-income (RTI) reached 30% for the first time in 20 years, according to Moody's 4th Quarter Housing Affordability Update (2022). It's especially bad in Massachusetts, Florida, and New York, where rent costs reached 32.9%, 32.6%, and 31.2% of the average income.
In New York City, the RTI is close to 70%, the highest in the country. Short of moving to a region or city with a lower cost of living and, hence, lower rent prices, what can you do?
Barter With Your Landlord
If your landlord is intended to raise your rent, you might be able to negotiate. Remember, landlords need to make money, too, and the cost of everything is going up. That means things like maintenance and repairs on your apartment costs your landlord more.
Make Your Money Work for You
You might be able to stall a rent increase just by asking your landlord and pointing out how you've been a loyal, model tenant for years. But if that doesn't work, you can offer to barter for a credit on your monthly rent. You can do minor repairs, mow the lawn, or do other tasks that your landlord might normally hire out.
If you live in a large high-rise, you might even be able to get a substantial rent discount by working part-time as the building superintendent. Of course, be mindful of the responsibilities this may entail. When your neighbor's toilet backs up at 2 AM, you may be the one they call to fix it.
Find a Roomie
It might make sense to move, renting a two-bedroom apartment with a roommate, instead of footing the rent bill yourself every month.
Whether you choose to move in with a friend, a sibling, a significant other or a stranger, make sure the terms and responsibilities are outlined clearly. Will both names be on the lease? What household chores will you each be responsible for? You don't have to go to the extent of Sheldon Cooper's famous "Roommate Agreement" in Big Bang Theory, but it's worth having some specific conversations before moving day.
Sublet Your Space
If you don't want to move but you already have room for another person, you can sublet your space. This may be less complicated than signing a lease with another person, since you remain in control of the apartment. Check with your landlord first, to be sure you're allowed to sublet, and explain that increasing rent costs are the reason why.
Make Your Money Work for You
If subletting a room to a person is a no-go, consider subletting your storage space or parking. Parking spots can go for big bucks in crowded cities. You can also consider renting out your car, your bike, or seasonal items like ski equipment for extra cash. Websites like Turo and Yoodlize make it easy.
Bottom Line
Rent is expensive. If you can find ways to reduce your housing costs now and potentially increase your savings, you might be in a better position to buy a house, if that's your eventual goal, when interest rates start dropping.
More From GOBankingRates