How Scrolling Past Fine Print Can Hurt Your Wallet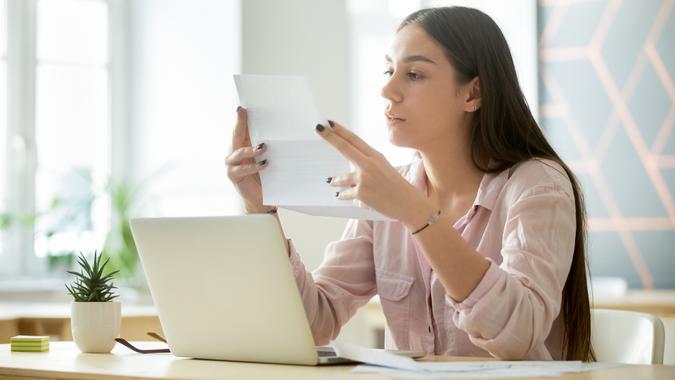 fizkes / Getty Images/iStockphoto
When you purchase something on a payment plan or opt in to a service, it's common to have to sign a contract. The problem is that these contracts are often long and complex — and include a lot of fine print. The salesperson will likely try to summarize things for you so you don't have to spend hours reading, but if you're not careful, you could unintentionally agree to something unfavorable that will cost you money.
Check Out: 8 Costco Frozen Foods That Give You the Best Bang for Your Buck
Important: This Credit Score Mistake Could Be Costing Millions of Americans
"When I was fresh out of college I signed up for DirecTV since I wanted to watch real TV without 'rabbit ears,'" said Matthew Robbs of Smart Saving Advice. "The price was reasonable and the contract was for two years. However what I missed in the fine print is that the monthly cost almost doubled at the end of year one. And since I was locked into a two-year contract, I had to keep paying that higher price for the full second year."
Make Your Money Work for You
To find out more, GOBankingRates interviewed a consumer analyst. Here's how ignoring the fine print could cost you and when you should pay close attention.
Financial Topics of Concern in the Fine Print
"You're signing an agreement, even if it only involves checking a box to say you read it," said consumer analyst Julie Ramhold with DealNews. "And that means you're legally agreeing to whatever is contained within said agreement, which could subject you to random fees and penalties. By slowing down and reading through the agreement, you'll be able to head off anything that might cause you problems further down the road."
She added, "Don't be afraid to ask for explanations, either. For example, if you're signing a new apartment lease and something doesn't sit right in the fine print, don't be afraid to ask for a better explanation to clear up any misunderstandings ahead of time. As for why it matters to your wallet, it means being aware of potential fees and penalties you could incur, so it's absolutely worth it (literally) to take your time and read through an agreement so you won't be blindsided by extra costs you weren't counting on."
Make Your Money Work for You
Here are some examples of terms in the fine print that should trigger a warning that you should pay close attention.
Take Our Poll: How Do You Typically Split the Restaurant Bill?
Interest Rates
"Particularly if they're fixed or variable," said Ramhold. "You'll want to know if you have an introductory rate that's lower but will climb after a certain amount of time, or if your rates are variable and subject to change from the beginning before you start making purchases on credit cards or trying to take out a loan."
Cash Advance Rates
Ramhold warned to read the fine print if you ever decide to take a cash advance from your credit card. When getting cash from a credit card, there's typically a 3% to 5% cash advance fee and the cash advance APR could exceed the regular purchase APR.
"When you receive cash advances, you obviously have to pay that cash back, so you'll want to know what kind of rates to expect to know how much you'll be paying back on top of the initial advance amount," she said. 
Make Your Money Work for You
Consequences for Missing or Skipping a Booked Flight
"In some cases, your entire ticket may become null if you miss or skip a booked flight, which will leave you stranded," Ramhold said. "So you'll want to know what happens, and if you're going to have to potentially rebook if this happens."
What Happens if You Get Bumped From a Booked Flight
"If you get bumped from your flight, you're typically entitled to some kind of financial compensation for your trouble," Ramhold advised. "By reading the fine print when you book your flight, you'll know what steps to take if this should happen to you and what to expect."
Warranties
Ramhold said, "Often warranties only cover certain parts of a product or situations that are abnormal, not typical wear-and-tear, so it's important to know what warranties cover and where they stop in order to prevent paying for repair work you shouldn't have to — as well as knowing when you'll be expected to fork over some cash."
Eligibilities
"Whether it's a particular offer or something else you're hoping to qualify for, the fine print is a must when seeing if you're eligible for something," said Ramhold. "It can save you a lot of time and stress down the road knowing up front if you'll be eligible or if it's likely that you won't qualify at all."
Although finding out you're not eligible for something won't likely incur an expense directly, it could cause an expense indirectly. For example, if you decide you want to refinance your older car with high mileage at a lower interest rate because you'll save a hundred dollars per month and you commit that savings to another expense before actually getting the loan, it could backfire.
When refinancing a vehicle, the fine print might state that the vehicle has to be no older than 10 years and have less than 100,000 miles — so keep an eye out for those stipulations.
Free Trial Obligations
"The fine print on these is especially important if you're trying a service out and aren't sure if you'll stick with it yet," Ramhold said. "A lot of them require you to input some kind of payment information when you sign up, which means if you forget to cancel the trial before it's done, you'll be automatically charged for another period of service."
She continued, "If you do want to cancel your trial, it's best to do so a couple of days or even a week before it ends as it may take a couple of days or longer to process the cancellation, and you don't want to be stuck with a service you aren't sold on for more time."
Supposed Free Services
"Some retailers will tack on extra services like warranties or in-home repairs and use shady wording to make it seem like opting for it is a totally free service," Ramhold said. "However, if you read the fine print carefully, you'll find that you're agreeing to pay a monthly fee (or a large one-time fee) for this 'free' service. In reality, you might get one month of a subscription for free, but then you'll be roped into tossing money away every month thereafter until you cancel the service."
More From GOBankingRates
Make Your Money Work for You