How to Change Your Name for Less Money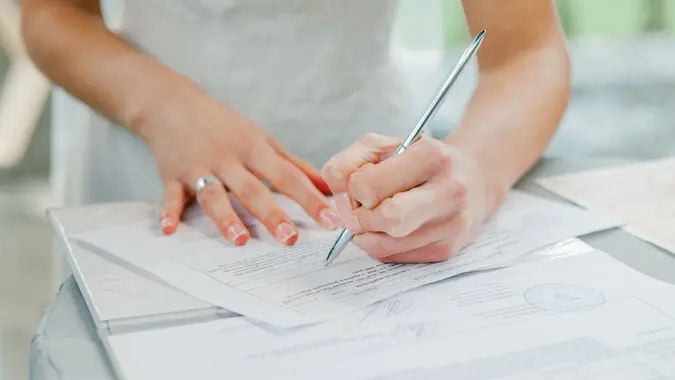 Helga2406 / Shutterstock.com
Whether you're changing your name after getting married, divorced or some other reason, the process of legally changing your name comes with a variety of fees and expenses. The same goes for business owners, who often change the names of their companies because of ownership changes or rebranding. Making a name change can be costly no matter the reason, but you can minimize spending on fees and expenses.
Here's what you need to know about saving money when changing your name.
How Much Does It Cost to Change Your Name?
No set price applies to every name change situation, but a variety of factors sum up the overall expense. Depending on where you live and which costs you might have to pay, changing your name can cost between $150 to $500 in most cases. Check out some of the fees and expenses you can expect to pay and find opportunities to save.
Personal Name Change Costs
You might be required to file a petition with the court in your area to change your name. The fee for changing your name can vary widely by state: Filing can cost $435 in California but just $150 in Massachusetts, for example.
Ask the court if you are eligible for a fee waiver. In California, the court waives fees for low-income residents or residents who receive public assistance.
In addition to the filing fee, you might also have to pay for these common name change costs:
Certified copies:

 

$25 per certification plus 50 cents per page in California; $20 in Massachusetts
Published newspaper notice:

 

Required by many states; $305 in the Los Angeles Times; from $23 in the Boston Globe
Attorney:

 

Attorney fees could increase dramatically if someone opposes the name change; $100 to $200 per hour in rural areas; $200 to $400 per hour in cities
Online legal services:

 

$29.95 for the basic package from MissNowMrs.com; $139 and up for providers such as LegalZoom
Driver's license change:

 

$27 in California; $25 in Massachusetts
Passport name change:

 

$0 to $165
Make Your Money Work for You
Never pay a fee to have your name changed on your Social Security card; the Social Security Administration will change it for free.
When getting married, you should put your preferred name on the marriage license application because some states can't amend an issued license.
Business Name Change
The cost of changing a business name also varies by state. To save money, avoid using a paid service. Do what you can on your own, such as conducting your own trademark research, updating your company website and designing your logo.
Expect to pay for the following services and fees for a business name change:
New business licenses or registration:

 

In Sacramento, Calif., $146 to 166, depending on the type of business; In

 

Boston

, the filing fee is $65, with an additional $35 fee for people who don't live in Massachusetts but conduct business there.
New permits:

 

Prices vary by industry and location
New website, company literature and other branding media:

 

Prices vary
Legal fees:

 

$100 to $200 an hour in rural areas; $200 to $400 an hour in cities
Related: 7 Surprising Costs That Come With Starting a Business
How to Change Your Name Legally
To have your preferred name on your bank accounts and official documents, you're required to obtain a legal court order. Here's how to legally change your name:
How Do I Change My Name?
When making a name change after marriage, you can usually provide a certified copy of your marriage certificate to all the agencies that manage your official documents without filing with the court. In the event of a divorce, you can request a name change as part of the divorce settlement.
For name changes for a nontraditional marriage, in the case of divorces involving children whose names are to be changed and for all other circumstances, follow these steps:
Prepare the required court documents. Hire an attorney or use a service like

 

LegalZoom, which starts at $139, or MissNowMrs.com, which starts at $29.95. Or, prepare the paperwork yourself to save money.
File your petition with the court.
Attend a hearing. When hiring an attorney, expect to pay $100 to $200 per hour in rural areas or $200 to $400 per hour in cities.
Publish a newspaper notice if required.
Get a certified copy of the judge's order upon approval. Save yourself the time and cost of a trip by getting certified copies on the day of your hearing.
Provide a certified copy of the judge's order to the department of motor vehicles, department of vital records, your bank and other institutions.
Make Your Money Work for You
How Do I Change the Name of My Business?
Changing the name of a business is a bit more complicated because of all the government agencies and other entities involved. Follow these steps to make a business name change:
Search the trademark database at the

 

U.S. Patent and Trademark Office

 

to ensure your preferred business name isn't taken.
Notify your secretary of state, whose information you can find at

 

USA.gov/business. Required paperwork varies by state.
Change all licenses and permits that you filed at all levels of government.
Inform the IRS of the change.
Apply for a new employer identification number.
Update your branding, including your website, company literature and signs.
Notify customers of your new business name.
Check Out: The Top 10 Free Resources and Tools for Small Business Owners
Who to Notify After Your Legal Name Change

Once your name change is complete, you're going to need to notify interested parties. Here's who to contact after you've changed your name:
Personal Name Change
After you've changed your name, notify the following people and organizations:
Social Security Administration
Motor vehicles division
Post office
Bank, credit union or other financial entities
Employer
Doctors and insurers
Utility companies
Landlord or mortgage company
Save money on postage by purchasing USPS Forever Stamps that allow you to mail 1-ounce, first-class letters anytime in the future, regardless of postage price increases.
Business Name Change
Businesses also have to put the word out about their new names. Once you've changed the name of your business, inform the following parties:
IRS, state and local revenue agencies
Banks and lenders
Business credit card issuers
Mail and package delivery services
Phone and internet providers
Web host and designer
Customers
Vendors
Attorneys
Make Your Money Work for You
You have opportunities to save money when changing your name, and it's easier to spot them if you plan ahead. Shop around for the cheapest notary service, print your own documents instead of paying for copies and avoid unnecessary legal fees. When you're finished, make sure to inform the necessary parties.
Up Next: 29 Biggest Tax Questions for Married Couples
Krista Baum contributed to the reporting for this article.