These Millennials Will Turn Your Money Into Magic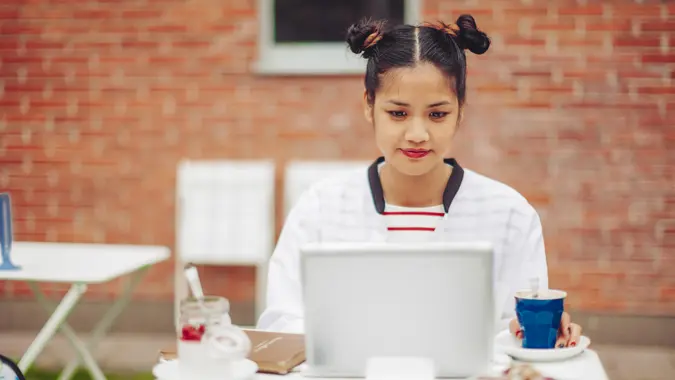 Eva-Katalin / iStock.com
Whether you're just entering the working world, overwhelmed with debt or clueless about investing, it can be hard to find the best financial advice to help you get through your current money hurdle.
Many of the top personal finance bloggers are millennials who have struggled with these issues and are offering what they've learned to other millennials and readers of all ages. GOBankingRates asked these millennial finance bloggers to share their best money advice — make sure to take notes.
Amanda Abella
Amanda Abella is a Latina speaker, finance expert, business coach, author and the owner and creator of the six-figure business Make Money Your Honey, which has a social following of over 40,000. 
"The key [thing] I had to learn about money was that it wasn't necessarily all about how much money I could make — it was about making whatever money came in, work for me," she said.
Abella advises everyone to face their financial fears, focus on paying off debt and look to Facebook groups or other online communities for support when navigating your finances.
Meleah Bowles
Meleah Bowles is the co-founder of Earn Spend Live, a personal finance site written for millennials by millennials. She believes that the key to mastering your finances is to talk about them.
"Our parents' generation considers discussing money a taboo — that's a mistake," said Bowles. "By discussing money and being open about finances, you're able to evaluate your salary, work together as a friend group to plan budget-friendly outings, and more simply, learn from your peers."
Top-Tier Advice: 16 Expert Tips to Manage Your Money Better
Make Your Money Work for You
Dustyn Ferguson 
Dustyn Ferguson is the millennial behind Dime Will Tell, and he encourages everyone to pick up a side hustle.
"You can only save as much as you make, and by making more, you enable yourself to have more money to save and invest," said Ferguson. "My favorite side hustle for millennials is to flip things on websites like eBay and Craigslist. You'd be surprised how many things we grew up with are now worth money, and you'll find many items by going to yard sales and thrift stores which you can then sell for a profit. This side hustle has an extremely low barrier to entry, and can easily bring in hundreds of dollars of extra income every single week in your spare time. This has been huge for my own personal finances — and I can't advocate for it enough."
Robyn
Millennial mom Robyn created A Dime Saved to provide personal finance advice for the newly employed and newly graduated. 
"The best advice I can give to anyone looking to get their financial life under control is to create systems — a situation where good financial habits become routine," she said. "Set a clear and easy budget that works for you. Automate saving amounts and auto-pay your bills. Create reminders on your phone for those things that you cannot automate."
Robyn said that automating is the key to saving: "When money is deposited into a savings account as soon as your paycheck hits your bank account, you are less likely to go ahead and spend it. But don't rely on your own self-discipline — create an automatic payment that does it for you."
Make Your Money Work for You
Mind Games: 11 Effective Ways to Trick Yourself Into Saving Money
Kevin Ha
Attorney and sharing economy expert Kevin Ha is the millennial blogger behind Financial Panther, which gets nearly 1 million page views a year. 
"My biggest tip is to live like a student for as long as possible," he said. "The great thing about being a millennial is that we're not that far removed from being a student: We're used to living in modest places; getting around by mass transit, bike or walking; and not buying lots of luxury items. Use that to your advantage, because once you upgrade your life, life gets a lot more expensive, and you lose a lot of flexibility to take risks or try out new career paths."
Zina Kumok
Zina Kumok taught herself to budget and spend consciously, which enabled her to pay off $28,000 of student loans in three years. On her blog, Conscious Coins, she helps millennials learn how to live and spend mindfully.
"Worry less about how much you're spending and worry more about how much you're earning," said Zumok. "It's great to be frugal and budget, but it's even better to work on increasing your income, getting a raise or finding a good side hustle. There's a limit to how much money you can save, but there's no limit to how much you can earn."
Todd Kunsman 
When Todd Kunsman started Invested Wallet, he was living paycheck to paycheck and didn't know much about finance or investing. He began teaching himself about finances and now has over $60,000 in investments, is almost finished paying off his student loans and has paid off his car in full. Kunsman shares the knowledge he has gained along the way on his blog.
"Anyone can learn how to invest money wisely, but it takes setting a small bit of time aside to read some books and educate yourself," he said. "Ever notice in interviews what millionaires and billionaires always mention? They read books and are always learning. The finance industry makes it seem that understanding money and investing is hard, but in reality, it's pure laziness that stops people from succeeding."
Get Inspired: Our Favorite Personal Finance Books
Sha'Kreshia Lewis 
Sha'Kreshia Lewis is the founder and CEO of Humble Hustle Finance, a personal finance platform educating emerging adults on the importance of money management. One tip that helped her personally is to have a financial accountability partner. 
"At the beginning of each month, we write down a list of clear goals that we would like to achieve before month's end, and send them to one another," said Lewis. "We do this because it's easy to get distracted in life, and when motivation is lost throughout the journey, the other partner is there to help get you back on track."
Brian Meiggs
Brian Meiggs is the founder of the personal finance site My Millennial Guide, which provides advice to the millennial generation to help them take control of their finances.
"I was able to pay off $30,000 of student loans in under 12 months after graduating college," he said. "The trick? I paid off a chunk of my student loans while still in college. More people should be doing this."

Click through to read more about how treating finances like a game will make you rich.
More on Savings Advice
We make money easy. Get weekly email updates, including expert advice to help you Live Richer™.