Are You Owed Money from $60 Million AT&T Settlement?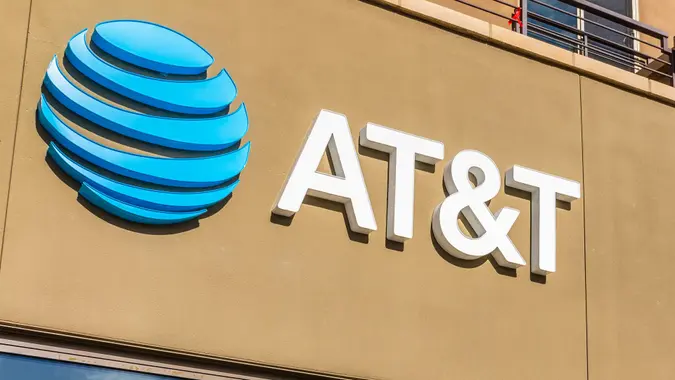 Sundry Photography / iStock.com
A number of national companies have made settlements to class action lawsuits in recent weeks, including Apple, Wells Fargo and T-Mobile. Another that has been rolling out over the past few years involves communications giant AT&T. In 2019, they finalized a $60 million payout to wireless customers after an investigation by the Federal Trade Commission.
See the List: GOBankingRates' Best Banks of 2023
Taxes: 3 Ways Smart People Save Money When Filing
Explore: $2,000 Quarter? Check Your Pockets Before Using This 2004 Coin
The FTC found that the company engaged in "data throttling," reducing customer data speeds once they reached a certain limit of usage in a monthly billing period, while not notifying customers of the practice. "Some customers experienced data speeds so slow that many common phone applications, such as web browsing and video streaming, became difficult or nearly impossible to use," said the FTC.
The settlement affects AT&T wireless phone clients who had unlimited data plans in the time span of 2011 to 2015. While most have received their retribution already directly from the company, either through bill credits for current customers or refund checks for previous customers, there's still $7 million to be distributed to people that AT&T has been unsuccessful in reaching. The FTC has now opened a claims portal for anyone who believes they are entitled to the payout but have not received it yet.
Make Your Money Work for You
There are a few requirements — you must be a former AT&T customer that had an unlimited data plan between October 1, 2011 and June 30, 2015 and have not yet received a bill credit or refund check from AT&T. If this applies to you, there's a claim form available at ftc.gov/ATT to fill out, or you can call 877-654-1982 or email info@ATTDataThrottling.com for additional help. The deadline to file a claim is May 18, 2023.
The FTC also advises mobile customers of any company to report cases of data throttling at their official website: ReportFraud.ftc.gov.
More From GOBankingRates
Make Your Money Work for You