How To Make a Savings Plan: 7 Steps You Can Take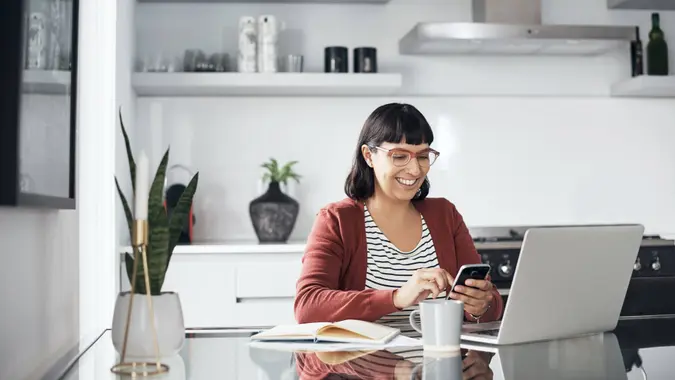 shapecharge / Getty Images
You're working hard for the money, but you're not saving it. This of course isn't great for your financial health, but you're ready to make a change.
See: How To Get Cash Back on Your Everyday Purchases
Do realize you're not alone, as nearly half of Americans have less than $500 in savings, according to a recent GOBankingRates survey. Even more alarming — almost 18% have no money put aside.
Thankfully, it's never too late to create a savings plan that allows you to enjoy a sense of security. No matter what you're starting with, saving even a little bit of money at a time gets you one step closer to achieving your financial goals. It also allows you to have money to fall back on in an emergency situation.
7 Steps To Make a Savings Plan
Ready to create a savings strategy that will actually stick? Use these tips to get started.
1. Track Your Spending
You might be wondering: How can I save $1,000 fast? The best way to start is by cutting back on your current spending.
There's a pretty good chance you're spending more than necessary in at least one area — quite likely more. Find out exactly where your money is going by carefully monitoring your spending.
You can do this manually or with an app. Some popular choices for the latter include the Mint budgeting app; YNAB, aka You Need A Budget; and Honeydue.
2. Look For Ways To Cut Back
After getting a clear snapshot of exactly what you're spending money on, it's time to look for ways to save. Maybe you have subscriptions you don't actually use, or perhaps you're spending way more money dining out than you realized.
Make Your Money Work for You
Whatever the case, use this as an opportunity to make meaningful changes. You don't need to give up all of your nonessential spending, but do start focusing on the expenditures that bring you the most joy.
Set limits on discretionary spending, so you can strike a healthy balance between what you want and what you actually need. This will allow you to save money without feeling deprived.
3. Set Specific Savings Goals
If you're wondering how you can save $10,000 easily, you'll need to start focusing. Vague goals are far too easy to break, so make yours SMART — specific, measurable, achievable, relevant and time-bound.
For example, you might decide you'll save $10,000 for a down payment on a house in the next 10 months. To do this, you'll commit to putting $1,000 per month into your savings account.
SMART savings goals are important because they give you something specific to work toward. The structure around this type of objective leaves no room for slacking, so if you don't follow through, you clearly sold yourself short.
4. Choose Your Savings Vehicles
Putting your savings in the right place(s) is key. For example, your retirement savings should be in a 401(k), IRA or similar retirement savings fund. On the other hand, it might be best to put your general savings in a high-yield savings account.
Different types of investment vehicles are appropriate for different situations. If you have any questions about the best place to put your money, consider meeting with a financial advisor.
Make Your Money Work for You
5. Automate Transfers to Savings
You might have the best of intentions to put all the money left in your account in savings. However, if there's no money left at the end of the month, this means you won't actually be putting anything aside.
Therefore, it's important to prioritize savings by setting up automatic transfers from your checking account. This ensures the money will actually make it to your savings account, instead of unwittingly being diverted to another cause.
You can always make adjustments to the transfers as needed. This is just a preventative step to remove any temptation that might come from putting the money in your hands first, before it heads to savings.
6. Monitor Your Progress
Admittedly, sending money off to a savings account might not feel too exciting. You know you're doing something good, but it can be hard to feel proud of an accomplishment you can't actually see.
While you can't physically see the pile of money you'd growing, you can monitor your bank statements. Do this regularly to see how much you've saved — and how much you've earned in interest.
This will help you stay motivated to keep up the great work.
7. Make Adjustments as Needed
Nothing about your savings plan is set in stone. You can — and should — make changes as needed.
For example, if you get a raise, you'll likely want to start saving more from each paycheck. Or if you're hit with a large expense and need to use some — or all — of your emergency fund, you might divert more of your total savings to this account until you've paid the money back.
What Is the 30-Day Rule for Saving Money?
As you're certainly aware, impulse spending can quickly put a dent in your budget. To avoid this, the 30-day rule for saving money requires you to put a temporary stop on all nonessential purchases.
This gives you time to really think about the item you're planning to buy, so you can make sure it's something you truly want or need. If you're still enthusiastic about making the purchase when the 30-day period is over, feel free to go for it as long as you have the funds to do so.
Final Take
Making a savings plan is crucial to your financial health. This will likely be multifaceted — i.e., an emergency fund, retirement savings, vacation fund, etc.
It's important to remember that no two people — or families — will have the exact same savings plan. This strategy is highly personal and needs to be customized to fit both your income and future goals.
If you need help creating a savings plan that works for you, consult a financial advisor. They will work with you to determine how much you need to be putting aside each month to achieve your goals and help you create a budget that supports this strategy.
Our in-house research team and on-site financial experts work together to create content that's accurate, impartial, and up to date. We fact-check every single statistic, quote and fact using trusted primary resources to make sure the information we provide is correct. You can learn more about GOBankingRates' processes and standards in our editorial policy.