11 Unusual Ways To Cut Costs and Save More Before the End of the Year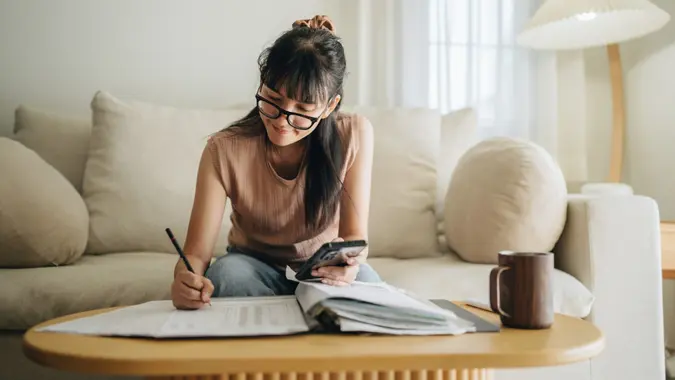 ©iStock.com
If you're looking to save for the holidays or just clean up your finances at the end of the year, there are some methods to cut costs you probably haven't thought of.
Saving methods aren't limited to clipping coupons and scouring online deals. Sometimes to get the most bang for your buck, you have to look outside conventional wisdom.
Try one of these unique ways to cut back on spending to grow your savings account quickly.
Clear Out Your Pantry
Rather than asking yourself what you want to eat for dinner, limit yourself to indulging in only what's in your pantry and refrigerator. Take a box of rice, the zucchini that's been in your crisper for a week and that piece of frozen chicken you've been meaning to use, and voilà — you've got yourself a homemade stir-fry.
Not only will this save you money, but it will also make you more creative in the kitchen. To spice things up, turn it into a game with friends and have an only-what's-in-the-pantry potluck.
Go on a Spending Fast
Coined by Anna Newell Jones, the phrase "spending fast" is exactly what it sounds like: refraining from spending money. Unlike the conventional fast, which typically involves dieting and borderline starvation, a spending fast will allow you to bulk up quite a bit in savings.
The idea is to completely stop spending money on wants and luxuries and only spend on needs like rent, food, transportation costs, medicine etc. Through her own spending fast, Jones paid off close to $24,000 in debt in only 15 months.
Make Your Money Work for You
Consolidate Your Credit Card Debt
If you owe some money on your credit cards, chances are you are losing a lot in interest. Todd Stearn, founder of The Money Manual, says you can save money by consolidating your debt. "There are 0% APR cards that allow you to transfer your existing credit card debt for 12 months or longer. This can save you a ton in interest charges," Stearn said. 
Negotiate Bills
If you think your bills are too high, they don't have to stay that way.
"Many people don't realize that they can actually negotiate their bills with service providers," advised Evan Tunis, the president of Florida Healthcare Insurance. "Call your service providers and see if they are willing to offer you a better deal or discount. You may be surprised at how much money you can save just by asking."
Lower Your Thermostat
Save money on your energy bill by installing a programmable thermostat, which allows you to reset your thermostat when you're asleep or away from home. You can save as much as 10% on your heating bill simply by turning your thermostat back 7-10 degrees for eight hours a day, according to energy.gov.
Join the Freecycle Movement
The freecycling movement has been around for more than a decade now. It's the act of giving away your stuff instead of throwing it away, and it's a huge money saver.
The idea is that you're not spending money on things you don't need. Instead, you're recycling (or freecycling) them. To get started, you can check out The Freecycle Network and see if there are meetings in your area.
Make Your Money Work for You
Join the Bicycle Movement
While you're in the cycling mode, Sebastian Jania, director at Ontario Property Buyers, says to try taking your bike to work over your car to save money on gas. "Further to this point, if one is not able to take a bike to work one may consider arranging a work from home scenario with their employer to achieve the same outcome," Jania added.
Nix Your Gym Membership
On average, a gym membership costs you between $40-$70 a month. Jania says you can put that money back in your pocket by purchasing your own weights and resistance bands to opt for working out at home. "Oftentimes, one can find these at local thrift stores to keep costs low." 
Get a Job Where You Shop
Jania says if you have a favorite store, working for them might not be a bad way to save some money and make some money at the same time. "Many times employees have discounts for the merchandise or products that their employer sells, so if one is looking to make some purchases it may make sense to get a temporary job at the place where they spend a lot of their money."
Rent Out Your Spare Bedroom
If you have a room you don't use in your room, make it work for you. "Cut the cost of renting your apartment by listing your living room or spare bedroom on a site like Airbnb," said Stearn. "Just be sure to look over your lease agreement first to be sure you're not breaking any rules. And of course, only do this if you feel safe to do so."
Make Your Money Work for You
Get on a Family Plan With Your Friends
Who said cell phone family plans were just for family? If you have roommates or friends who are looking to save, too, set up a family plan together.
Right now, T-Mobile is running a special where you can have 3 phone lines with 5G access, 50GB of premium data, unlimited 3G mobile hotspot data, and no annual contract for just $90. At $30 a person, this seems like a pretty good deal, and one you probably can't beat with an individual plan.
Sarah Kaufman contributed to the reporting for this article.
More From GOBankingRates