Utility Costs Are Increasing — How Can Companies Keep Charging You More?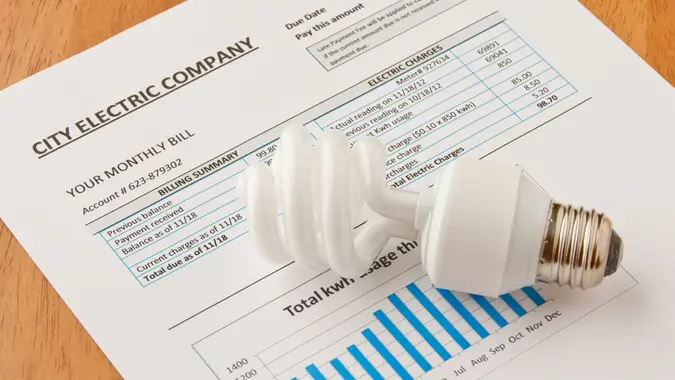 ©Shutterstock.com
Americans hit by high consumer prices over the past year might be tempted to look for financial relief in other areas — such as lower utility bills. Unfortunately, those bills will offer no relief. On the contrary, utility bills in many parts of the country have risen faster than overall inflation due to a variety of factors that might not improve anytime soon.
A recent GOBankingRates poll of 1,003 Americans found that more than three-quarters of respondents saw a rise in their household utility bills in 2022. That has continued into this year.
In March 2023, the Energy Services index — which includes home utility bills — rose 9.2% from the previous year, according to the U.S. Labor Department's latest inflation data. That was well above the overall inflation rate of about 5%. The average American spent an extra $19 on utility bills in March 2023 compared with the prior year.
Make Your Money Work for You
In February 2023, the cost of natural gas delivered through pipes surged 24% year-over-year, the Guardian reported. This is not a new phenomenon. Data from the U.S. Bureau of Labor Statistics found that the average monthly price of fuel oil rose 40% from January 2019 to February 2022. The price of propane, kerosene and firewood spiked 34% over the same period, while piped gas (27%) and electricity (12%) also rose in double digits.
These high prices have been a major source of financial pain for Americans who are already struggling to afford much higher prices for everything from groceries and gasoline to clothes and car insurance.
As of mid-March, nearly 1.3 million households in New York state were at least two months behind on utility bills and had a combined debt of more than $1.7 billion, the Guardian reported citing state filings from 10 major utility companies.
"Almost one in five New Yorkers are staring into potential multi-generational debt," Richard Berkley, executive director of the Public Utility Law Project, told the Guardian.
There's a whole laundry list of reasons why utility prices have risen so high so fast, and almost all of them have to do with supply-chain disruptions, These reasons include the COVID-19 pandemic, the Russia-Ukraine war and an increase in severe weather events tied to climate change.
Make Your Money Work for You
Depending upon where you live, your utility bill might also be higher because of surcharges imposed by state agencies. For example, the California Department of Tax and Fee Administration (CDTFA) imposes an Electrical Energy Surcharge on the consumption of electrical energy purchased from an electric utility.
Even California residents who buy electricity from a utility not subject to the electrical energy surcharge — such as an out-of-state utility — must report and pay the amount of the surcharge directly to the CDTFA.
A 2019 investigation by ProPublica found that more utilities started imposing surcharges over the previous decade to help pay for "acute and pervasive infrastructure needs."
As an example, in April 2009 New Jersey's utility regulator approved nearly $1 billion in projects to install energy-efficient streetlights and replace aging gas lines, ProPublica reported. But instead of paying for the projects through state government budgets utilities were given the go-ahead to impose a surcharge on the gas and electric bills of every customer in the state.
Make Your Money Work for You
Some states have used revenue from surcharges to pay for things other than new and upgraded infrastructure including Kansas, which has used the money to pay for tree trimming, as well as Colorado (smart meters) and Massachusetts (pension costs).
A review of the surcharge fees conducted for the AARP in 2012 found that at least 30 states added surcharges to customer bills for a wide range of purposes.
These surcharges have not gone over well in some quarters. As ProPublica reported, a paper from the National Regulatory Research Institute cautioned states to consider the potential impacts of surcharges before approving them and recommended that the fees be approved "only in special situations."
If you're hit with a utility bill you can't afford, there are some steps you can take to get help. Jacqui Kearns, chief wellbeing officer at Affinity Federal Credit Union, recently told GOBankingRates that many energy companies will provide financial assistance or a referral to a service that can help you put together a budget that works best for you.

$
Make Your Money Work for You
Kearns also advised seeing if you qualify for local or federal emergency or energy credits.
"Check your state's website," Kearns said. "In most cases by calling 211 you will be connected to resources that can help with the immediate fuel or energy needs."
More From GOBankingRates