What $100 Was Worth in the Decade You Were Born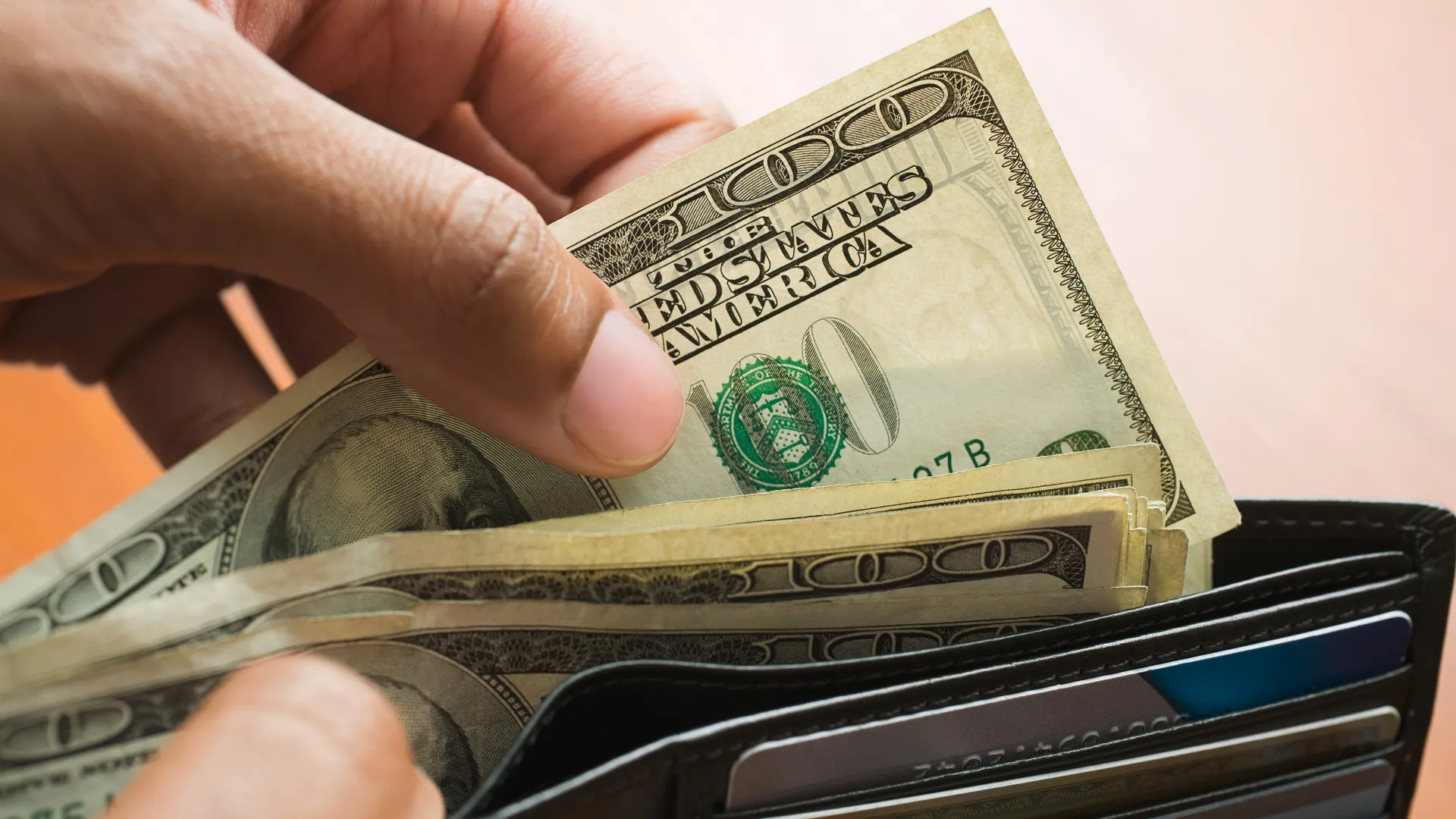 As Prohibition shuttered every saloon, tavern and bar in the country in 1920, Americans shifted their spending to bathtub gin, bootleg booze and newly available and affordable consumer goods like radios and Ford Model T motorcars. Prohibition ended in 1933, and much more has changed since the Roaring '20s, including the purchasing power of the dollar and the prices of common consumer goods.
Click through to see what $100 was worth, as the cost of consumer goods and the buying power of a Benjamin evolved over the decades, starting in 1920.
1920
Value of $100 in 1920: $1,258.23
What you can buy in 2017: 540 gallons of gas
A $100 bill in 1920 has the same buying power as $1,258.23 today, enough pay at the pump for 540 gallons of gas at its recent average of $2.33 per gallon. That $100 would have gone a long way toward keeping consumers rolling in 1920, too. A single C-note would have more than covered the cost of five automobile tires, priced at $19.25 each by the S & M Tire Company in Washington, D.C. The retailer was also running a buy one, get one for a dollar promotion in the Washington Times. Car costs have definitely gone way up since 1920.
1930
Value of $100 in 1930: $1,420.11
What you can buy in 2017: 34 pairs of jeans
A single pair of Levi's 501s or a comparable pair of jeans will set modern buyers back about $41.41, according to Numbeo. That means you could purchase 34 pairs and pocket $12.17 in change with the inflation-adjusted equivalent of $100. In 1930, that same bill at face value would have bought four "Cool Dixie Weave" suits for $25 each at Clayton's in Detroit, according to an ad in the Detroit Free Press.
Don't Miss: How Much You Needed to Earn to Be in the Wealthy Elite
Make Your Money Work for You
1940
Value of $100 in 1940: $1,747.04
What you can buy in 2017: 427 Dairy Queen Blizzards
The American economy hadn't yet recovered from the Great Depression by 1940, so a $100 bill would have been worth the equivalent of $1,747.04, enough to buy 427 medium-sized Blizzards from Dairy Queen at today's price of $4.09 each, according to FastFoodMenuPrices.
Ice cream shop owner Sherwood Noble ran an all-you-can-eat sale for 10 cents per person to introduce what would become the chain's signature soft serve in 1938. He opened the first Dairy Queen in 1940 in Joliet, Ill., where a quart of the sweet treat sold for a quarter, meaning $100 would have bought you 400 quarts.
1950
Value of $100 in 1950: $1,033.36
What you can buy in 2017: A "Dagstorp" four-seat sectional sofa from Ikea is listed for $999 on the retailer's website, leaving some change for a few plush pillows, many of which start at $3.99.
Ikea published its inaugural catalog and opened its first furniture store in Sweden during the 1950s. Alas, the retailer wouldn't make its mark in the U.S. until 1985, when it opened in Philadelphia. In 1950, Philadelphians could get four solid maple beds, sale priced at $22 each at Gimbels and have enough change from their $100 to buy some bed linens. Today, shoppers flock to Ikea in search of great deals.
1960
Value of $100 in 1960: $828.80
What you can buy in 2017: 127 Chipotle chicken burritos
The value of $100 in 1960 could buy you 127 Chipotle chicken burritos today, at an average price of $6.50 each, according to FastFoodMenuPrices. It's safe to say burritos weren't everyday fare in 1960 for many Americans, and the first Chipotle didn't open its doors until 1993.
Today, even Hardee's offers burritos, which definitely weren't on the menu when the first location opened in 1960. That Greenville, N.C., drive-thru sold burgers for 15 cents, meaning $100 would buy 666 burgers and leave a little change.
1970
Value of $100 in 1970: $642.43
What you can buy in 2017: 161 Big Macs
It seems the price of this iconic fast food sandwich has roughly kept pace with inflation. Today, the average cost of a Big Mac is $3.99, according to FastFoodMenuPrices. But a few years ago, a McDonald's in Dover, Del., celebrated its reopening by rolling back prices to 1970, offering Big Macs for 60 cents and a small order of fries for 20 cents. So $100 would have covered the cost of 165 double-decker sandwiches and five orders of fries in the disco decade — not counting taxes, of course.
Make Your Money Work for You
1980
Value of $100 in 1980: $312.13
What you can buy in 2017: 13 pairs of girls' Toughskin jeans at Sears.
Today, girls' Toughskin jeans are priced at $24 each on the Sears site. In the 1980 fall/winter edition of the retailer's catalog, a comparable pair of Toughskins went for $7.99, and $100 then would buy a dozen pair of these durable denim pants. You'd be left with more than four bucks to cover the cost of some fashionable rainbow suspenders modeled after the ones Robin Williams wore in the TV series "Mork & Mindy."
1990
Value of $100 in 1990: $190.61
What you can buy in 2017: Two pairs of Lucky Brand jeans priced at $79.50 each.
Lucky launched in 1990, when its jeans sold for a steep price point of around $70. So $100 then would buy a single pair and leave fashion fans about $30 for a cool concert T-shirt to complete the look.
Surprisingly, that throwback $100 from 1990 has the same buying power as $190.61 today — enough to splurge on two pairs of Luckys, priced at $79.50, and still have around $30 to spare.
2000
Value of $100 in 2000: $143.86
What you can buy in 2017: Two tickets to Britney Spears' show at Planet Hollywood in Vegas 
In 2000, a teenage Britney Spears topped the charts with her "Oops!…I Did It Again" album. In that year, fans could buy a boombox complete with four speakers, a cassette player, an AM/FM radio receiver and a top-loading CD player from Radio Shack for $99.99 to listen to the hit disc.
Today, that cash has the buying power of $143.86. That's enough to buy two tickets, at $69 each, for Spears' "Piece of Me" show in Las Vegas, and leave some change for the slots.
2010
Value of $100 in 2010: $112.07
What you can buy in 2017: 79 dozen eggs
Eggs are one of many items that have decreased in price over the years. The average retail price for a dozen large eggs declined from about $1.78 in April 2010 to right around $1.41 in April of this year, according to figures from the U.S. Bureau of Labor Statistics. That means $100 would buy a savvy shopper 56 cartons in 2010, leaving them less than a buck to spare.
At the beginning of the decade, $100 had the same buying power as $112.07 today, which would give cost-conscious consumers enough to purchase 79 cartons of eggs, leaving some pocket change. Even at its face value, today's C-note would cover 70 cartons of Grade A eggs at current prices.
Make Your Money Work for You
2017
Value of $100 in 2017: $100
What you can buy in 2017: 16 Subway footlong sandwiches
Whether you prefer the classic tuna or the meatball marinara, Subway's classic footlong sandwiches were $5 until February of 2016, according to Fortune.com. You could take home 20 for $100, not including tax. Alas, the sandwich chain raised prices for its classic footlong of the day to $6, which buys you four fewer sandwiches for $100, although you can now cover some of the taxes with your $4 in change.
Methodology: GOBankingRates used the Bureau of Labor Statistics CPI Inflation Calculator to determine what $100 could buy in today's world as its purchasing power changed over the years, in 10-year increments, from 1920 to 2017.