2023 Holiday Shopping: 3 Smartest Ways to Bargain-Hunt for Every Age and Gender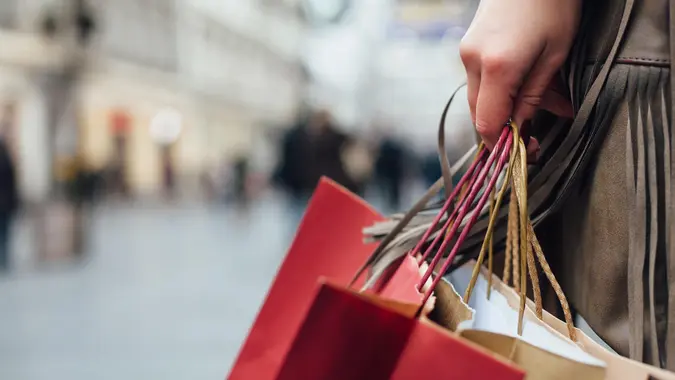 kikovic / Shutterstock.com
The 2023 holiday shopping season should bring joy to the world of retail, as industry researchers expect spending to reach "record levels" in November and December. While many consumers have returned to their free-spending, pre-pandemic ways, others are still in bargain mode and strategizing on how to save money this year.
In a Nov. 2 press release, the National Retail Federation (NRF) forecast that 2023 holiday spending will grow 3% to 4% from 2022 to between $957.3 billion and $966.6 billion. The projected dollar figures represent new highs, while the growth rates are consistent with the average annual holiday increase of 3.6% from 2010 to 2019.
"It is not surprising to see holiday sales growth returning to pre-pandemic levels," NRF President and CEO Matthew Shay said in a statement. "Overall household finances remain in good shape and will continue to support the consumer's ability to spend."
Online shopping should be an even bigger contributor to this year's sales gains, with online and other non-store sales expected to rise 7%-9% to between $273.7 billion and $278.8 billion.
"Consumers remain in the driver's seat, and are resilient despite headwinds of inflation, higher gas prices, stringent credit conditions and elevated interest rates," NRF Chief Economist Jack Kleinhenz said. "Solid job and wage growth will be contributing factors this holiday season, and consumers will be looking for deals and discounts to stretch their dollars."
Indeed, a new consumer holiday survey from PayPal found that about half of holiday shoppers plan to "seek out promotions and deals" more this year than they have in the past. This is partly because about one in five Americans are "feeling anxious" about holiday spending in 2023.
Make Your Money Work for You
Among generations, Gen Z shoppers feel the most anxious at 29% of those surveyed. Women are feeling more anxious (22% of respondents) than their male counterparts (17%) about shopping for gifts this year.
The survey of 1,118 consumers was commissioned by PayPal in partnership with Edelman Data & Intelligence. Here are some other highlights:
Gen Z are four times more likely (21%) than Gen X (4%) to lose sleep worrying whether someone will like the gift they are giving. That compares to 15% of millennials and 5% of baby boomers. 
More than half (51%) of respondents "wouldn't mind" if they found out someone used rewards points to buy them a gift. 
About four in 10 (39%) say they'd find their significant other or someone they're dating more attractive if they were to use rewards points to buy their gift this holiday season
If you plan to score bargains this holiday season, here are three smart ways consumers plan to save money:
Wait to find rewards points/cashback offers. Women (28%) are slightly more likely than men (23%) to wait until they find the best sale or rewards/cashback offers.
Seek items priced below $100: More than one-third (35%) of women plan to spend less than $100 on a gift for their significant other or partner this year, compared to 23% of men
Hunt for bargains: This is especially important to younger consumers, with 59% of Gen Z and 58% of millennials planning to hunt for deals this holiday season. In contrast, less than half of Gen X (40%) and boomers (43%) plan to hunt for deals.
Make Your Money Work for You
More From GOBankingRates