10 Best Amazon Items To Buy for Less Than $10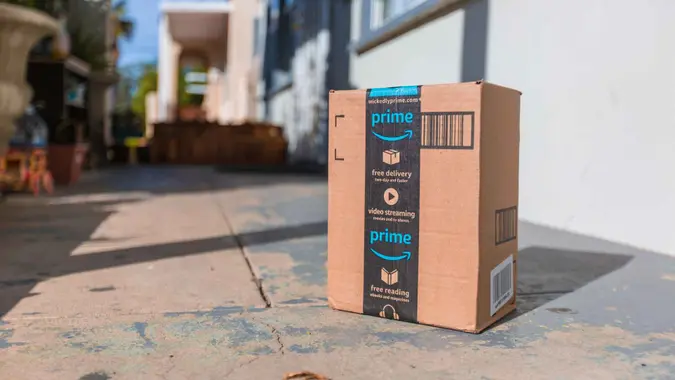 Jorge Villalba / Getty Images
Are you looking to get some fantastic deals on products without having to break the bank? Amazon has a vast selection of items for under $10 that can make life easier. From tech gadgets and organizational solutions to helpful kitchen utensils and creative gifts – there is something for everyone at an affordable price. 
In this article, we will show you ten of the best Amazon items available for less than $10. Whether you are shopping for yourself or someone else, these top picks provide great value while being budget-friendly. 
1. Chefwave Electric Milk Frother With Stand
Price: $7.99
If spending hundreds of dollars on an espresso machine with a milk frother is outside your budget, you can opt for this cheaper alternative.
Notable Review: "We've had a lot of fun with our frother. We've tried various cream and half-and-half milk combinations, with flavorings, to froth and add to our coffee. We've even frothed the premade Flavo coffee creamer from the grocery store. It gives us a custom-blended feel to our coffee drinks. Don't always have time to get fancy coffee at the coffee shop."
2. YEVIOR Clip on Strainer for Pots
Price: $9.99
Big, bulky strainers can take up a lot of space in your kitchen cabinets. This clip-on strainer is a space saver and extremely easy to clean.
Notable Review: "This strainer is easy to mount on the pots and bowls, made of silicon that is easy to clean, and it does its job – getting rid of the water! I can recommend it for sure!"
Make Your Money Work for You
3. Joseph Jospeh Adjustable Measuring Spoon
Price: $5.99
If you're tired of having a drawer full of loose measuring spoons, you'll love having a single spoon that adjusts to your desired size.
Notable Review: It's great to have just one measuring spoon that you easily calibrate to the measurement required for each spice, but it fits into most commercial spice jars because of its slim, rectangular shape.
4. Olanly Memory Foam Bath Mat
Price: $7.99
Step out of the shower comfortably and prevent water from making a mess in your bathroom with this memory foam bath mat from Olanly.
Notable Review: "I am very satisfied with the quality, feel, and look of this Bathroom Mat Rug. I recommend this Rug to whoever is looking to replace their own. The variety of colors makes it easy to match your decor and the price is right." 
5. Jade Leaf Matcha Powder
Price: $9.95
Save money on your morning matcha lattes by making your own at home with Jade Leaf Matcha powder. If lattes aren't your thing, you could use them to make cookies, frosting, smoothies, and more. 
Notable Review: "As an avid matcha enthusiast, I've tried numerous brands, but Jade Leaf has become my favorite for the price point, quality and delightful taste."
6. Urbana Exfoliating Gloves
Price: $5.99
If you struggle with dry skin in the cold winter, these exfoliating gloves from Urbana will help exfoliate the skin without breaking the bank.
Notable Review: "I have very tough skin, and this still wasn't as strong of a scrub as I usually go for, but wow I am impressed"
Make Your Money Work for You
7. KitchenIQ 50009 Edge Grip 2-Stage Knife Sharpener
Price: $9.22
Dealing with dull knives is no fun when trying to cook a meal. However, that will never again be an issue when you have the KitchenIQ knife sharpener. 
Notable Review: "I wasn't sure what to expect from such an inexpensive and small device but it sharpened my VERY dull knives VERY quickly and was so easy. I just have to remember how sharp they are the next time I use them!"
8. Manhattan Toy Winkel Rattle & Sensory Teether Toy
Price: $9.99
Whether you're looking for a rattle toy or a soothing teether for your little one, the Manhattan Toy Winkel rattle and sensory teether toy is a great choice. The looped design is excellent for visual stimulation. 
Notable Review: "The Manhattan Toy Winkel Rattle & Sensory Teether Toy has been an absolute hit with my baby. This toy is a true gem when it comes to engaging and stimulating little minds and hands."
9. Quick & Clean Keurig Cleaning Pods
Price: $9.95
Quickly clean your Keurig coffee maker with these cleaning pods. Not only will these help each cup of coffee taste better, but it will also help extend your Keurig coffeemaker's life. 
Notable Review: "I hesitated to order these cleaning pods since I have been just running vinegar through my Mr. Coffee K-cup brewer for years now. But I opted to see whether this was a new idea I could benefit from. The product was super easy to use over vinegar (which must be followed by multiple water rinses). And the interior actually DOES sparkle now. My brewer is about 7 years old, so that says a lot. Glad I gave these a try!"
Make Your Money Work for You
10. Hiware Window Blind Cleaner Duster Brush with 5 Microfiber Sleeves
Price: $6.99
You're not alone if you've ever struggled to clean your blinds. However, with the Hiware window blind duster, you can quickly remove dust and grime. 
Notable Review: "Works great for those very annoying blinds. Removable cloths are washable and you get several so it is super convenient. Can be used dry or wet which is great!"
More From GOBankingRates