Best Buy's Trade-In Program Will Give You Gift Cards in Exchange for Your Old Electronics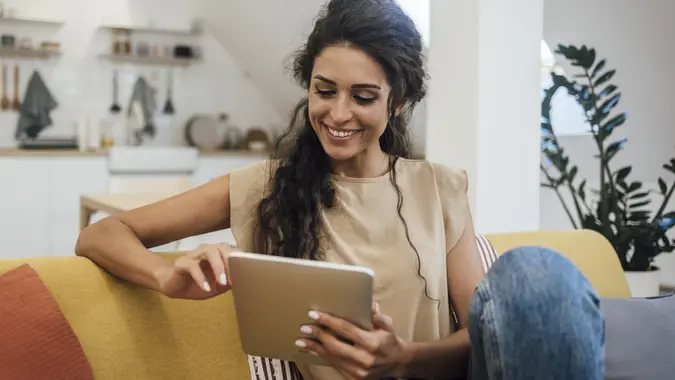 MixMedia / iStock.com
The start of school often means upgrading electronics. If you're looking to ditch your family's older models, trading them for new ones will keep them out of a landfill and put some cash in your pocket.
Electronics superstore Best Buy is offering gift cards in exchange for your old electronics as part of its Best Buy Trade-In program. Products that qualify for the exchange include:
Smartphones
iPads and tablets
Gaming PCs
Laptops
Smartwatches
Streaming media
Headphones and earbuds
The amount of the gift card you receive depends on the make and model of the product and its condition. For example example, a Samsung Galaxy S22 in fair condition is worth a $127 gift card, which you can use for the purchase of a new phone or on something else in the store.
If you're in the market for a new iPad, you can get up to $325 off when you trade in your older model. According to the Best Buy website, an iPad Pro 12.9-inch (3rd generation) is worth $325.
Not all models are eligible for trade-ins. As with other electronics, the condition, documentation and accessories affect the trade-in value. Best Buy does not accept devices with cracks or water damage or devices that do not turn on.
Bonus for Recycling Old Devices
Even if your devices aren't eligible for trade-in, Best Buy will accept them and recycle them for you for free in most cases. Each household can recycle up to three items per day. If those items happen to be Logitech PC or gaming accessories, you can save 20% on your new Logitech accessory purchase at participating locations.
Make Your Money Work for You
More From GOBankingRates