9 Best Clothing Deals at Target This August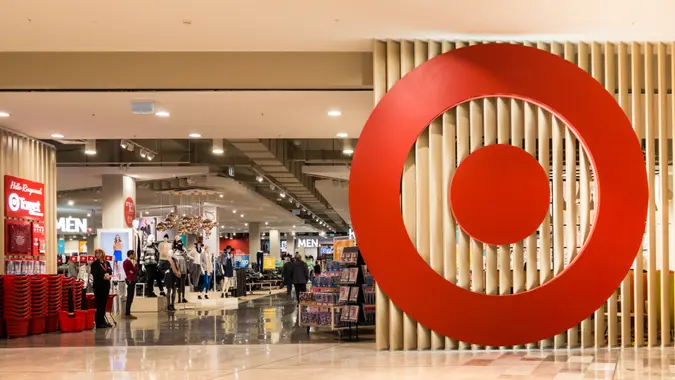 Nils Versemann / Shutterstock.com
Roll up to fall in style without blowing your budget with Target's fashion deals this August. 
In this article, GOBankingRates rounded up Target's very best clothing bargains on everything from jeans to athleisure. Read on to discover where Target is slashing prices so you can add to your wardrobe for less.
Hanes Men's Tank Top Undershirts
Price: $20 (formerly $27.49)
You'll never go back to basic tees again after trying these comfort-packed undershirts. They're made from 100% lightweight cotton that helps you stay fresh even on hot, active days. The tag-less design feels smooth against your skin, never itchy or scratchy, and the extra-long length stays tucked so you look polished. Plus, with a convenient 10-pack, you've got a stockpile of undershirts ready for work, workouts, weekends and everything between.
Schitt's Creek Rose T-Shirt
Price: $9.09 (formerly $12.99)
The relaxed silhouette of this comfortable T-shirt makes it a great fit for any body type and can be worn with just about anything. The fabric is thicker than most graphic tees, so it is more durable and will last longer. It is also true to size, so you can be sure that it fits well — sizing is available from XS up to XXL.
Although anyone can buy it, Schitt's Creek fans in particular should snag this deal while it lasts.
High-Rise Ankle Knit Pants
Price: $20 (formerly $25)
This summer find makes the perfect work pants for women. They're made of a cotton-blend fabric with plenty of stretch for comfort, and come with a functional pocket and professional design. The waistband is an original fit; they do run slightly long but fall above the ankle normally.
Make Your Money Work for You
Sleeveless Smocked Linen Midi Sundress
Price: $29.75 (formerly $37)
This dress is wonderful in hot and humid weather because it is made of a lightweight, breathable fabric. It is also loose-fitting, which allows air to circulate and keep you cool. The pockets are a great feature because they allow you to carry your essentials without having to tote around a bag. You can dress this dress up with heels and jewelry, or dress it down with flats and a cardigan.
Levi's Men's Casual Sneakers
Price: $29.99 (formerly $60)
These sneakers are made of vegan synthetic leather and come in multiple different colors. They are also very comfortable to wear thanks to their cushioned insole and flexible rubber sole. They can be dressed up or down, so they can be worn with both pants and shorts — a fit for any outfit or season.
Cat & Jack Girl's Footbed Sandals
Price: $16.99 (formerly $19.99)
This kid's sandal takes a summer outfit from plain to cute. It comes in a beautiful mix of colors and will mold right to your child's feet with its contoured footbed. The ankle strap is easily adjustable and ensures these sandals will stay on all day long.
Tropical Print Bikini Top
Price: $14.95 (formerly $23)
This bikini top is an absolute delight. It's a vibrant color that's not wild. It has a tie-up in front and is very supportive because it has cups (removable) and adjustable straps that work great for when you're doing an activity or not.
Women's Plus Size Mid-Rise Jean Shorts
Price: $16.99 (formerly $19.99)
Make Your Money Work for You
These super-comfy women's jean shorts are advertised as mid-rise, but they actually sit higher on the waist, providing more coverage and a more flattering look. The fabric is very stretchy, so they'll move with you and won't be too tight or too loose. There's also plenty of room in the thighs and they have multiple pockets for functionality.
Men's Knit Shorts
Price: $19.11 (formerly $22.49)
These men's sweat shorts are stylish and comfortable, with a short inseam that makes them perfect for both going out and lounging at home. The tie-dye design is unique and won't fade, but can be swapped out for a solid color if preferred. They're made of a soft cotton-blend material that will keep you cool and relaxed on long days.
Disclaimer: Prices are accurate as of Aug. 25, 2023, are subject to change and may vary based on location.
More From GOBankingRates