10 Best New Items To Check Out at Aldi in April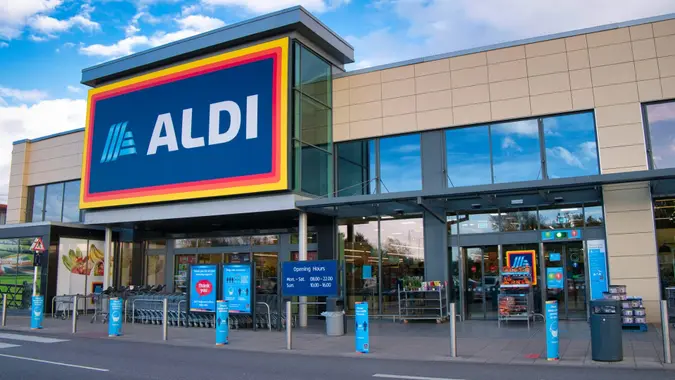 Alan Morris / Getty Images
If you live in one of the 38 states with Aldi, you may do your regular grocery shopping there, as there are over 2,100 of the big grocers across the United States.
If you don't already shop there, you might want to start, as the retailer is offering some exciting new products this April — not all of them just food.
Crofton 10-Piece Food Storage 
If you like to meal plan and prep in advance for your week or if you've got a family that eats leftovers, you'll need proper food storage containers to hold all of those tasty meals. Aldi is rolling out a Crofton 10-piece food storage system for just $12.99 this month. You get five containers with tightly sealing lids that are leak-proof and freezer safe.
Take Our Poll: Do You Think Bankruptcy Is an Acceptable Way To Escape Student Loan Debt?
Clancy's Cinnamon Churros
Pretend you're at the county fair with these Clancy's cinnamon churros, a snack that hits the sweet and savory taste buds, with a lot less sugar than the ones you'll find at the carnival. They're crunchy and satisfying to eat, whether just to satisfy your sweet tooth or to offer as a party snack. Each bag is just $1.49. According to The Kitchn, these will be on Aldi shelves April 26.
Make Your Money Work for You
Bee Happy 6-Pack Bubble Wands 
Entertain young kids (or heck, even adults) for hours with these fun, affordable bubble wand 6-packs. Bunny-shaped toppers make them ideal for Easter baskets and egg hunt celebrations. Each wand contains 4.5 ounces of scented bubble fluid that can be washed out of clothes and off hands with ease. Just $3.99 per 6-pack.
Mama Cozzi's Pizza Kitchen Chicken Alfredo Rising Crust Pizza 
Standard cheese pizza is for amateur pizza eaters. Instead, Aldi is bringing in Mama Cozzi's Pizza Kitchen chicken alfredo rising crust pizza for the more adventurous pizza eater who's tired of the same old, same old. The rising crust is moist on the inside and crispy on the outside, and the blend of alfredo sauce, Italian spices and chicken is a delectable combination. According to Eat This, Not That, this pizza, which is just $5.99, is on shelves as of April 5.
Clancy's Milk Chocolate Toffee Pretzels
Sweets seem to be the theme at Aldi this month. Clancy, the same brand that makes the cinnamon churro bites, is bringing back these delicious milk chocolate toffee pretzels as well. You might want to dole these out sparingly though, because consumers find them hard to stop eating, according to Eat This, Not That. This 6.5-ounce bag is $3.29 and will be on shelves April 5.
Huntington Home Modular Bamboo Organizer 
Spring's a great time to reorganize your kitchen, particularly those little utensil drawers and spice racks. Huntington Home's modular bamboo organizer includes a spice rack and either a flatware tray with four removable dividers or a utensil tray for $9.99. The utensil and spice rack comes with two organizers and a removable spice tray.
Make Your Money Work for You
Earth Grown Lemon Pepper Tofu Cubes
Aldi is appealing to a multi-faceted palate, and Earth Grown lemon pepper tofu cubes is a great meal for either vegetarians or those trying to eat less meat. It comes pre-marinated for an easy meal that requires no prep. The Kitchn recommends preparing them with corn starch in a cast-iron pan to make them crispy on the outside. They'll be in Aldi's refrigerated aisles on April 12, for just $3.59 each.
Gardenline Children's Gardening Set
Help teach your child, age 6 and up, to love gardening with Gardenline's children's gardening set, in either unicorn or dinosaur pattern. The 9-piece set includes a veritable treasure trove of tools, including watering can, spade, rake, shovel, round shovel, scooper, plant labels and a cute little tote bag to carry it all in. The tools have metal heads and are FSC-certified wooden handles. This adorable garden set is just $9.99.
Sundae Shoppe Non-Dairy Cashew Milk Pints
For the lactose intolerant, the vegan or those who can't have dairy for other health reasons, Aldi has a delicious treat: Sundae Shoppe's non-dairy cashew milk ice cream pints. They're just $3.49 each. As of April 12, you can find the following flavors at Aldi: double caramel, peanut butter chocolate chip or chocolate brownie.
DuPont Allergen Air Filter
One of the unkind aspects of spring and summer is allergies, which can be aggravated by indoor dust and animal dander. If you've got a home heater or air conditioner, get one of these DuPont allergen specific air filters that contain Oguard™ odor reduction technology and last up to 90 days. They come in the following sizes: 16x20x1, 16x25x1, 20x20x1 and 20x25x1 — each just $6.99.
Make Your Money Work for You
Editor's note: All prices are as of April 5, 2023.
More From GOBankingRates
Make Your Money Work for You