7 Clever Ways To Stop Wasting Money on Cleaning Supplies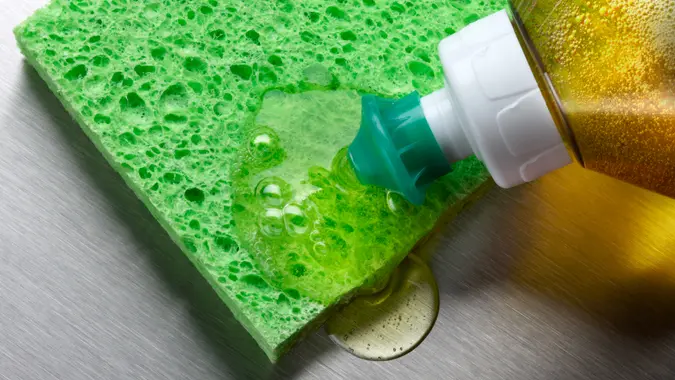 svengine / Getty Images/iStockphoto
You'll always need cleaning supplies, so it's helpful to know how to save money on these products. Not shopping smart can make cleaning your house a major expense.
For instance, buying name brand products for each spot of your home is both expensive and unnecessary. Some cleaners can and should be used for multiple surfaces, and you might have certain items in your pantry that can double as extremely effective cleaning products. Check out these seven expert tips on how to save money on cleaning supplies.
Use Dish Soap for More Than Just Dishes
The dish soap you have on your sink right now is incredibly versatile. You can use it to remove stains from clothes, carpets and rugs. All you need to do is mix it with some warm water and dab the stain like you would with an expensive stain remover. You can also use dish soap as a stain remover before you put your clothes in the laundry. Mix one part dish soap with two parts hydrogen peroxide in a spray bottle and spray a stain to remove it before throwing it into the wash.
You can also use dish soap to clean your linoleum and vinyl floors. Mix it in with some water and use a mop to get sparkling clean surfaces. Do not use this mixture on wood floors, however, since the water can make them warp. This same mix of dish soap and warm water can also work wonders on countertops, cabinets, windowsills, air conditioner filters and window blinds.
Additionally, you can also mix a tiny amount of dish soap with seltzer water and soak your jewelry in it for five minutes for a beautiful shine.
Make Your Own All-Purpose Cleaner
The best way to cut down on cleaning expenses is by making your own multipurpose cleaner. This can be used to clean sinks, counters, tables, cutting boards, refrigerators and many other surfaces.
Make Your Money Work for You
The recipe can be made from items you probably have in your home already. If not, they're super cheap to pick up at the store. Mix one cup of distilled water, one cup of white vinegar, the juice of half a lemon and about 15 drops of essential oil to get an effective cleaning recipe. Not only is this cheap to make, but it doesn't have any harmful toxins like more expensive cleaners do.
Replace Paper Towels With Rags
The cost of paper towels can add up, especially if you're buying a new roll multiple times a month. One way to get around this is to replace them entirely with hand towels and rags you do not use anymore. Rags are actually much more absorbent than your typical paper towel, so you'll do a better job of cleaning. This is also a much more environmentally-friendly option, making it a better option all around.
Also, consider investing in some microfiber cloths. These don't absorb very much liquid, but are amazing at spot cleaning mirrors, sinks and counters. You can also use them to wipe your devices to remove smudging.
Reuse, Reuse, Reuse
So many products we use on a daily basis can be reused to help clean the house. Save your plastic grocery bags and use them as bathroom trash bags. Your old toothbrushes are very useful for cleaning tiles on the floor, counters and in the shower. Used dryer sheets can be repurposed as dust rags to keep surfaces free of dust bunnies.
Shine Brass With Ketchup
This may sound off, but if you have classic brass pieces at home but don't want to spend money on costly brass cleaner — ketchup will do the trick just fine. Experts recommend soaking your brass items in a layer of ketchup for about 30 minutes, then run them under hot water. Use a toothbrush to remove the remaining bits of ketchup.
Make Your Money Work for You
Use Baking Soda To Clean Your Toilet
No need to spend money on an expensive toilet bowl cleaner when you already have baking soda. Pour a tablespoon of baking soda into your toilet and scrub before flushing. This will leave your toilet super clean without having to buy any pricey toilet cleaner.
Use Coupons Whenever Possible
Before going shopping to restock on cleaning supplies, check for coupons. A few sites worth checking out are The Krazy Coupon Lady, LOZO, and Printable Coupons and Deals. These all update frequently so you can get the best deals whenever you're planning to hit the store.
More From GOBankingRates