5 Best Apps for Comparing Grocery Prices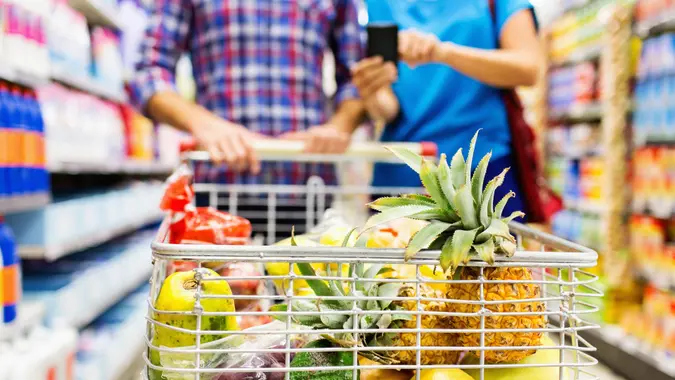 londoneye / Getty Images/iStockphoto
Actively searching for the best grocery deals can be an exhausting process. A grocery price comparison app is a great alternative to save time and money by presenting you with the best prices at each store. 
Read: 3 Ways Smart People Save Money When Filing Their Taxes
The 5 Best Apps for Comparing Grocery Prices
Here's a look at some of the apps that can help you save money on your expenses.
1. Flipp
Used by millions of shoppers across North America, Flipp is a platform that connects retailers to users. It provides access to the deals and promotions of more than 2,000 merchants with the possibility to search for a particular item you need. You can browse digital flyers, add loyalty cards and create shopping lists. 
While Flipp is great for finding the best deals from each retailer, you usually can't view products that aren't on sale. However, the app allows you to track items and get notified if they're at the price you're looking for. 
2. Instacart
Although Instacart isn't exactly a price comparison app, it's an excellent alternative to view and compare prices from several different merchants. As the world's largest online grocery service, it offers over 500 million products from more than 40,000 stores to browse through. 
Make Your Money Work for You
One thing to keep in mind is that Instacart prices may differ from in-store prices. Nevertheless, the prices on the app can be a great starting point, especially if you want your groceries delivered to you. 
3. Price Cruncher
When there are two or more deals for your desired item, it's not always easy to decide which one you should choose. That's when Price Cruncher comes in handy. 
It's a simple yet useful app that lets you save, categorize and compare prices. The downside of the app is that you have to enter each price you want to compare, as it doesn't store data from merchants. 
4. Grocery Pal
Grocery Pal is an app that helps you manage your shopping lists while giving you access to sales and deals from more than 200 major retailers in the U.S. It's best for creating and sharing grocery lists, but it can be helpful when you want to compare prices or track your savings. 
To add a new item, you need to enter its attributes or scan its barcode. Then you can compare it to other items saved in your app or the weekly deals offered by merchants.
Make Your Money Work for You
5. Grocery King
Grocery King is an app with a wide range of functionalities that can help you manage your grocery lists and savings. With a built-in catalog of over 1,000 products, adding a new product to your list is a relatively fast process. 
You can sort your items by aisles, item tags and categories and convert them to cart items that you can purchase. You also have the option to attach your rewards cards to your lists, so you can easily use them during checkout. 
One downside of Grocery King is that it only has deals from a smaller number of retailers. Another thing to remember is that you may have to purchase a subscription to access all the features. However, it's an excellent alternative for those looking for a more complex and advanced app to manage their grocery shopping. 
Takeaway
There are many different price comparison apps you can use to save on everyday purchases. While some are centered around showing you the best deals from merchants, others aim to help you calculate the difference between two deals entered by you. 
Make Your Money Work for You
The most important thing to consider when trying to find the right app is what features you need. Think of the types of items you plan to compare and the list of merchants the app provides deals from. If none of the apps fulfill all your requirements, you might want to combine two or more.  
FAQ
Here are some common questions people ask about grocery price comparison apps.
How can you compare prices at the grocery store to determine the best value?

There are many different grocery price comparison apps you can use to find the product with the best price. Some of them let you compare prices from various merchants, while others help to calculate the best option when trying to decide between packages.

Which app gives you the cheapest groceries?

Grocery price comparison apps will typically let you compare prices. One app that takes it a step further is Flipp. It allows you to track items and will notify you if your specific items are at the price you are looking for.

Which app is better: Flipp or Reebee?

Flipp and Reebee are quite similar in terms of core functionality. However, a point of difference is that Reebee is only available in Canada.

Is there an app for comparing supermarket prices?

Some of the best grocery price comparison apps are:

-Flipp
-Instacart
-Price Cruncher
-Grocery Pal
-Grocery King
Make Your Money Work for You