9 Best Money-Saving Items To Buy at Costco Every Month for Large Families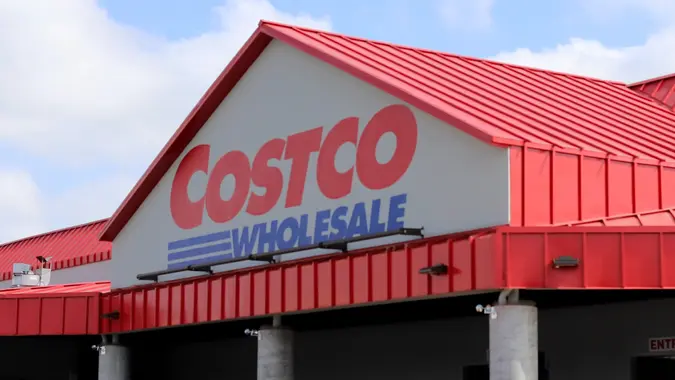 Laser1987 / iStock.com
For large families with a little bit of disposable income, Costco is a great place to shop for an array of items, including groceries and everyday household goods. Many of these items, even those that aren't from major name brands, are of excellent quality. And with the basic cost of membership just $60 a year, shopping at Costco is also an affordable way to get much of what you need every week or month.
If you have a big family and are looking to score some great deals the next time you shop at Costco, you're in the right place. Here are the top money-saving items you can buy at Costco every month.
Bulk Food Items
Costco's made a name for itself as one of the top places in the country to shop for bulk groceries. If you have a big family and are trying to save money while still getting everything you need for your weekly or monthly meals, the members-only warehouse club has some great deals for you.
"Costco offers a wide range of pantry staples and perishable goods in bulk quantities. This allows large families to buy in larger quantities at a lower unit cost, resulting in significant savings over time," said Declan Flaherty, growth product manager at Driva. "Families can stock up on products like rice, pasta, canned goods and frozen items, reducing the need for frequent trips to the grocery store."
Make Your Money Work for You
Plus, Costco's groceries tend to boast the same great quality and taste you'd find from other grocery stores. Not only that, but the warehouse club has a 100% satisfaction guarantee policy for its members.
Kirkland Signature Diapers
As any new parent can tell you, diapers are a must-have item that can quickly become costly. This is especially the case if you use disposable diapers or have several young children at home. If you're trying to save money, you might want to start shopping for diapers at Costco.
"Costco's private-label Kirkland Signature diapers go beyond mere affordability; they present an unparalleled combination of value and quality for families with young children," said Arnaud Kuhlein, marketing head at LA Police Gear. "The diapers' bulk packaging and competitive pricing make them a financially savvy choice, alleviating the financial strain that often accompanies parenting."
Kuhlein added that this specific brand of diapers is known for its high quality and performance, as well. This makes them a good choice for families who want to save some money while still providing the best comfort and care for their children.
Protein Powder
Protein powder is another must-have for families who are athletic or have specific dietary needs. But protein powder can be costly, and it can go quickly when multiple people are consuming it. That's why buying it in bulk at a reasonable price point is so important.
"I have a large family, and I love shopping at Costco. It is one of the best places to find healthy items in bulk," said Maranda Wood, co-owner of The Mold Man. "I love getting my protein powder in bulk. About once a quarter, they will mark it down about $9, making it super affordable, and I will buy the max quantity at a time until they run the sale again."
Make Your Money Work for You
Toiletries and Paper Products
When you have a large family, keeping your toiletries — like body wash, shampoo, floss, deodorant and toothpaste — stocked up is essential. And the same goes for paper products like toilet paper, napkins and paper towels. Purchasing these essential items in bulk is a great way to save money, especially for households who go through them quickly.
"Costco's selection of toiletries and household items in bulk sizes offers excellent value. From toothpaste to toilet paper, purchasing these necessities in larger quantities often results in significant savings," said Bhavin Swadas, founder of CouponSaturn. "Large families benefit not only from the cost-effectiveness but also from the convenience of having an ample supply, minimizing last-minute trips to the store."
Laundry Detergent
Big families mean lot of laundry, which means using a fair amount of laundry detergent and fabric softener. By getting these items in bulk at Costco, you can save money as opposed to purchasing them in smaller quantities.
"Purchasing detergent in bulk from Costco is a strategic move for households, resulting in substantial savings both in terms of cost per load and the overall expense of frequently restocking smaller quantities," said Kuhlein. "This approach is particularly advantageous for larger families with heightened laundry demands, ensuring a continuous supply of detergent without the need for frequent trips to the store."
Plus, you don't have to sacrifice quality for quantity, meaning you can still rest assured knowing that every load of laundry will come out clean and fresh.
Bottled Water
Whether you've got people who are constantly on the go, or you just want to make sure everyone stays hydrated, bottled water is a must. And bulk bottled water is especially important for large households.
"If you buy bottled water, a pack from Kirkland Signature is the way to go," said Angela Wang, owner of We Buy Houses 7. "The labels on each recyclable bottle even have a place to write a name, which is great when dividing water among kids and adults at gatherings. It has a great refreshing taste at only $4.99 for a pack of 40 bottles."
"Buying in bulk is a great way to stretch your dollar to the max, and it is well-suited to buying in bulk at discount prices," Wang added. "Purchasing items in bulk may cost more upfront, but many larger items have a notably low price per unit, especially when you buy Costco's own Kirkland brand products."
Rotisserie Chicken
If you've ever shopped at Costco before, you probably already know about its rotisserie chicken. It's delicious, affordable and a great main dish for big families. Since it's already cooked, it's also a great time-saver for busy households.
"Whether you serve it as a main dish, incorporate it into salads or use it for sandwiches, the value for money and convenience make [Costco's rotisserie chicken] a staple for families on the go," said Swadas.
Frozen Fruits and Vegetables
If you have a big family, it's important to ensure each meal is healthy, delicious and nutritious. One way to do that without breaking the bank is to purchase frozen vegetables and fruits at Costco. Not only can you buy these things in bulk, but you can get them at reasonable prices.
"Costco's extensive array of frozen vegetables and fruits stands as a testament to the brand's dedication to providing cost-effective and nutritionally rich options for families," said Farah Kim, head of marketing at WinPure. "Large families, in particular, benefit from the convenience of having a diverse selection of frozen fruits and vegetables readily available, reducing the frequency of trips to the grocery store and ensuring a consistent supply of wholesome options for meal preparation."
Eggs and Dairy
With consideration for any specific dietary restrictions your family might have, Costco could be a great place to shop for a variety of dairy products and eggs. These items are of good quality and value, especially for the more health-conscious and budget-conscious households.
"Costco's gallon milk is very affordable, especially compared to buying smaller containers at the grocery store. It is a great option for large families who drink a lot of milk," said Darren Graham from 408 Media Group.
The same goes for Costco's eggs. "They come in large cartons, which is perfect for large families," added Graham. "You can use them to make breakfast, lunch, dinner and snacks."
More From GOBankingRates