4 of the Most Expensive Items at Costco — Are They Worth It?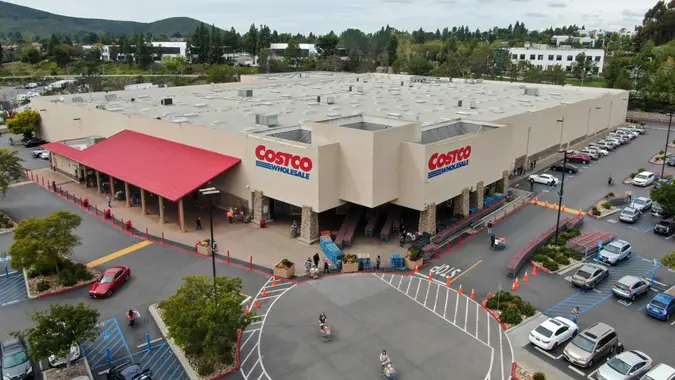 Thomas De Wever / Getty Images
Costco is known for bulk buys and bargains, but the beloved warehouse membership club also sells individual items with four-, five- and even six-figure price tags. The chain's famously loyal members tend to buy everything they can at their favorite store, but should they shop elsewhere for the priciest luxury offerings Costco has to offer?
The answer depends on the product and the price. In some cases, you can do better by purchasing big-ticket items in specialty stores. But in others, you'd be best served reaching for your Costco membership card at the same time you reach for your credit card.
Here's a look at four of the most expensive things you can buy at Costco, along with some context on what to expect if you spring for the same or similar luxury items somewhere else.
Evolution Spas Hot Tub
The Monarch hot tub from Evolution Spas brings three energy-efficient pumps and 90 powerful jets to your backyard hydrotherapy routine. It boasts a Bluetooth audio system with a subwoofer and multicolor, programmable LED Lighting. Its UV/O3 dual sanitation system filters with the power of ozone and ultraviolet light for clean water with fewer chemicals. Its manifold plumbing system distributes pressure equally to all 90 jets and its insulated, heavy-duty cover keeps gunk out and heat in.
Make Your Money Work for You
It features both bench and lounge seats with room for seven to sit comfortably. The 480-gallon tub measures 91 inches x 91 inches x 36 inches and comes in your choice of brown or gray with an impressively realistic synthetic driftwood provincial cabinet.
If the spa suits your needs, can it justify the $8,999.99 price tag that hangs on it at Costco? You could certainly do worse. ShopEZ USA sells the same model for $12,959.99.
Foresight Sports Golf Simulator
The highly rated Foresight Sports Golf Simulator, Eagle Package comes with a full simulation enclosure, a hitting mat and turf — but it's the tech inside that makes it shine. It's powered by a GCQuad launch monitor and FSX gaming and performance analysis software displayed on a high-definition projector. The software includes a premium 30-course package with a lifetime license. As for hardware, you'll access the system with a game-optimized PC with a wireless keyboard, mouse and stand.
It's an in-home oasis for golf lovers who can't hit the real-life links as often as they'd like, but is it worth $19,999.99? If you have the means and the will to spend such a sum, it certainly is.
If you buy the Eagle package direct from Foresight, you'll spend $26,000. Top Shelf charges $26,000, as well, as does the official PGATour Superstore. But even that's a bargain compared to ShopEZ USA, which is selling the Eagle package for $31,745.98.
Exaco Riga Professional Greenhouse
If you're looking for an outdoor greenhouse with more room than a New York City studio apartment, the 14×29-foot, six-inch Exaco Riga XL 9 delivers 410 square feet of clear-walled luxury for $19,999.99.
Make Your Money Work for You
It features heavy-duty, triple-walled, UV-coated panels that are 16mm thick for unrivaled insulation and it comes with thermostat-controlled heating and cooling. Its extra-wide front and rear Dutch barn doors leave room for wheelbarrows and offer ADA accessibility. Its large roof window vents are solar powered for automatic opening and closing.
The thoughtful features and premium construction have earned it 4.6 out of five stars from satisfied customers. The smaller XL 6, which costs $5,000 less, is also highly rated.
The greenhouse might be worth every dollar, but you can spend fewer of them for the same thing elsewhere. Lowe's offers the XL 9 model for $18,939.
Pink Diamond Platinum Halo Ring
Costco advertises its fancy pink diamond platinum halo ring for $349,999.99 — a clever marketing trick designed to make a $350,000 piece of jewelry feel more affordable than it is. That's not to say it isn't worth every penny — even the penny you don't pay.
The true gem is the radiant-cut VVS1 clarity, 1.54-carat center stone, but the ring has a total diamond weight of 2.24 ctw. The non-diamond portion is crafted from 950 platinum and 18-carat rose gold.
It's hard to compare diamond jewelry because of the many variables that factor into pricing, but the Costco offering falls on the more affordable end of the spectrum, considering its impressive quality. Rocka's Diamonds is offering a custom 1.5-carat pink diamond halo ring made in Antwerp for about $237,000. At Saks Fifth Avenue, a comparable offering will cost you $877,500.
More From GOBankingRates