Stop Letting Groupon Profit Off Your Laziness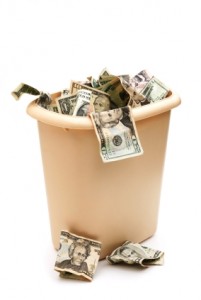 It's a terrible feeling: You log in to your Groupon account, only to find that the half-off coupon for yoga classes  expired last week. Your intention was to save money, yet there goes $50 — wasted on another expired Groupon.
At least, that's what you might think. Many Groupon customers assume that once an online coupon expires, they're out of luck. That, however, is not the case.
The truth is, technically, Groupons and most other daily deal vouchers can be redeemed up to five years after the purchase date, which means you can buy all the yoga, facial and frozen yogurt coupons your heart desires without the fear of wasting money.
Don't Delete That Expired Groupon
Forgetting about a Groupon and letting it expire means you'll never enjoy the awesome deal that enticed you to buy it in the first place, but you don't have to lose any money when this happens, either.
Make Your Money Work for You
That's because there are two parts that make up the full value of a Groupon, and the expiration date only applies to one:
Amount paid: The total dollar amount you shelled out for your coupon.
Promotional value: The additional value beyond the amount paid.
While allowing a voucher to expire means forfeiting the promotional value — essentially giving up the "deal" — you can still redeem a Groupon for the amount paid. In this case, it serves as a credit toward the full price of the product or service so that no money is actually lost (though you will have to compensate for the difference).
Of course, the allure of daily deal sites and coupons is the chance to score huge discounts on activities, merchandise and meals that are generally considered to be non-essential purchases. After all, you might not splurge on a hot stone massage or scuba diving session if it wasn't 50 percent off.
Make Your Money Work for You
That's why it is not recommended you make a habit out of letting Groupons expire. The good news is you don't have to eat the cost if one happens to slip your mind.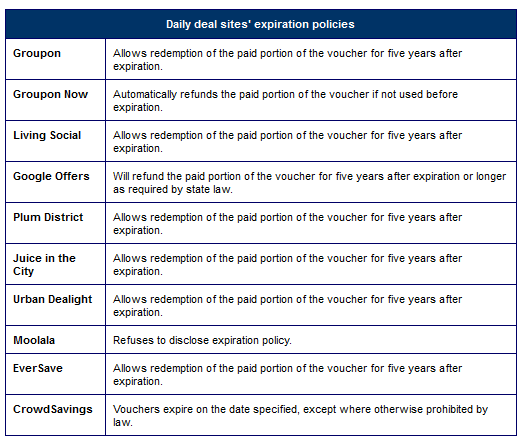 Source: CreditCards.com
Why Expired Groupons Don't Really Expire
You pay for the deal up front, but "coupon" is right there in the name — so are Groupons actually coupons, or are they considered to be more like gift cards? This is a question without a definitive answer, which means they fortunately (for consumers) fall under the protection of the 2009 CARD Act for now.
The CARD Act prevents gift cards from expiring in under five years. Since vouchers via Groupon, Living Social and other daily deal sites function much like gift cards, they, too, must be redeemable for the same amount of time.
How to Redeem an Expired Groupon
So let's say you do forget to redeem a Groupon before the expiration date. While the good news is you can use it anyway, the bad news is that it probably won't be easy.
Make Your Money Work for You
Just because Groupon allows you to redeem expired coupons for the full value doesn't mean individual establishments are on the same page. You may be met with some resistance when attempting to cash in a coupon that's past its expiration date — but don't cave if that's the case.
Here's what you can do to convince a merchant to accept an expired voucher toward the full price of an item:
Be nice. Hey, you're the one who forgot to use your Groupon on time. Be polite — it will go a long way.
Remain persistent. Merchants who participate in Groupon offers are obligated to honor the amount paid. If the front desk refuses to do so, ask for a manager and hold your ground while the two of you work it out.
When all else fails, go to Groupon. Groupon states in their terms of service that they'll honor any expired coupon that a merchant refuses to take. At the very least, you'll get a refund.
You may be tempted to write off an expired Groupon as a few bucks lost rather than go through the trouble of getting your money back. That's fine, but are you really okay with the fact that you're losing money out of simple laziness?
There are a number of ways to ensure you never have to deal with the hassle of redeeming an expired Groupon, like setting e-mail reminders or using a daily deal tracker to monitor due dates.
In the end, if you find that your daily deals keep slipping through the cracks, it's probably a sign that you don't really need them in the first place.