I Work at Trader Joe's: Here Are 4 Insider Secrets You Should Know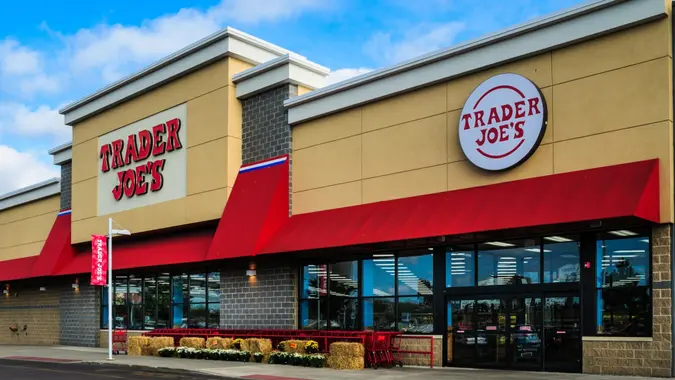 KenWiedemann / Getty Images
Trader Joe's isn't your typical grocery store. From their Fearless Flyer discount paper to the creatively branded products lining the shelves, it's a treasure trove of fun finds during any trip to pick up whatever tickles your fancy. People who love Trader Joe's know there's a few hacks to getting some of the best money-saving deals in the store. But who knows what the best insider secrets are? The employees, of course.
No matter what location you go to, you'll find Trader Joe's crew members, often decked out in Hawaiian shirts and great attitudes, with a willingness to help you find whatever it is you need in store. GOBankingRates reached out to some Trader Joe's crew members, present and past, to learn the insider secrets you should know the next time you shop. These are their best tips.
There Is One Day You Should Definitely Shop
"Saturday night!" said Trader Joe's crew member Claudia P., who currently works in a store on the east side of Los Angeles. She highlights Saturday night as the perfect time to shop because everyone else is going out to have dinner, see a movie, or spend time with friends and family. But that means that Trader Joe's aisles are wide open.
"Most people like to make Saturday night date night," she explained. "But my husband and I both work here, so we make date night Saturday night [at Trader Joe's]."
There Is One Time of Day You Should Definitely Shop
"Ten o'clock in the morning is practically empty," Claudia P. said. Therefore, 10 a.m. is the perfect time to shop. It is the window between the early birds and those commuting to work stopping by to pick up a few items and customers who choose to wait until around lunchtime to do their shopping.
Make Your Money Work for You
One other perk of shopping at 10 a.m. is that Trader Joe's parking lot — which has a notorious reputation — has a lot fewer cars to contend with while entering or exiting the lot. And on the subject of the Trader Joe's parking lots…
Avoid the Parking Lot at All Costs
Not enough space. Too small of spaces. Frustrating ins and outs. Road rage. These are descriptions frequently associated with Trader Joe's parking lots, some of which have their own crew member directing traffic to avoid total gridlock.
If you cannot make it on a Saturday night or 10 a.m. shopping does not fit your schedule, there's another pro tip that Claudia P. recommended. Park on the street when you can or if a Trader Joe's is close enough, walk or bike.
She also suggested carpooling with someone else to cut down on the amount of traffic that Trader Joe's gets.
Check the Aisles and the Store Corners
Where can you find the most bang for your buck at Trader Joe's? All along the shelves, but also in the corners of most stores. That's where new products are on display and usually where the sample station is set up, according to another Trader Joe's crew member in California who asked not to be identified.
If your local Trader Joe's doesn't have a booth set up to sample new products, make sure you check the end of aisle displays. Seasonal items that are new or discounted are usually on display with other products that would go well with it.
Make Your Money Work for You
"This is particularly the case during the holidays," said the anonymous employee. "Like for October with all the pumpkin items and at Christmas with the festive goodies."
More From GOBankingRates