What Is Greenwashing and How To Save Your Wallet From Scams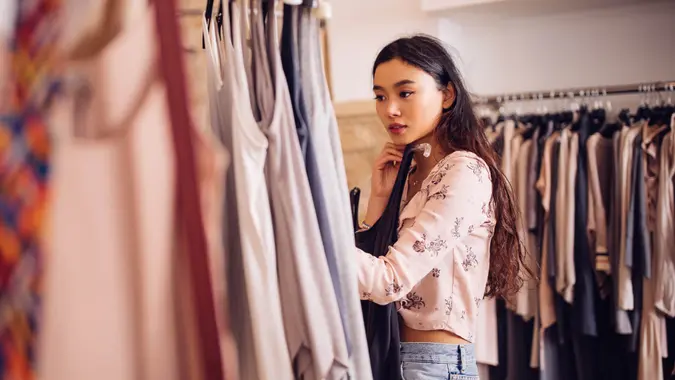 wundervisuals / iStock.com
New York Fashion Week was Sept. 8-12, which is followed closely by London Fashion Week, then Kansas City, then Milan, then finally Paris Fashion Week. Fashion is a global industry, and in a recent interview with Vogue Scandanavia, Greta Thunberg — the world's unofficial spokesperson for youth activism on climate change — linked global fashion to global warming.
See: 18 Online Shopping Traps and Scams To Watch Out For
Read More: The Classic Cons Behind These Digital-Age Scams
It's an open secret that exploited workers in big, gross factories in poor countries make the clothes and shoes that Americans wear. But as Thunberg points out, it's standard practice for fast-fashion giants — and others just like them in different industries — to pollute for profit while selling themselves as climate allies. 
The practice is known as greenwashing, and it's in the mountain spring bottled water you drink, the ESG ETF with the high expense ratio that you bought, and the internet service provider that you switched to because their servers run on clean energy. 
Be Aware: 8 Scams That Get To Your Paycheck Before You Do
What Is Greenwashing?
Companies greenwash when they spend more money on marketing themselves as environmental advocates than they do on actually changing irresponsible business practices. 
Make Your Money Work for You
In the Vogue interview, Thunberg wrote: "Many are making it look as if the fashion industry is starting to take responsibility, by spending fantasy amounts on campaigns where they portray themselves as 'sustainable', 'ethical', 'green', 'climate neutral' and 'fair.' But let's be clear: This is almost never anything but pure greenwashing. You cannot mass produce fashion or consume 'sustainably' as the world is shaped today."
Virtually every big company in America has a campaign to showcase its social and environmental bona fides. The righteous ones do it to assure their customers that they're spending their money on a brand that shares their values. Plenty of others do it to greenwash — to purposely misrepresent their business practices as being environmentally friendly because they know modern consumers are concerned with sustainability. 
Check Out: 9 Successful Money-Making 'Schemes' That Are Actually Legal
Greenwashing Pries at Your Wallet by Appealing to Your Decency
According to a 2021 study from the environmental tech firm GreenPrint, nearly two out of three Americans — 64% — are willing to pay more for environmentally friendly products. Nearly four out of five — 78% — said they are more likely to buy a product just because it's labeled as environmentally friendly.
Global fast-fashion giants and other notorious greenwashers are perfectly aware that well-intentioned customers will spend more of their hard-earned money if it means making an ethical purchase. They also know that simply slapping a label on something that says it's sustainable is enough to make it so in the minds of the masses.  
Make Your Money Work for You
That means that greenwashing is a double-edged sword. On one hand, irresponsible companies can use it as a smokescreen to hide bad behavior. At the same time, they can use it as a sales tactic to upsell trusting customers who think they're spending more for a green purchase. 
Go Green: 50 Most Environmentally Friendly and Affordable Vehicles
Be Skeptical of Green-Speak
Because sustainability sells, everyone is selling sustainability — and they sell it through language. Rule No. 1, according to Zero Waste California, is to be suspicious of fluffy language that doesn't have a clear meaning. Common greenwashing buzzwords include "eco-friendly," "sustainable," "plant-based," "natural," "biodegradable" and "locally sourced." 
Look for certifications, not words — anyone can print words on a package, but certifications must be earned. Top certifications that you can trust, according to CleanUp News, include:
Rainforest Alliance Certified

Fair Trade Certified

Green Seal 
Be Aware: You Won't Believe What Hackers Can Do With Your SSN
How Do I Avoid Being Greenwashed?
According to Sustainability Times, you should shop brands, not products. Identify brands that you trust, that you've researched and that you believe in — and buy as much from them as you can. Once you find a brand you like, double-check that it's not a corporate decoy designed to greenwash.
Make Your Money Work for You
Huge corporations create entire brands that project an artisan, mom-and-pop, boutique kind of vibe to help the parent company sell sustainability. Clorox owns Burt's Bees. Coca-Cola owns Honest Tea. Pepsi owns Naked Juice. Nestle owns Sweet Earth.
Use common sense. If something feels off, don't mistake that for paranoia — you're probably being greenwashed. Keep an eye out for the following red flags: 
Irrelevant boasts:

It doesn't matter if Cherry Mountain Dew is gluten-free.

Self-contradictory language:

There is no such thing as clean coal or biodegradable plastic.

Clean products from dirty companies:

It's not a clean purchase when something like energy-efficient CFL lightbulbs are made in a carbon-emitting, fossil-fuel-powered factory.

Companies that don't practice what they preach with their own products:

If you buy a product that comes with lots of unnecessary nonrecyclable packaging, that should speak more loudly to you about the company than anything the company says about itself. 
More From GOBankingRates
Last updated: Sept. 10, 2021
Make Your Money Work for You