How to Travel Like a Millionaire — Without the Millionaire Budget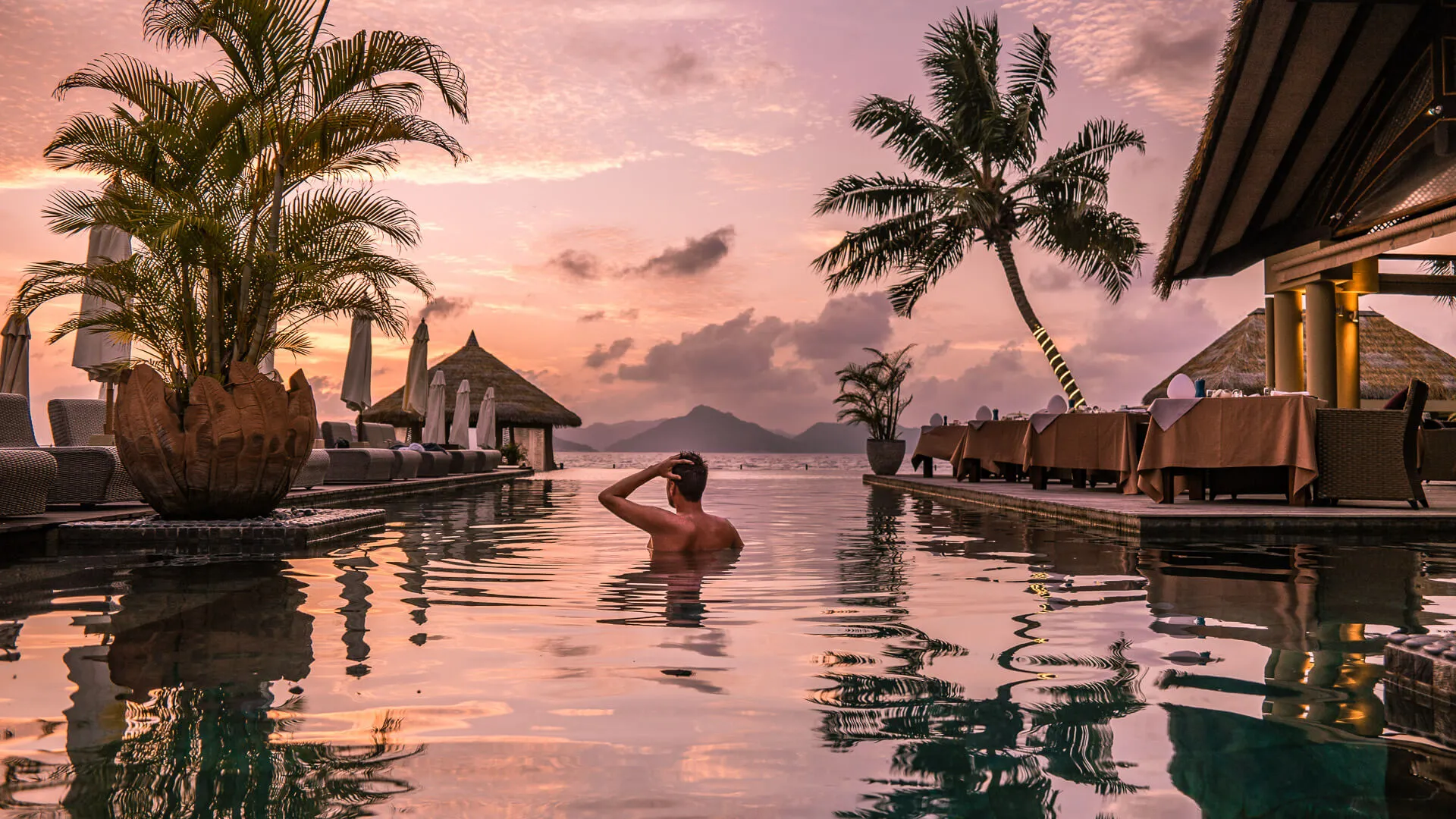 Harry Styles and Olivia Wilde were recently spotted vacationing in style in a small village in Italy. A few days earlier, Kylie Jenner and Travis Scott were pictured canoodling on an exotic beach with a postcard sunset as the backdrop. Ashley Benson joined the crowd soon after by posting a few choice bathing suit pics from the Four Seasons Resort on the private peninsula of Punta Mita in Mexico.
It's safe to assume that none of them flew coach — it's doubtful they flew commercial at all — and when they got to where they were going, mere mortals could only imagine the lavish luxury that surrounded every minute of their vacations. 
The millionaire lifestyle is one to be envied, indeed — but if you want to travel like the celebrity class but you don't have the budget of a rock star or reality TV socialite? 
Well, average people might never truly be able to travel like a Kardashian, but with a few smart strategies and well-chosen upcharges, they can do their best impression.
If You Can't Afford a Private Jet (You Can't), Semi-Private Will Do
When air travel went kaput in 2020, a luxury private jet charter company called JetSuite dropped the hourly rate for its Embraer Phenom 300 fleet by 15%, from $6,776 per hour to $5,795.
If even those rock-bottom pandemic prices are too rich for your blood, don't worry. 
JetSuite is now Superior Air Charter, and its prices are still scary — ranging from less than $7,000 for a short one-way trip to well over $20,000 for longer charters. One of its partner companies, however, offers an alternative for those who want just a little taste of the high life without having to buy the whole meal.
JetSuiteX, known as JSX, offers semi-private luxury flights. You'll pay more than you would to fly commercial, of course — often about double — but the price can also be surprisingly close to par. Either way, it's always going to be far more affordable than paying thousands or tens of thousands of dollars per hour to charter a private jet — and it really is fancy. 
Not only do you get business-class legroom on 30-seat jets, but the entire experience is more exclusive from the moment you arrive. Security and check-in take roughly 20 minutes and travelers can avoid the airport bustle in private lounges and private terminals.
Make Your Money Work for You
Hit the High Seas on Someone Else's Yacht
When the elite fly, they fly in private jets. On the ocean, however, nothing but a yacht will do. 
Just as semi-private jets from companies like JSX offer the masses a 1%-lite option in the skies, GetMyBoat gives you the chance to dabble in the world of yachts without actually having to buy one. 
GetMyBoat lets you charter all kinds of vessels for all kinds of journeys just about anywhere in the world — but the site has a section just for yachts where aspiring ballers can rent by the hour until they amass the net worths they need to pick one up for themselves. 
There are impressive options for less than $500 an hour — much less, in many cases. 
Up to six guests, for example, can cruise the Potomac River in a 29-foot premium yacht for $200 an hour on weekdays or $300 on weekends. If you're sailing out of Charleston, S.C., a 32-foot Sea Ray Sundancer motor yacht charter for six people can be yours for $275 an hour. On the other side of the country in Newport Beach, Calif., a Tiara 3600 open motor yacht is going for $295 an hour.
Travel in the Offseason
An easy way you can book five-star resorts for less is by booking off-season travel. That's according to Liz Dahl, founder of travel site Boomer Travel Patrol. 
"The views will be the same, the accommodations will be the same, but the prices will be slashed in half," she said.
Take Hix Island House, a luxury hotel on the island of Vieques just off the southeast corner of mainland Puerto Rico, for example. Casa Solaris, a fully equipped two-bedroom loft, costs $300 per night between April 27 and Dec. 17. But, pricing shoots up to $480 per night over the Christmas and New Year holidays.
To save even more, travel during the week. Rentals are a hard sell during the workweek, so many renters drop pricing to entice travelers. 
Make Your Money Work for You
Stick With One Company, Be Nice and Ask for Upgrades
Sometimes, a smile and brand loyalty can go a long way.
Dan Nainan, a professional comedian who's performed in over 20 countries, said he flies the same airline every time. That helps him get the best seat available on his long and frequent flights. He also isn't afraid to trade politeness for perks.
"Be extremely friendly, and make friends with flight attendants, hotel personnel and car rental agents," he said. "It's much, much easier to be upgraded to the nicer car, the hotel suite or first class if you are nice."
More From GOBankingRates
Andrew Lisa contributed to the reporting for this article.

BEFORE YOU GO
See Today's Best
Banking Offers