When To Use Cash or Miles for Airline Tickets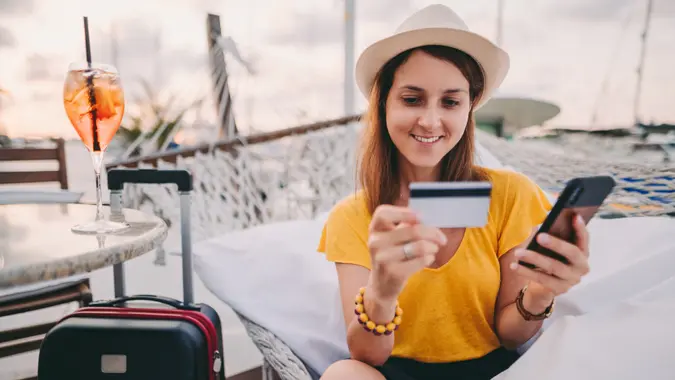 martin-dm / Getty Images/iStockphoto
If you're planning a trip and wondering whether you should pull out your debit card or redeem your airline miles for your flight tickets, there are a few things you need to consider to get the most value. To help sort it all out, GOBankingRates consulted with personal finance and travel reward experts. 
See: How To Build Your Savings From Scratch
Here's when to use cash or miles for airline tickets. 
When You Should Use Miles To Pay for Airline Tickets
Here are some instances when you should use miles instead of cash to pay for airline tickets. 
You're in Danger of Losing the Airline Miles You've Earned
Although there are many airline credit card miles that never expire, such as Delta and United, some do. For example, American Airlines and Hawaiian Airlines miles and points expire 18 months from the date of your most recent activity, and Alaska Airlines miles expire two years from your last account activity. 
You Don't Have Enough Cash
"If you need to book a trip but don't have cash to cover the cost, use miles," said money-saving expert Andrea Woroch. "If you charge a flight and then pay interest, you're going to end up spending much more for that airfare, and that cost can keep growing until it's fully paid off."
You're Booking a Long-Haul, Business or First-Class Flight
Andrew Latham, certified financial planner and director of content for the website SuperMoney, said that using miles is beneficial for premium-class flights, which he cautioned could be exorbitantly expensive if paid in cash.
"Miles are good value for long-haul flights and business and first class as typically they're worth between 2 and 5 cents per mile," said Murtaza Khanbhai, founder of the website Reward Flight. "That is, 100,000 miles might get you a ticket worth up to $5,000."
Make Your Money Work for You
You Comparison Shop and Find a Good Deal
Woroch said that the best way to use miles for flights is to find an option that uses the least amount of miles. "Most airlines allow you to compare travel dates and flight options to find the lowest mile redemption option," she said. "This way, you can travel more for free by taking advantage of those low award mile flights. We always base our travel schedule around lowest mile requirements for award flights."
When You Should Use Cash To Pay for Airline Tickets
Here are some instances when paying cash is a better option than using miles. 
When You're Saving Up Miles for a Bigger Trip
Woroch said, "When you're looking at inexpensive airfare and a shorter trip, you may be better off paying cash and holding on to miles for that bigger trip you're planning, like traveling to Europe."
When You're Close to Qualifying for a Higher Tier Status
"You should definitely use cash when you're very close to reaching a higher tier status with your airline's loyalty program, and using miles would mean missing out on earning the needed qualifying miles," said Latham.
When the Flight You Book With Miles Will Be Inconvenient
"Firstly, you need award seat availability to book with miles," said Khanbhai. "When you book last-minute or popular routes, these can be hard to come by. You might need to take a long-winded route or have long layovers, which can be a hassle when traveling with a family. Cash remains the only option here."
When the Fees Are High
"Airlines typically charge a small fee to cover taxes when redeeming airline miles, but this fee can range from a few bucks up to $100 or more," Woroch said. "I've seen fees as high as $135 to redeem award flights. In this case, you have to compare the cost of the flight in cash versus how much you'll pay in fees to redeem miles. If fees are high, there may not be a huge difference in cost in the end. I typically don't use miles on any flights that charge big fees."
Make Your Money Work for You
When You Can Book a Cash Flight Cheaper on a Budget Airline
Khanbhai said that the entire ticket on a budget airline might cost you less than the taxes on the award flight. If that's the case, he said saving your miles and using cash is best.
Other Expert Tips
Here are some additional tips from Latham to get the most out of your airline miles:
Be flexible with your travel dates and times, as this can often open up better redemption options. 
Keep an eye on promotional offers from airlines as they occasionally offer discounts on mile redemptions. 
Being part of an alliance can also offer you more options for flight routes and times, potentially making your miles go further. 
You may also get better redemption rates if you use them for hotels and rental cars. For example, I love the AAdvantage Aviator Red Mastercard because of the great rental car rates you can get. Its award flights, on the other hand, are nothing to write home about.
Cash vs. Miles: Which Should You Use?
When used wisely, airline miles can save you a lot of money. However, it takes some planning to ensure that you'll get the most value. Use the aforementioned expert tips whenever you're planning to fly. 
FAQ
Here are answers to some of the most commonly asked questions about saving money on airline tickets.
What is the cheapest place to get airline tickets?

It depends. Sometimes you'll find the cheapest fares on the airline's site. Other times, you might find the cheapest flight through an online travel search engine.

How do I find the best airfare price?

To find the best airfare price, you should comparison shop. Check the airline's site. Also use a travel search engine. If you have a travel agency you like, see what airfare prices it can find for you.

What's the cheapest day to fly on?

According to CheapOair, two of the best departure days to save money on U.S. domestic flights are Tuesday and Wednesday.  In general, flights booked for departure on Monday-Thursday mornings will tend to be cheaper than other times.

Do flights get cheaper the closer to the date?

In general, the answer is no. Google reported in October 2022 that the cheapest flights were being booked 21-60 days out, with prices bottoming out about 44 days before departure.

Which airlines are the cheapest?

Budget airlines, such as Spirit and Frontier, typically have the cheapest fares but might charge more for amenities. Also, if you need to check bags, make sure you factor that into your total cost.
Make Your Money Work for You
Our in-house research team and on-site financial experts work together to create content that's accurate, impartial, and up to date. We fact-check every single statistic, quote and fact using trusted primary resources to make sure the information we provide is correct. You can learn more about GOBankingRates' processes and standards in our editorial policy.