All-Inclusive Resorts in America You Can Actually Afford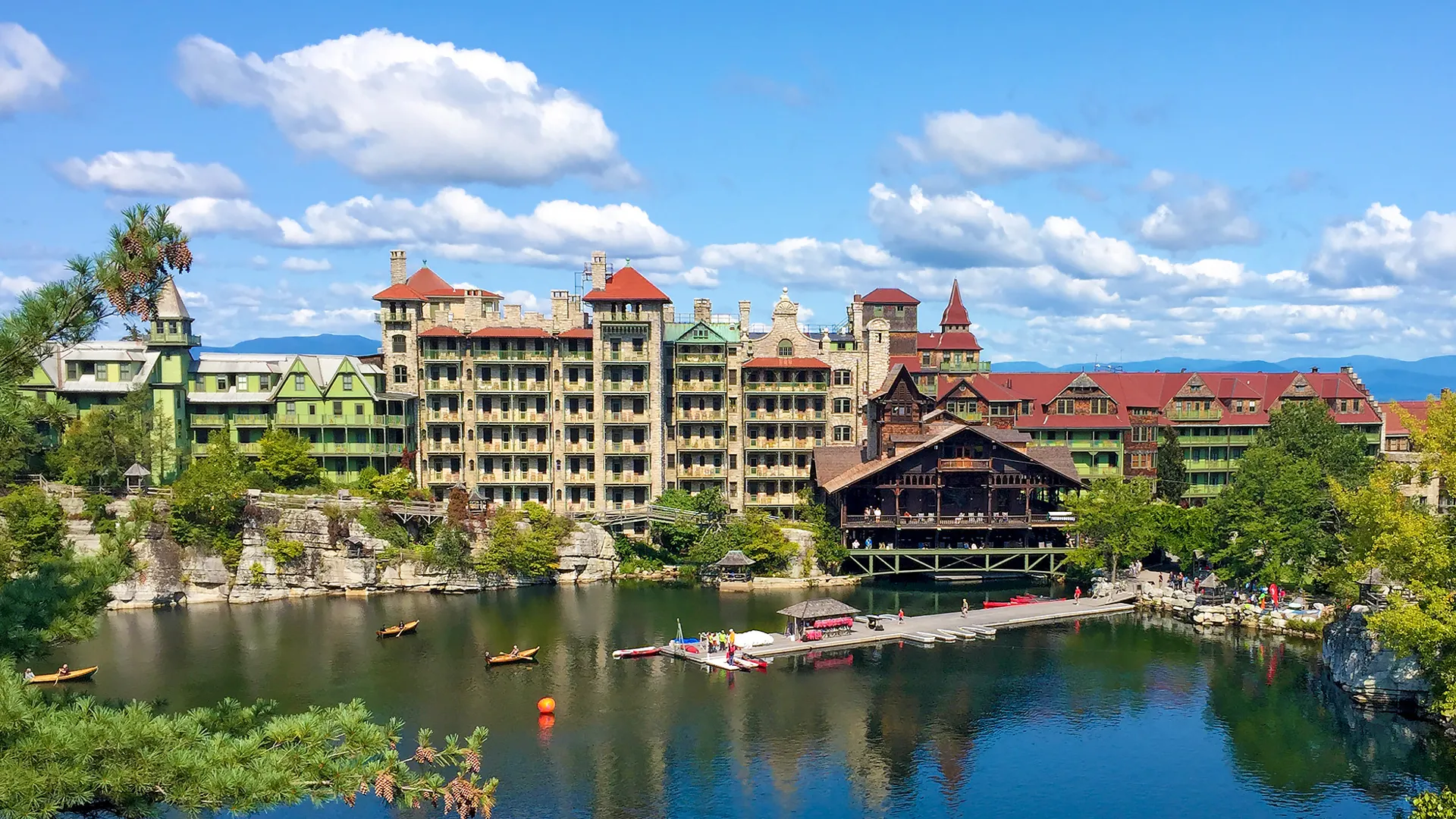 Planning an affordable family vacation can be difficult. First, it takes hours of research to find the perfect place. Then, you have to coordinate everyone's schedule and hope that you can get the reservation dates you want. Finally, you have to eyeball your budget to make sure it can handle all the required meals, activities and incidentals. Once you arrive, the work's not over, though. You still have to continuously plan and execute to make sure everything goes smoothly.
With an all-inclusive vacation, however, you essentially show up and enjoy yourself because all of the planning is done for you. All-inclusive vacations allow you pay for your accommodations, meals and activities in one lump sum, nixing the planning and the guesswork.
Take a look at these 12 affordable all-inclusive vacation destinations that are designed to make your life — and your vacation — much easier.
Last updated July 30, 2019.
Make Your Money Work for You
Club Med Sandpiper Bay — Port St. Lucie, Florida
Cost to stay: Starts at $140 per night per person
Club Med Sandpiper Bay — which has the distinction of being the only Club Med installation in the U.S. — is located a couple of hours north of Miami along the St. Lucie River. A host of adult and family-friendly activities are available.
If you haven't stayed at a Club Med resort before, you're in for a treat. As the pioneer of the all-inclusive resort model, Club Med has it perfected, with high-quality and, often, unexpected activities, such as an on-site flying trapeze.
To take advantage of this offer, a one-night minimum stay is required.
Club Med Sandpiper Bay Features
The resort is known for its stunning tropical views and a wide variety of sports activities, including Club Med Academies designed to help you improve your golf, tennis and fitness skills.
The resort features three restaurants and two bars, most with both inside and outside seating. Four swimming pools are also on the property, including a kiddie pool. The adults-only pool, which is located on the edge of the St. Lucie River, offers stunning views of the bay.
All-inclusive packages include transfers and accommodations, as well as meals, snacks and drinks. Entertainment, sports and children's supervision also are included.
The Tyler Place Family Resort — Highgate Springs, Vermont
Cost to stay: Starts at $178 per night per adult, $132 per night per child
In business since 1933, The Tyler Place Family Resort features top-notch family vacation packages in an intimate northern Vermont lakeshore cottage community setting that's frequently refreshed and updated. The resort is a 2019 recipient of Trip Advisor's Certificate of Excellence.
Families will enjoy spending time on the resort's 165-acre private property that has plenty of open green space, woods, inlets and gardens for playtime and leisurely outdoor enjoyment. By the lake, hammocks and Adirondack chairs await for catching up on reading, visiting with friends or taking an afternoon snooze.
All-inclusive stay bookings run on a seven-day basis during the majority the summer, with the opportunity for shorter and longer stays during the first and last week of the summer season.
Make Your Money Work for You
The Tyler Place Family Resort Features
The Tyler Place Family Resort's all-inclusive package offers accommodations with daily housekeeping. Lodging options include a cottage, studio or family suite with separate bedrooms, at least one private bath, and often a porch, kitchenette and living room. Meals include breakfast, lunch and candlelight dinner. Picnic lunches are available.
Morning and evening programs for children and teens are available.
Activity options include tennis, sailing, windsurfing, canoeing, kayaking, biking tours, nature trips, basketball, volleyball, softball, archery and soccer. There are also heated indoor and outdoor swimming pools, a splash pad, yoga and a climbing wall. Informal entertainment is provided each evening.
Mohonk Mountain House — New Paltz, New York
Cost to stay: Starts at $355 per night per person
The Mohonk Mountain House, located on 1,200 acres in the Hudson Valley, is a Victorian-style castle steeped in 150 years of history. This all-inclusive destination has been visited by five U.S. presidents who no doubt enjoyed the area's breathtaking views.
Designated as a National Historic Landmark, this destination offers delights such as farm-to-table cuisine and an award-winning spa.
As a four-season resort, activities change throughout the year, but guests can count an array of activity choices, classes and special events to occupy them. Families will stay so busy that they won't even miss the fact that TVs are in common areas only — not in guest rooms.
A two- to three-night minimum stay is required with some packages.
Mohonk Mountain House Features
With the resort's all-inclusive Mountain Mini-Cation Package, which requires a stay of three or more nights, guests will receive plenty of perks, such as 10% discounts on spa treatments and retail purchases.
Meals include three fresh, locally sourced meals from farm-to-table partners that offer varied options, such as elegant indoor dining, a barbecue lunch or evening lobster bake.
Available activity options include more than 85 miles of hiking and nature trails, daily guided tours, boating, fishing, swimming, yoga, meditation and fitness classes. An indoor heated pool is also available.
Other activities and perks include complimentary greens fees, afternoon tea and cookies and nightly entertainment.
Make Your Money Work for You
Skytop Lodge — Skytop, Pennsylvania
Cost to stay: Starts at $209 per night per person
Skytop Lodge, established in 1928, is situated on 5,500 acres in the Poconos, overlooking Skytop Lake. The Dutch Colonial-style manor house is a member of the National Trust Historic Hotels of America.
As a four-season lodge, guests have the option to book comfortable accommodations and enjoy activities, no matter what time of the year. Besides the 124 guest rooms and suites featured in the main lodge, an assortment of cottages and an inn are also available.
No minimum stay requirements for all-inclusive packages were noted on the property's website.
Skytop Lodge Features
All-inclusive packages can vary. With the Summer Fun Package — available from May 24 through Sept. 2 — guests can enjoy accommodations, breakfast, hayrides, a nightly campfire and marshmallow roast, rock climbing, lawn bowling and the butterfly house. Additional activities include golf after 3 p.m., archery tag, fishing and rod rentals, biking, boating, tennis and camping in the clouds.
The year-round modified American Plan offers much of what the Summer Fun Package does but eliminates some of the outdoor, weather-dependent activities. A bonus with the modified American Plan is that dinner is included.
Rocking Horse Ranch — Highland, New York
Cost to stay: Starts at $599 per night for four people
Located in New York's Hudson Valley, Rocking Horse Ranch is another resort that has stood the test of time. It originally opened as a family-friendly dude ranch on Memorial Day weekend in 1958. The resort burned to the ground in 1971 but was rebuilt within months. With years of success to its credit, the resort most recently ranked No. 17 out of 25 on Trip Advisor's 2019 list of the best hotels in the world for families.
A two-night minimum is required for most reservations, and a three-night minimum applies on the majority of holidays.
Make Your Money Work for You
Rocking Horse Ranch Features
Rocking Horse Ranch's all-inclusive packages feature accommodations, meals and horseback riding. Meals include a full breakfast buffet with over 40 items and rotating lunch and dinner entrees, complete with a dessert bar featuring a chocolate fountain.
Activities include the resort's Big Splash indoor water park, mountain tubing, water sports on the ranch's private lake, rock climbing, arcade, a kids' club program and a variety of other seasonal entertainment. Live music, fireworks and Wild West shows also are included.
Woodloch Resort — Hawley, Pennsylvania
Cost to stay: Starts at $299 per night per person
Nestled in the Poconos Mountains, the four-season Woodloch Resort, which has been owned and operated by the same family for over 60 years, is a favorite of families when it comes to vacation choices. It's no surprise that it's rated as one of the top all-inclusive family destinations on Trip Advisor for 2019.
The resort's exceptional activity program is well-organized and jam-packed with fun things to do for children and adults. The program requires all-inclusive guests to wear a Woodloch Experience Bracelet so they can gain access seamlessly to activities of their choice, day or night.
All-inclusive packages require a minimum two- to three-night stay.
Woodloch Resort Features
When you choose Woodloch Resort as your vacation destination, you'll enjoy roomy and well-appointed accommodations, two to three meals per day, a choice of more than 30 scheduled activities each day, a host of resort amenities and a variety of nightly entertainment.
Mealtimes are accompanied by family-style service, which features a menu that changes daily, as well as freshly baked items from the resort's in-house bakery.
Resort amenities include indoor pools and a splash zone, outdoor pools, bumper cars, archery, arts and crafts, nature trails, water skiing, bumper boats and a four-season ice rink.
Kids' shows, variety shows, magicians, live music, comedians and nightlife, complete with DJs, bar games and trivia challenges are some of the resort entertainment options.
Make Your Money Work for You
Chula Vista Resort and Waterpark — Wisconsin Dells, Wisconsin
Cost to stay: Starts at $181 per night per person
Chula Vista Resort and Waterpark is an all-inclusive family vacation destination with an eye toward the environment. The Chula Vista Green Initiative program the resort runs is making an effort to reduce its environmental impact by actions such as using eco-friendly chemicals, eliminating plastics and installing LED lighting and low-flow toilets.
The all-inclusive package the resort offers begins on the day of arrival at 4 p.m., but guests may pick up their waterpark passes as early as 10 a.m. On the day of departure, guests are welcome to stay in the waterpark until closing time, even though checkout is at 11:30 a.m.
No minimum-stay requirements are noted on the property's website; weekday, weekend and week-long packages are available.
Chula Vista Resort and Waterpark Features
Chula Vista's all-inclusive resort package includes accommodations, meals and waterpark passes. Plus, you'll receive VIP discounts on Spa del Sol specialty products.
Dining choices included are breakfast, lunch and dinner at the Kilbourn City Grill or dine-in options at Luigi's Pizza from 4 p.m. to midnight. Unlimited nonalcoholic and alcoholic beverages are also included for the entirety of your stay. In addition, you'll have full access to 26 water slides and other amenities within the resort's indoor and outdoor waterparks, spanning 200,000 square feet.
Pine Ridge Dude Ranch — Kerhonkson, New York
Cost to stay: Starts at $209 per night per adult; $99 per child ages 7 to 17; $69 per child ages 3 to 6
The all-new Pine Ridge Dude Ranch was established in 2018 as a way to continue the more than 40-year-old traditions set by its predecessor, Pinegrove Ranch. The resort, which is in close proximity to New York City and nestled in the foothills of the Catskills, serves as an affordable all-inclusive family destination.
The resort's focus is on providing horse riding for all skill levels, as well as hands-on barn experiences that guests likely won't find anywhere else.
A two-night minimum stay is required.
Make Your Money Work for You
Pine Ridge Dude Ranch Features
The resort's all-inclusive package includes accommodations, meals and actitivities. Three all-you-can-eat country-style meals are included, complete with vegetarian, vegan and gluten-free options.
Activities include hiking, fishing, paddle boats, mini-golf, basketball, tennis, bocce ball, softball, badminton, volleyball, horseshoes, archery, ping pong and classic board games. A petting zoo, gym and two pools with double-flume water slides are also available.
Nightly entertainment includes live music at the Silver Dollar Bar.
Tanque Verde Ranch — Tucson, Arizona
Cost to stay: Starts at $260 per night per person
Tanque Verde Ranch ranked No. 2 out of the top 10 resorts in the U.S. in Condé Nast's 2018 Reader's Choice Awards. The ranch offers both desert and mountain views, as it is located at the base of the Rincon Mountains and borders the Saguaro National Park.
The property contains 640 acres, plus the ranch leases approximately 60,000 acres from the U.S. Forest Service for its cattle business. The ranch includes 150 horses who are accustomed to traversing the miles of winding horse trails as part of the guest experience.
Reservations made during peak season — the last part of November and December as well as March and April — require a two-night minimum deposit.
Tanque Verde Ranch Features
The all-inclusive vacation packages at Tanque Verde Ranch include accommodations, three daily meals, horseback trail rides and lessons. Breakfast rides on Thursday and Sunday, and cowboy cookouts and live entertainment on Wednesday and Saturday evenings are also offered.
Other activities include indoor and outdoor swimming, tennis, yoga, mountain biking, fishing, arts and crafts, guided hikes, wellness activities and a fully supervised ranch and riding program for kids.
For guests who opt to stay four or more nights, courtesy round-trip transportation to and from the Tucson International Airport is provided.
Fair Hills Resort — Detroit Lakes, Minnesota
Cost to stay: Starts at $172 per night per adult, $92 for ages 6 to 12, children under 6 stay free
The original Fair Hills was started in 1906, and guests arrived by a canal and lock system down the Pelican River, originating at Detroit Lakes. In 1926, the Kaldahl family bought the property, and their descendants still run the property today.
Fair Hills is billed as more of a "get-back-to-nature" type of experience rather than a luxury resort. Here, guests will find basic cabins that don't include air conditioning. Air conditioners are available for rent or you can rely on the lake breeze to cool you.
Fair Hills is open May through October, and the resort has a two-night minimum stay policy.  At certain times of the season, four-night and six-night specials are offered.
Fair Hills Resort Features
Although Fair Hills has various meal plans available, during its "Family Season," three daily meals are served to guests, which include vegetarian and gluten-free options. Alcoholic beverages are available for an extra charge.
Activities are the main event at Fair Hills, including plenty of activities that kids will love, such as treasure hunts, a carnival, a water slide, boat rides, tennis, golf, volleyball and more. Parents can get a break by opting to drop off their kids with the resort's recreation staff members who facilitate all of the daily kid-friendly activities.
Amenities include an outdoor heated pool and hot tub, nine-hole golf course, four tennis courts as well as basketball, sand volleyball and shuffleboard courts. A playground, horseshoe pits and a nine-hole disc golf course round out the offerings.
White Stallion Ranch — Tucson, Arizona
Cost of stay: Starts at $177 per night per person
Originally constructed in the 1900s as a cattle ranch, White Stallion Ranch now operates as a guest ranch situated on 3,000 acres. The third-generation owners have one of the largest privately owned horse herds in the state.
Many of the original buildings are still in use, lending to the property's Old West feel, but plenty of modern amenities are mixed in. However, this isn't a luxury resort. Instead, the owners describe it as a "traditional, historic, upscale family-owned and operated Dude Ranch." Accommodations offered include 43 rooms and a five-bedroom hacienda.
White Stallion Ranch Features
White Stallion Ranch's Full American Plan includes accommodations, three meals per day, horseback riding and evening entertainment. Guests staying four or more nights also receive complimentary airport transfers from Tucson International Airport. Prices are quoted per person by night or by the week. Minimum stay requirements are noted on the ranch's website.
Because the ranch is a dude ranch, horseback riding is offered every day except Sunday, which is considered a day off for the horses. Children of all ages, including those under 5, can experience riding.
For guests who book stays of four or six nights, the ranch is offering new adventure activities at no extra charge. Activities include shooting at the ranch's shooting range, rock climbing, fat tire e-biking and team cattle sorting.
Migis Lodge — South Casco, Maine
Cost to stay: Starts at $214 per night per person
Migis Lodge, in business since 1916, is located along a 3,500-foot stretch of Sebago Lake shoreline in southern Maine. A 125-acre pine forest serves as a backdrop for the main lodge and 35 cottages that provide guest accommodations at this getaway destination.
Guests will enjoy stunning lake and sunset views amid a relaxing environment removed from the hustle and bustle of everyday life. All guests, from individuals to families to large groups, can enjoy what this historic lodge has to offer.
During peak season in July and August, a minimum seven-day stay is generally required.
Migis Lodge Features
Migis Lodge offers its guests the Full American Plan as an inclusive option. It includes all daily meals, as well as a wide variety of activities and amenities.
To start your day, a lavish breakfast is available. Lunch is served indoors or out. Dinner meals include the choice of two soups, five entrees and a host of desserts. You also may choose to dine at the chef's table.
Migis Lodge is a great place to relax; multiple wellness and exercise activities are offered. Or you can opt for available outdoor and family activities, such as sailing, canoeing, kayaking, waterskiing and fishing.
On land, tennis, disc golf and kids' camps are available. Children will enjoy arts and crafts, nature walks, swimming and more.
Evening family activities include bingo, bonfires and karaoke, depending on the night.
MoreFrom GOBankingRates
Last updated July 30, 2019.
About the Author