Beautiful Beaches That Are Ridiculously Expensive
The best beaches in the world typically cost a fortune to visit.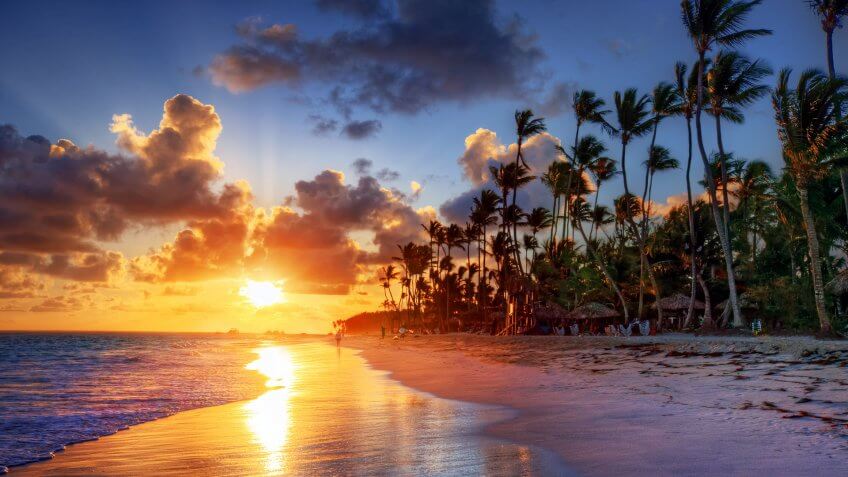 ©Shutterstock.com
A day at the beach can be the ultimate free thing to do when you're trying to save money on a vacation. You might have to spend a few dollars for parking and take a moderate walk to public access, but little more is required to enjoy the sun.
Not all beaches are so cheap, however. The swankiest stretches of sand will cost you a bundle to access. They might require membership, or a boat or helicopter ride to access them. In some cases you might have to rent an entire island.
Join us on a virtual journey to see the world's most beautiful — and ridiculously expensive — beaches. Maybe they'll inspire you to take your own beach vacation.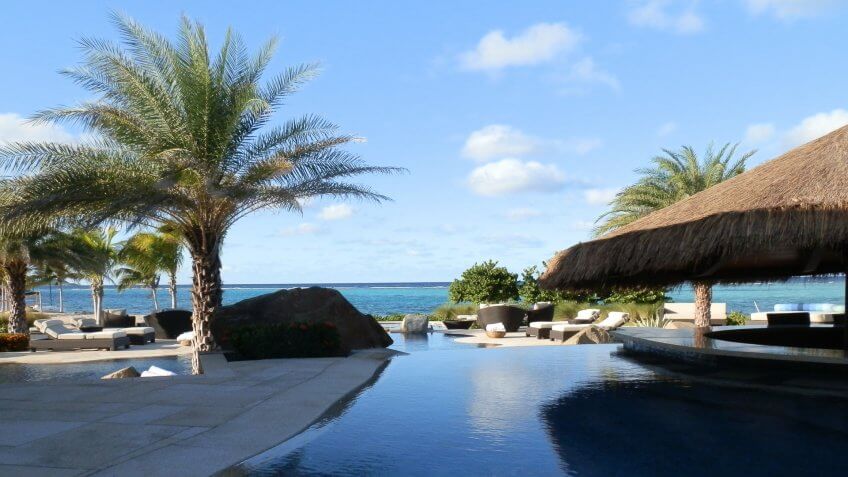 Federica Piersimono / Flickr.com
1. Oil Nut Bay, Virgin Gorda, British Virgin Islands
If you want to luxuriate in a seaside resort with an authentic "away-from-it-all" ambiance, Oil Nut Bay on the eastern tip of Virgin Gorda is the place to be. The resort's sandy beach snuggles between rugged cliffs and is only accessible by air or boat. A helicopter ride from Beef Island starts at $450 one way and might not include the price of hauling your luggage.
And you'll want your luggage. Once you're at Oil Nut Bay, you won't want to leave. Stay in luxurious accommodations that cost as much as $8,750 per night. Look out over the bay's turquoise waters and sparkling white sand from a private infinity pool. Or, get in shape in your private fitness studio at the 6,000-square-foot Bella Beach Villa, which opens onto the beach.
The resort can supply you with a gourmet chef so you never have to leave your bungalow. Head over to the resort's Beach Club Restaurant, where you can start your day with a $12 bowl of Scottish steel-cut oatmeal or $16 blue cornmeal buckwheat pancakes. Satisfy your pizza craving at lunch with a lobster, truffle and caviar pizza for $50, or savor one of the restaurant's many Caribbean specialty dishes.
After being swaddled in luxury and Caribbean sea breezes for days on end, you might decide to stay forever. That can be arranged — if the average sales price of $4.16 million for high-end properties in Virgin Gorda is within your budget. International investors must get a BVI Non-Belonger Land Holding License, which is required for all purchasers who aren't of BVI parentage or birth. The license costs $800 per person and takes 12 to 15 weeks to complete. You will have to document your financial solvency and good character to get approved.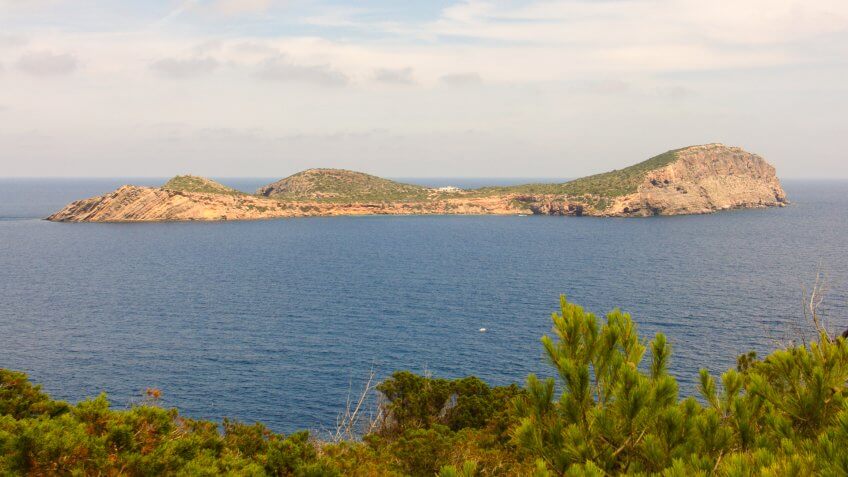 Standardizer / Wikimedia Commons
2. Tagomago Island, Spain
Merging the romantic ambiance of Spain with the turquoise waters of the Mediterranean, Tagomago Island invites you to frolic on the picturesque beach flanking the west side of 148 private acres.
But only if you have the $21,337 per night — for a minimum seven-night stay — that it takes to access it. The price doesn't include mandatory fees like a 15 percent deposit to cover meals at your own private restaurant at the beach. You'll receive separate charges for any wakeboarding, yachting, diving and other water sports you choose during your stay.
Life at the beach comes at no extra cost, though, and there's more to do than wiggle your toes in the sand. The west-facing beach is ideal for watching the sun sink into the water at day's end. You can watch the sun come up behind a lighthouse on the island's east end that is more than 100 years old.
Share the price with five other couples if you like. The mansion has six luxury double suites with private bathroom and terraces that look out to the sea. Separate quarters are available for your personal staff, should you need any more attention than Tagomago's nine-person service staff provides.
Although the island is just a half-mile off the coast of Ibiza, don't plan on paddling over uninvited for a picnic lunch on the sand. Sheer cliffs border all but the island's west coast, where 24-hour security is on hand to ward off intruders.
Find Out: How the Rich Go on Spring Break
eriktrampe / iStock.com
3. Calivigny Island, Grenada, West Indies
Calivigny Island is an ideal place for a beach party in paradise. The exclusive 80-acre island boasts beautiful beaches and ultra-luxe accommodations for 50 people, all for $140,000 per night.
Snooze away a lazy afternoon in a seaside hammock stretched out between swaying palm trees. Or, paddle your way to the swim-up bar in the beachside free-form pool. At night, head down to the sand to sing songs around a towering bonfire and watch a fireworks display just for you.
The fully staffed private island resort includes private chefs to prep meals to your order for everything from picnics at the beach to formal dinners for all your guests. Meals feature ingredients from the island's own greenhouse and gourmet items from around the globe. But, if you're looking for an affordable vacation from home, opt for one of these cheap island getaways instead.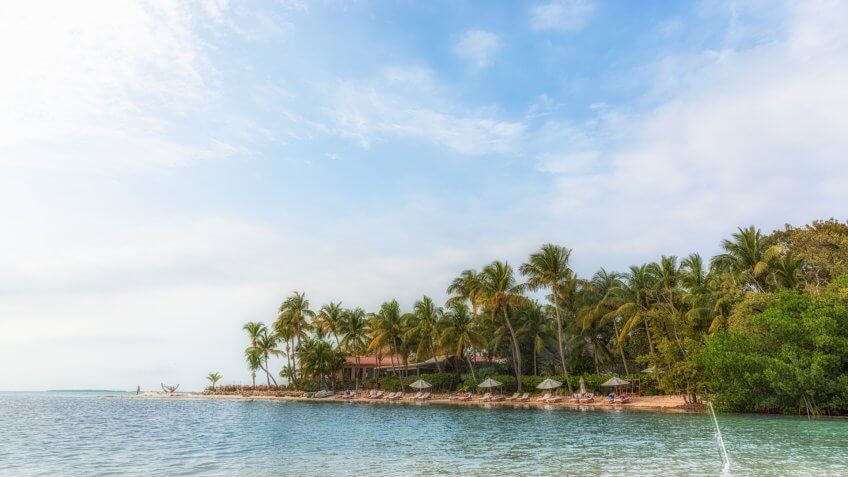 Matthew Paulson / Flickr.com
4. Little Palm Island, Fla.
You won't be able to upload selfies of your exclusive vacation in Florida when you visit Little Palm Island in the Florida Keys. The isolated beach resort is only accessible by boat or plane and doesn't have internet, TV or phone service.
But that doesn't mean you'll be roughing it by any means. The exclusive away-from-it-all resort has luxury suites. You can even rent the entire island and its 30 suites for a minimum of $50,000 a night.
A 30-minute yacht ride takes you to the remote island. Spend the day snorkeling among colorful sea life along the world's third-largest barrier reef in the adjacent Florida Keys National Marine Sanctuary. Kayak among lush islets or just stretch out on the soft white sand.
You don't have to rent a bungalow to visit the island, however. Off-island visitors can visit The Dining Room at Little Palm Island to enjoy a meal on the beach terrace or in the indoor dining room. Start your special meal with bohemian coconut conch chowder for $16, and then bite into fish tacos for $29.
For a real treat, savor a seven-course dinner at the Chef's Table — complete with wine pairings — for $195 per person. Or partake in a romantic picnic: Enjoy a succulent array of seasonal fruits, nuts, olives, wine, desserts and more for $300. Pair it with three private hours on a catamaran for $1,000, or fly on a seaplane to a private island for $3,000.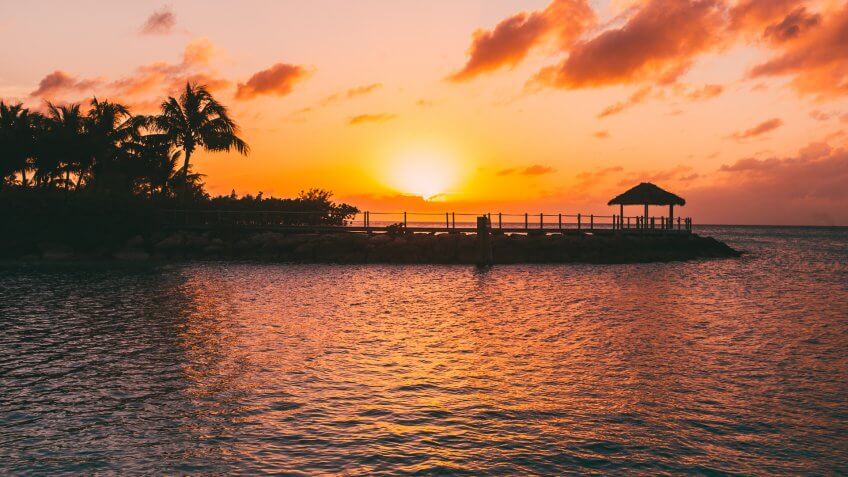 ssafox / Shutterstock.com
5. Nygard Cay, Bahamas
The Bahamas are an ideal honeymoon destination for frugal couples. But, your stay at Nygard Cay will cost upwards of $5,200 per person per night. You get more than a stretch of sand to yourself, of course. You'll get an experience that Robin Leach of "Lifestyle of the Rich and Famous" called "the most unusual villa rental in the world."
The Mayan-themed resort sits on the western end of Lyford Cay in Nassau, New Providencia, Bahamas. Created by fashion designer Peter Nygard, the exclusive private resort is a playground for presidents, princes and celebrities.
Tucked on a generous helping of soft sand, you can enjoy its beautiful beaches with the sand between your toes, or from private suite-style cabanas that open out to the sea. It might not seem like you're even indoors, thanks to:
Towering Mayan waterfalls
Foliage that intertwines through indoor and outdoor areas
An abundance of natural local wood
Vast glass walls creating a seamless transition to outside
When the sun goes down, the resort transforms with fire-lit steps leading up to volcano-like Mayan temples. Dance the night away under the stars shining through the grand hall's 100,000-pound glass ceiling.
Nygard Cay features amenities galore. There's an aquarium, tennis court, home movie theater, boats, volleyball and staff ready to attend to your every need. If that isn't enough, you can book Nygard's private Boeing 727 to pick you up anywhere in the world and fly you to Nassau.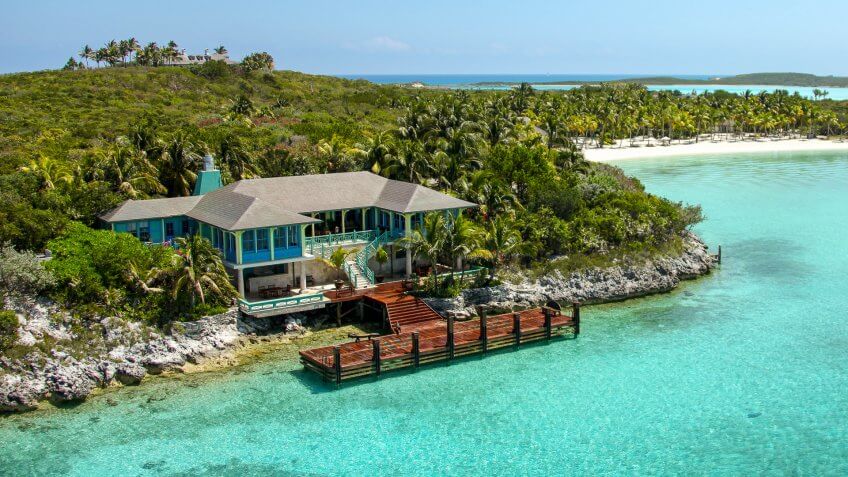 ©VKPR
6. Mush Cay, Bahamas
Get away to a tropical Bahama paradise that is miles away from vacation crowds. The only other people in sight are staff and up to 24 guests you might invite to join you on the 700-acre island.
Don't worry about tiring of each other. Five guest houses on Musha Cay tuck around the island, each with a private beach and mahogany viewing deck. When it's time to get together, savor the sea breeze along with your meal under the thatched Balinese dining pavilion. Head indoors at Landings above Musha's main dock to dine surrounded by floor-to-ceiling windows on three sides. Afterwards, sing your heart out in the karaoke theater, or play games or visit in the living room.
You'll find more ways to enjoy the beautiful beaches than simply catching the sun's rays. Head down to Dave's Drive-In to watch a movie on a comfortable chaise lounge with the white sand underfoot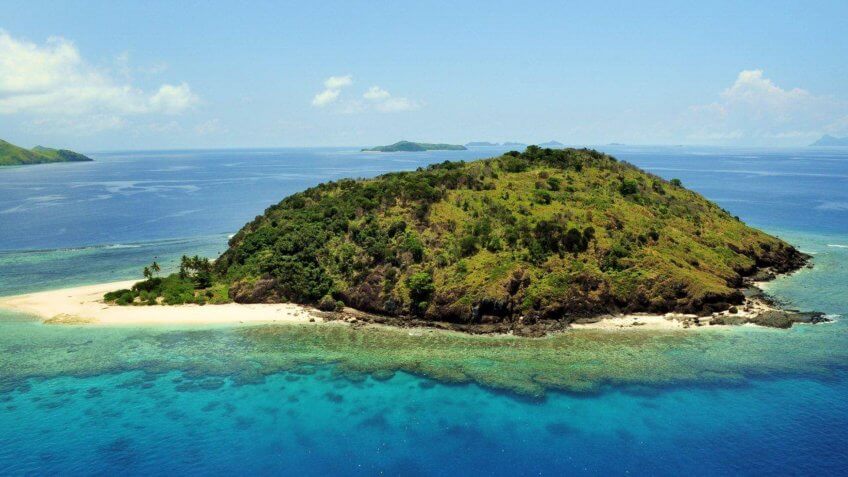 ©Vladi Private Islands
7. Yadua Island, Fiji
Does your dream vacation conjure up a sandy beach all to yourself on a remote South Pacific island? Then take a Pacific Island Air helicopter ride to Yadua Island in Fiji. The flight to the island takes only 15 minutes from the Nadi airport or Denarau Marina to Yadua's sandy southern shore.
You won't find a restaurant or other amenities on the uninhabited island, but you'll have one of the most beautiful beaches in the world all to yourself. Don't worry about packing a picnic. You're set ashore with a picnic lunch that includes a bottle of Moet champagne. After lunch, snorkel the island's spacious coral reef using gear provided by Pacific Island Air.
The one-day adventure runs $564 per person when you embark as a couple. Share the ride with another couple and the price drops to $376 for each passenger.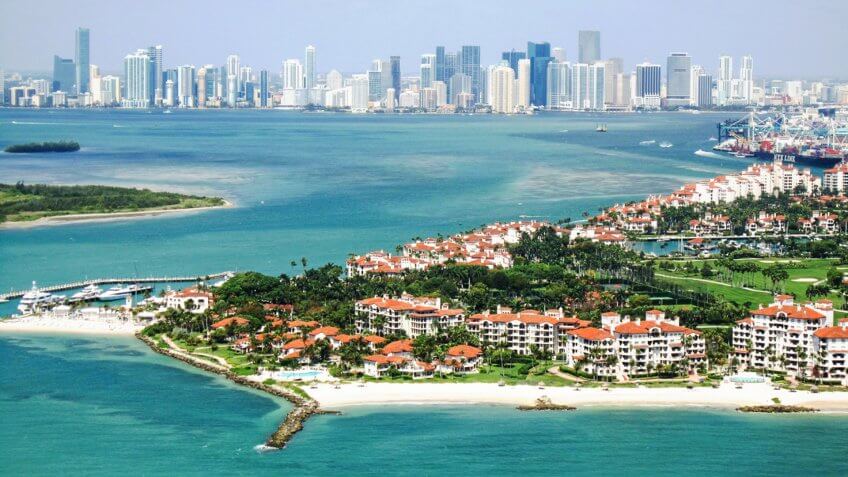 Mohmed Althani / Flickr.com
8. Fisher Island Club, Miami
Head to the most exclusive beach in Florida at Fisher Island Club in Miami. Wiggle your toes in sand previously enjoyed by famous feet belonging to Oprah Winfrey, Mel Brooks and Boris Becker.
The private 216-acre island resort is accessible only by yacht or private vehicle ferry. Only members and invited guests can ride the ferry, however, and you must prearrange security clearance to access the island.
Once there, savor views of the Miami skyline while waves wash up over your feet, play a round of golf at one of the most exclusive seaside courses in the world, or immerse yourself in pastimes that include tennis and sailing. You can also visit an observatory and an aviary.
The island maintains seven restaurants, but don't miss the Garwood Lounge. Set in the original Vanderbilt Mansion on the island and tucked between luxuriously wood-paneled walls, the restaurant serves up delectable dishes that include prime beef tartare and porcini rubbed prime filet mignon.
Although a full equity membership costs a $250,000 initiation fee plus $20,330 per year, the club has other options for you to enjoy the facilities. Get an annual membership for a $42,800 initiation fee, plus annual dues of $27,306.40. Or, get a limited summer-only introductory membership for $6,955, plus other fees.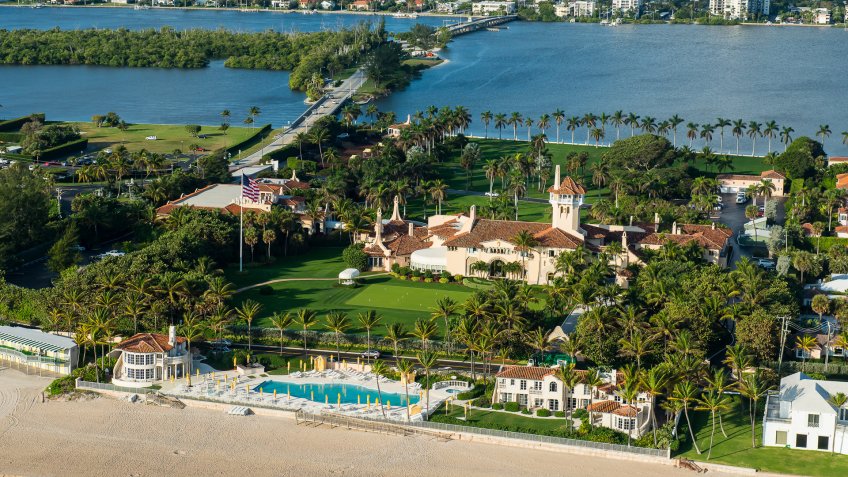 FloridaStock / Shutterstock.com
9. Mar-a-Lago, Palm Beach, Fla.
Before Donald Trump became the 45th president, he was famous for his lavish hotels and clubs around the world. Located just across the road from one of the best beaches in the world, the Mar-a-Lago Club on Palm Beach is a great example of such luxury.
Mar-a-Lago was originally one of the Florida coast's lavish estates. It belonged to socialite Marjorie Merriweather Post, heiress of the Post cereal dynasty, until her death in 1973. The heiress willed it to the U.S. government, but the government couldn't pay the $1 million per year in upkeep costs.
Mar-a-Lago's Beach Club rolls out an oversize pool and whirlpool spa flanked by lush lawns sprouting towering palm trees. Step inside the lavish estate and drink in the tony appointments, such as gold leaf, 15th-century tiles and painted frescoes.
The sip of luxury comes at a steep price, though. You'll pay $100,000 to join the club, a $14,000 annual membership fee, and a minimum food and beverage expenditure of $2,000. For the price, you also get reciprocal membership access at eight other Trump resorts.
Photo Disclaimer: Please note photos are for representational purposes only. As a result, some of the photos might not reflect the beaches listed in this article.
Up Next: 50 Splurges of the Filthy Rich