The 23 Most Outrageous Fireworks Displays in America — and How To See Them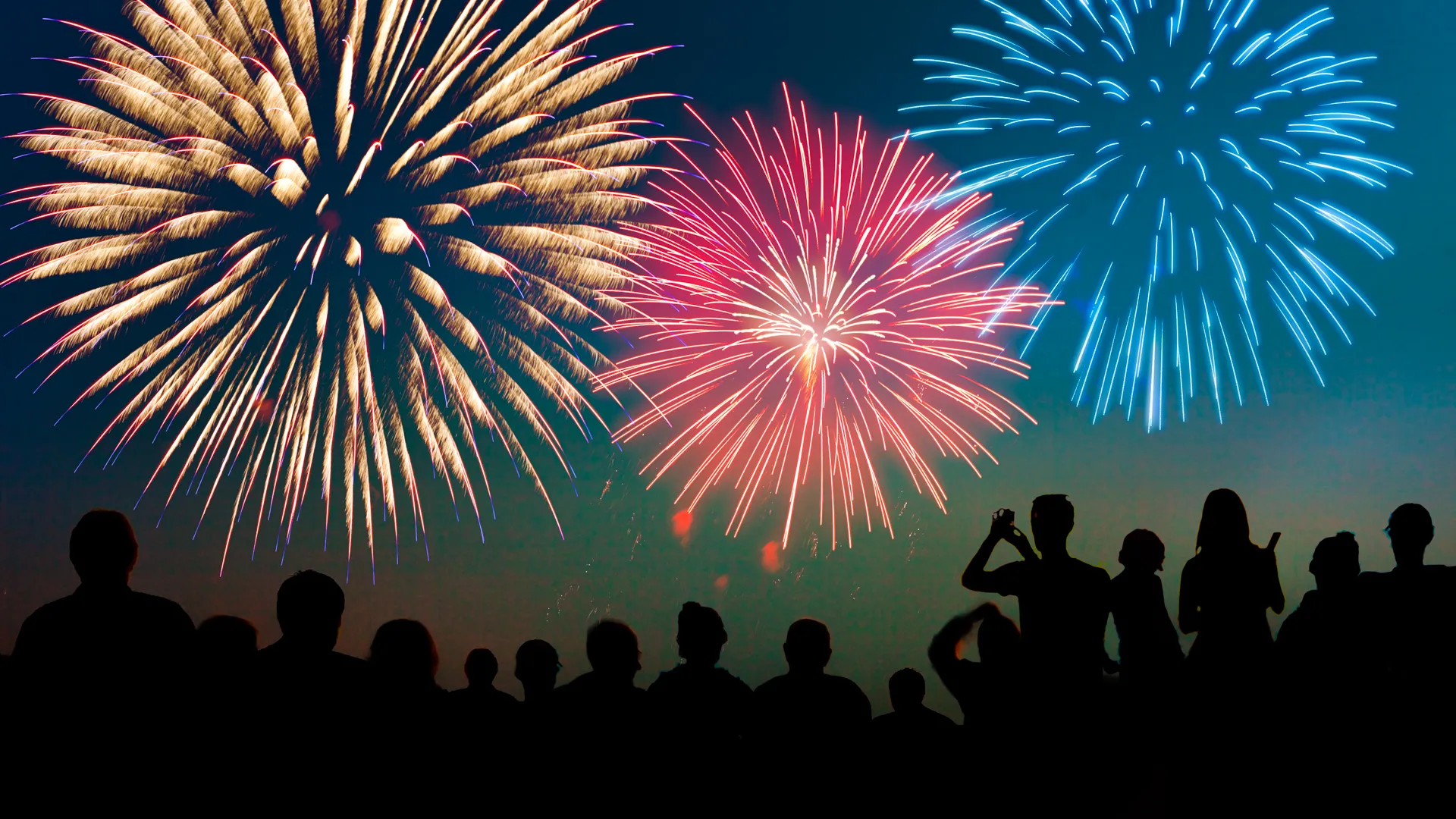 If you're ready to celebrate Independence Day in grand style, don't miss out on some of the nation's biggest fireworks displays and Fourth of July parties. From waterfront light shows to a lineup of concerts, head to one of these cities to see a spectacular July Fourth celebration.
Make Your Money Work for You
A Salute To America in Washington, D.C.
For the first time in over 50 years, the president will be taking charge of Washington, D.C.'s fireworks display, which has long been run by the National Park Service. The new event, now called "A Salute to America," will include fireworks launched from West Potomac Park, a shift from its usual launch point near the Washington Monument. In addition to fireworks, there is expected to be an address from President Donald Trump and two stages with entertainers, according to The Washington Post.
Catch the fireworks — and the concert before — on your local PBS station. It will also stream live on PBS.org, PBS' YouTube page and the Capitol Fourth Facebook page.
Aon Summer Fireworks at Navy Pier in Chicago
Head to Chicago's Navy Pier for a fireworks display along the lakefront. And for even more all-American fun, get a ticket for the Grant Park Orchestra's "Independence Day Salute," happening earlier in the night from 6:30 p.m. to 8:30 p.m. As part of the Grant Park Music Festival, the orchestra will be performing patriotic marches and anthems, such as "From Sea to Shining Sea" and "Stars and Stripes Forever." If you don't want to spring for a ticket, you can enjoy a live broadcast of the concert on 98.7WFMT or wfmt.com.
Macy's 4th of July Fireworks in New York
This one is still the country's largest Fourth of July fireworks display, lighting up the New York City skyline over the East River. The event is broadcast on national television.
The festivities start at 8 p.m., and you'll find some of the best viewing locations at elevated areas along the FDR Drive and near the Manhattan Bridge. You can also catch musical performances before the fireworks kick off. Tune in to NBC at 8 p.m. to watch the fireworks over the New York skyline.
Make Your Money Work for You
Fireworks Over the Matanzas in St. Augustine, Florida
Make your way to the Castillo de San Marcos for this grand, 20-minute fireworks display. It's one of the biggest fireworks displays on the East Coast.
Head here early to catch the All-Star Orchestra performance before the show. The two-hour music event includes swing music and patriotic tunes to get everyone ready for the fireworks display at 9:30 p.m.
Go 4th on the River in New Orleans
Watch the fireworks display on the Mississippi River in New Orleans. The "Dueling Barges" fireworks for the Go 4th on the River celebration can be seen from both banks of the river. Festivities start with free live performances in Crescent Park in the French Market District at 5:30 p.m., which continue until 9 p.m. when the fireworks show begins.
The Queen Mary's All-American 4th of July in Long Beach, California
Fireworks are just one part of the festivities you can enjoy aboard the Queen Mary on the Fourth of July. The family-friendly celebration runs from 3 p.m. to 10 p.m., with live entertainment, games, arts and crafts, historic tours and more. The fireworks spectacular begins at 9 p.m. off the stern of the ship and patriotic music plays there while docked at the Long Beach Harbor. Tickets for the all-day event start at $49 for adults.
It's Not Too Late: A Dream Destination for Every Month in 2019
Fourth of July Celebration at Centennial Olympic Park in Atlanta
Atlanta's big fireworks show has attracted more than 30,000 spectators in years past. This year's free celebration at Centennial Olympic Park will include food trucks and a special set by DJ Yvonne Monet at 7:30 p.m. Doors open at 7 p.m. and the fireworks will start at 9:45 p.m.
Make Your Money Work for You
Wawa Welcome America July 4th Concert & Fireworks in Philadelphia
Philadelphia's epic 2019 Fourth of July event will include live performances by Jennifer Hudson and Meghan Trainor, followed by a fireworks show. This year's display will be set off to a live performance by the United States Army Field Band on the steps of the Philadelphia Museum of Art. The public can view the Wawa Welcome America festivities for free along the Benjamin Franklin Parkway from Eakin's Oval to 20th Street. Performances kick off at 7 p.m. The events will be televised on NBC10, Telemundo62, Cozi TV, NBC Sports Philadelphia and TeleXitos.
Boston Pops Fireworks Spectacular in Boston
Head to the DCR Hatch Shell on the Esplanade to watch the free concert and fireworks show, followed by the Boston Pops Fireworks Spectacular. The Boston Pops Orchestra has been performing at the Esplanade since July 4, 1929, and their concerts are a summer tradition.
The 2019 program includes appearances and performances by Queen Latifah, Arlo Guthrie and more. There is a rehearsal night with all guest artists — but no fireworks display — on July 3. You can tune in to the live concert stream on the Bloomberg website, Boston.com, BostonGlobe.com, BostonPopsJuly4.org and on the Boston Pops Fireworks Spectacular app for Apple and Android, or watch it on Bloomberg Television or 7News WHDH Boston in the Boston area. You can also tune into the audio of the performances on the Bloomberg Radio app, 106.1 FM, 1330 AM, 1450 AM, 92.9-HD2, 99.1WPLM-FM and SiriusXM channel 119.
Let Freedom Sing! Music City July 4th in Nashville, Tennessee
Music City might be your best bet for the biggest Fourth of July parties and a grand fireworks display over the water. Nashville hosts several bands for free concerts on July 4, including the Nashville Symphony and Brett Eldredge for this year's celebration. The 2019 event will have games and family-friendly activities including climbing walls, waterslides and more. The event will be broadcast live on CMT.
Make Your Money Work for You
Fireworks at the Fountain in Orlando, Florida
Enjoy a classic American celebration with a picnic on Lake Eola and a fun-filled evening of games, local music and family activities. The celebration ends with a 30-minute fireworks show over Lake Eola.
You'll need to make your way to Lake Eola Park as early as 4 p.m. to secure your spot on the grass and participate in Independence Day festivities. The fireworks will be broadcast live on WKMG News 6.
4th of July Spectacular in Fort Lauderdale, Florida
Head to the beach for a night of live music, entertainment and a spectacular fireworks display. The free event takes place on Fort Lauderdale Beach at A1A and Las Olas Boulevard. Get there early to participate in beach games and contests, get your face painted and ride the waterslide.
The fireworks show is scheduled for 9 p.m. and will be simulcast with music on radio station 101.5 LITE FM.
July 4th Celebration at the Pier in San Francisco
Celebrate the red, white and blue at Fisherman's Wharf for an unforgettable Independence Day event. You can explore the exhibits near the Pier 39 Entrance Plaza all day before catching the band performance from 3 p.m. to 6 p.m. The fireworks display begins at around 9:30 p.m. over the pier, weather permitting.
Las Vegas Fourth of July Fireworks
Las Vegas will be kicking off Fourth of July celebrations as early as the Wednesday prior to Independence Day, with revelries taking place through Saturday, according to Trip Savvy. You don't have to pay a single dollar to see the fireworks over Caesars Palace, which will take place on July 6 this year. Fireworks go off at 9:15 p.m., and you can see the spectacle from the fountains out front. Other good viewing spots include the patio at Cabo Wabo Cantina, Paris' Eiffel Tower and the suites at The Cosmopolitan. Mandalay Bay will have a smaller fireworks display on July 6.
Make Your Money Work for You
Seattle Cancer Care Alliance Seafair Summer Fourth in Seattle
Head to Seattle's biggest fireworks show, visible from both Gas Works Park and South Lake Union Park. At Gas Works Park, guests can enjoy local food vendors, live entertainment, exhibits, a beer garden, a pie-eating contest and more. Admission to Gas Works Park is free, but reserved seating with the best views of the fireworks requires a ticket purchase. Lake Union Park will only be open to guests who are age 21 and older and will have an expansive beer garden. Tickets to Lake Union Park start at $40.
Waterfront Blues Festival in Portland, Oregon
The Waterfront Blues Festival includes blues music all day at Tom McCall Waterfront Park and fireworks show starting around 10 p.m. You have to pay a $20 to $25 admission fee to attend the event, but you can watch the waterfront fireworks show free of charge at Portland bridges around the Willamette River. Make your way to the Hawthorne Bridge or Ross Island Bridge later in the evening to claim your viewing spot.
Fair Park Fourth in Dallas
A free, all-day event at historic Fair Park will give you plenty of opportunities to celebrate. The park is home to several attractions, including the Texas Star Ferris Wheel and the Texas Discovery Gardens. Enjoy live music, games and other activities throughout the day at the Midway for $5, or just explore the grounds free of charge. Catch the fireworks display starting at approximately 9:30 p.m.
Independence Day Fireworks Spectacular at CityCentre in Houston
Patriotic celebrations run until 11 p.m. on July 4 at CityCentre, with a 15-minute fireworks show at 9:30 p.m. The entire event is free and you can enjoy a live performance from the People's Choice Band, which will be playing country and pop, beginning at 7 p.m.
Make Your Money Work for You
Independence Eve at Civic Center Park in Denver
The biggest community celebration for the Fourth of July in Denver is held on July 3 and can be a great way to kick off your patriotic revelry. Independence Eve includes a concert with Chris Daniels & The Kings along with the Colorado Symphony, followed by a light show and fireworks show from the top of the Denver City and County Building.
Get there early with lawn chairs to claim your spot, and enjoy food from local food trucks, as well as craft beer and wine, on-site.
Red, White & Boom! in Minneapolis
Kick off Independence Day with the Red, White & Boom! Twin Cities Half Marathon, Relay and 5K at 6:30 a.m. Enjoy music performances, movies and other family-friendly events throughout the day along the Minneapolis Riverfront.
This annual event attracts more than 75,000 people each year and ends with a grand finale fireworks show at 10 p.m. Catch free family activities at Father Hennepin Bluff Park and live music at Mills Ruins Park. The fireworks are shot from Water Power Park.
Big Bay Fireworks Show in San Diego
Each year, the USS Midway Museum hosts "A Family Fun July 4th Celebration" aboard the ship, which draws thousands of attendees and usually sells out. The event runs from 6 p.m. to 10 p.m. and includes a USO show and other live performances. The night culminates with the "Big Bay Fireworks" show, where attendees get unparalleled views of the four barge locations that launch fireworks. According to the USS Midway Museum, this fireworks display is the largest on the West Coast. Tickets for these year's event are sold out, but costs ranged from $15 to $20.
Gatlinburg's Fireworks Finale in Gatlinburg, Tennessee
There's no fee to watch downtown Gatlinburg's 20-minute fireworks show, which, according to Gatlinburg's official website, has been recognized as a top 20 event by the Southeast Tourism Society. The best places to catch the show are around the city's No. 3 and No. 5 traffic lights. The fireworks go off at 10 p.m.
Fourth of July Fireworks Blast at Patriots Point Naval & Maritime Museum in Charleston, South Carolina
Those looking for a VIP fireworks experience can find it aboard the USS Yorktown for the Fourth of July Fireworks Blast celebration. The Patriots Point Naval & Maritime Museum sells $125 VIP tickets to the event, which include an open bar, a catered barbecue meal and the best seats in the house — or on the ship in this case — to see the fireworks display. There are also general admission tickets to watch aboard the ship that sell for $50. Or, if you prefer, you can watch the fireworks for free onshore and enjoy live music, entertainment and children's activities starting at 4 p.m. at Patriots Point. Fireworks are expected to begin between 9 p.m. and 9:15 p.m.
Click through to discover the best hidden gem destinations in every state.
More on Saving Money
Gabrielle Olya contributed to the reporting for this article.
All event times are in the city's local time.
About the Author