8 Flight Purchasing Hacks To Know for Black Friday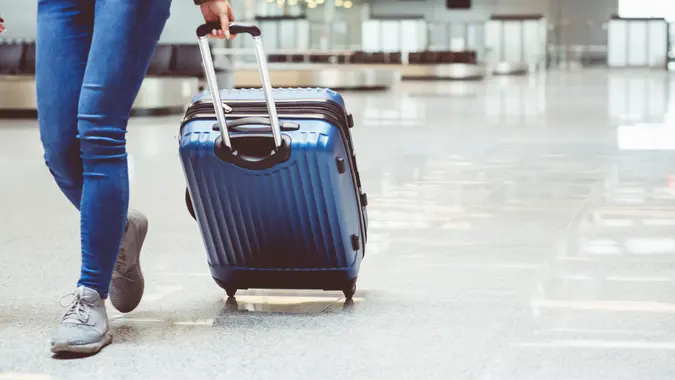 izusek / Getty Images
Black Friday deals aren't limited to electronics and furniture. Airlines are also slashing tickets by 25% or more to entice consumers, and with many COVID restrictions lifted across the globe, people are looking for domestic and international destinations at affordable prices.
Holiday Spending: Get Top Holiday Shopping and Savings Tips
Advice: If Your Credit Score Is Under 740, Make These 4 Moves Now
We asked travel experts what insider tips they have for getting the best price on flights this Black Friday. Read on to find out what you need to do to score big savings on your next trip, and why the early bird gets the worm (in more ways than one).
Be Flexible
To get the best deal on Black Friday travel you will want to be flexible. All of our experts overwhelmingly agree that flexibility is key to getting the biggest discount on your flight. 
Luke Xavier, founder of USA Rover, notes, "The more flexible you are, the more likely you are to find a cheaper flight. If you have the flexibility to travel during off-peak times, such as mid-week or late night, you'll often find better deals."
Make Your Money Work for You
Do Your Research
Xavier also recommends checking multiple travel sites to determine which has the best deals. He states, "Some websites specialize in finding deals on certain airlines or to specific destinations. By checking a variety of websites, you'll be sure to find the best deal possible." His go-to websites to use for Black Friday flight deals are Skyscanner, Kayak, Momondo and Expedia.
Discover: Costco Black Friday Deals You Shouldn't Pass Up
Get Flight Alerts
Maria Hill, a travel expert and blogger with PreDame.com, suggests that consumers use flight alerts to get the best deal. She says, "If you're looking for a great deal on airfare, make sure to sign up for flight alerts. This way, you'll be notified as soon as prices drop for your desired route. You can then jump on the deal before it's gone!"
Request Discounted Seats
Hill also recommends that deal seekers should take charge and ask for good offers. She says, "When it comes to Black Friday flight deals, the best way to save is to be proactive and request a discount. Many airlines offer discounts for flights that are not yet booked, so by requesting a seat you may be able to snag a great deal. Be sure to check with your airline's customer service department to see if they offer any Black Friday discounts."
Make Your Money Work for You
Sign Up for Emails
In addition to flight alerts, both experts agree that signing up for an airline's newsletters or emails is a great way to score big savings on flights. Xavier notes, "Another great way to find good deals on flights is to sign up for airline newsletters. Airlines will often send out special deals and promotions to their subscribers, so you'll be the first to know about them."
Be Social Media Savvy
If you aren't checking social media for airline deals, you should be. Xavier says that people hoping for deep discounts on their next flight should be following airlines on social media.
He states, "Airlines also often post special deals and promotions on their social media channels, so be sure to follow your favorite airlines on Facebook, Twitter and Instagram." 
Choose an Early or Late Departure
Jon Callahan, a travel expert and author of Journey Junket, says customers may see substantial savings by choosing an early or late departure. 
Make Your Money Work for You
He states, "Booking a flight that departs in the afternoon will cost you extra money. The afternoons are usually the travel industry's rush hour time. The skies are often more congested during the afternoon, and as a result, delays are most common during this time. So you will pay more fees than if you depart early or late."
Book Early
Jon also says that consumers hoping to save big should book early. Not just book their flights well in advance but also book in the morning. 
He states, "From my experience, most airlines typically release a limited number of coach-class inexpensive seats early in the morning or sometimes early in the afternoon. That implies that the earlier you shop, the more your chances of getting a better deal. When you book late, you will probably find only the leftover expensive seats."
His favorite websites to use are Alternative Airlines and United Airlines, both of which specifically feature Black Friday deals.
More From GOBankingRates
Make Your Money Work for You