The Best Free and Fun Ways To Hang With Your Kids During National Family Fun Month

7 min Read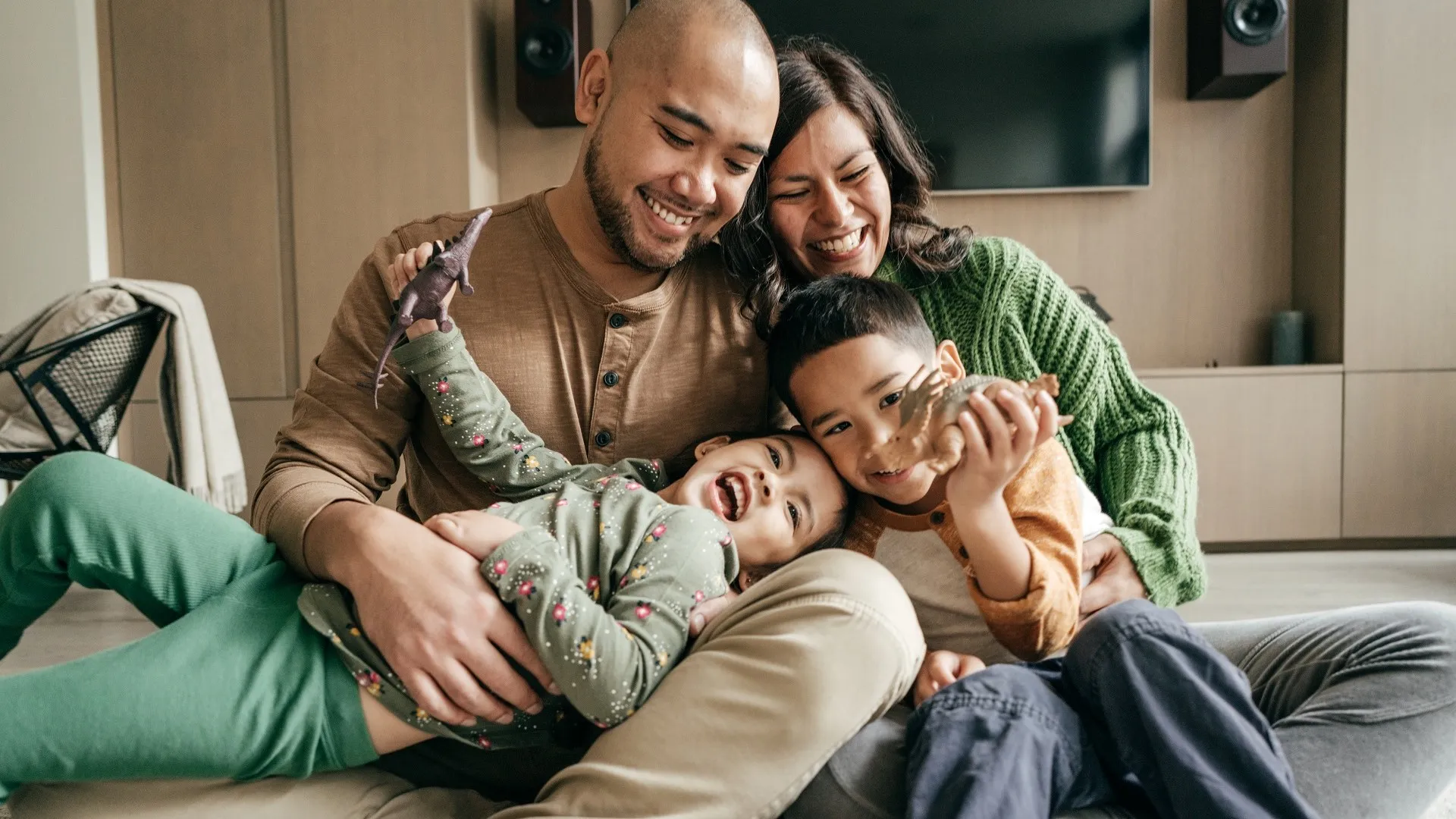 If you and your family are constantly having fun together, you may need to take things up a notch in August, because it's National Family Fun Month! Yes, this holiday of undetermined origins is happening right now, and while there is no shortage of ways to celebrate it by spending money, you needn't spend a dime to have a joyous bonding experience with your kids.
Defined: What It Means To Live a Truly Rich Life and How To Achieve It
Important: 6 Ways To Start Building Generational Wealth for Your Family
You've probably already thought of (or tried) the more obvious ways to have fun as a family at no cost — things like camping, hiking, going to a museum and having a picnic are all activities that quickly come to mind. But there's plenty more that you can do to create lasting memories (and immediate fun) with your family. All without having to open your wallet or fill up your car with pricey gasoline.
Here's a look at 10 free and fun ways you can celebrate your family this month.
Last updated: Aug. 2, 2021
Make Your Money Work for You
1. Hold a Family Olympics 
The Olympics are here, but you don't need to travel to Tokyo to get in on the games.  
"One of the most fun and memorable things my family's done for free is hold a family Olympics," said Joni Gonzales, founder of Life Unflaked.  "About a week ahead, each parent and child (with help if necessary) plans two to three events for the family to compete in. In the past, our events have included: archery (using a junior bow and arrow set), ping pong, Wii basketball, code-breaking, campfire-building, rock-skipping at a nearby lake, paper-airplane-flying, video game competitions, Lego-tower-building, paper-cup-stacking and, of course, an obstacle course.
"In the week leading up to the event, we take old t-shirts to turn into our competition apparel," Gonzales continued. "We have an opening ceremony with a banner taped together from printer paper and a homemade torch carried by Dad and I buy cheap medals from the dollar store for the ending ceremony."
Check Out: The Wealthiest Olympians of All Time
2. Go Bowling at Home
Traditionally we go bowling at bowling alleys, but why not DIY your very own bowling alley at home for free? 
"You don't have to purchase any special bowling equipment," said Jessica Robinson, a content and outreach manager at The Speaking Polymath. "You just have to get some waste bottles or cans, place them at the place where you want to play and try to hit them with a ball. The one who hits the maximum number of balls wins the game."
Ideas: Fun Money Games To Try If You're Struggling With Saving
3. Start a Vegetable Garden
Starting a vegetable garden is not only cost-efficient and sustainable, it can be a fun and free family activity, and you don't need a sprawling backyard to DIY it.  
"Seeds can be found in most items you already have in your kitchen," said Jessica Woods, founder and editor of Chickens+You. "Want to create a succulents feature? Take a walk around your area! Most succulents can grow from the smallest off-cuts."
Try It: How To Start a Vegetable Garden on a Budget and Save on Groceries
Make Your Money Work for You
4. Make an 'I'm Bored' Jar
Any parent with a verbal child has heard that pitiful wail: "I'm bored!" Rather than telling them what to do to keep themselves occupied, help them get constructive (and hopefully, distracted).
"With your child, come up with 10-20 fun things [they] love to do,"  said a spokesperson for ​​KinderCare Education. "Write them on scraps of paper, fold them up and put them into a jar. Next time they say, 'I'm bored,' have them take out a slip of paper."
If possible, drop what you're doing and engage in the anti-boredom activity with them.
Not Always Bad: Why These 'Boring' Cars Are Great for Your Wallet
5. Turn a Nature Walk Into an Adventure
One of the more obvious ways to enjoy free fun time with your family is to get outdoors, and if possible, take a hike or go on a nature walk. This tip in itself isn't terribly helpful, because how do you make the walk itself fun? 
Lanie van der Horst, founder of the blog Make More Adventures, was looking for free family fun when locked down in quarantine with her kids. She found the best way to engage her young children on nature walks was to make the walk an adventure while journeying across rocky terrain and uneven paths.
Find Out: How Much It Costs To Do a Kid-Friendly Backyard Upgrade
6.  Try 'Geocaching'
"The world's largest scavenger hunt is totally free for you to take your family along and have a fun day out," said Brandon Walsh, CEO at Dadsagree. "All you need is a working phone and a GPS device. The goal of the game is to find hidden caches using the GPS device. It eliminates the need to spend extra money while also entailing a sense of adventure that a picnic or hiking can not match. So look out for any Geocaching event near you and register your family for an unforgettable scavenger hunt."
To learn more about Geocaching, click here.
While You're Out: 11 Restaurants Where Kids Eat Free
Make Your Money Work for You
7. Host a Family Slumber Party 
Traditionally a slumber party consists of kids visiting from other homes, but with uncertainty around the Delta variant, and new COVID cases emerging, having people over in an enclosed space may not be the best idea. 
So, you'll just have to throw a slumber party with your own family as the guests. 
"Put the sleeping bags on the floor and enjoy your day," said Mo Mulla of Parentalquestions. "This can be an amazing opportunity for you to bond with your children without spending money."
See: Top Financial Habits Parents Can Pass Along to Their Kids
8. Go on a Scavenger Hunt 
"Come up with a list of natural objects you're bound to find in your local area, like acorns, different types of leaves and pinecones," said Pareen Sehat, a registered clinical counselor. "Divide the list among all family members, choose a target number and set out to find the objects, with the one who finds all their objects first declared the winner. This is a great way to spend some quality time together while interacting with the outside world."
Advice: Experts Weigh In on If You Should Give Kids an Allowance
9. Have a Water Fight
"Having a water fight is not just a great way for families to have fun together, it's an amazing way to beat the August heat," Sehat said. "Bring plenty of water pistols, balloons, buckets and hoses, and you're good to go. Split into teams and set a timer to see which team is the driest when the time's up. Having said that, try to set a limit to your water use so you don't waste a lot of water."
Summer Savings: Unplug These Appliances That Hike Up Your Electricity Bill
Make Your Money Work for You
10. Create a Unique Family Trademark Activity That Will Last Forever
"Every family is unique in their expression of love and how they spend their time," said Dr. Tasha Holland-Kornegay, Ph.D., LCMHC, a licensed professional counselor. "All family relationships are different, and families are encouraged to develop rituals or activities that they enjoy doing, which will become a trademark or the imprint of their family relationship."
What sort of trademark activity will you come up with for your family? It could really be anything from hiking or camping to cooking together or watching a movie. 
"The essence of maintaining these simple activities is valuing the sense of connection and assurance of stability from sharing laughter," said Holland-Kornegay. "They help create moments that become stories."
More From GOBankingRates
About the Author