Tips on Declining Rental Car Insurance With Your Credit Card (Even If You Don't Have a Car)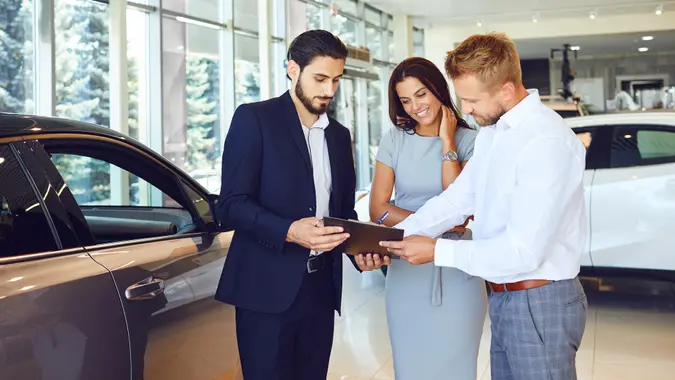 Lacheev / Getty Images/iStockphoto
When you rent a car, the rep will probably try to sell you extra coverage that people commonly refer to as rental insurance. It's not really insurance — every car in every rental fleet is already insured. What they're trying to sell you is a waiver that says they won't pursue you financially if the car is stolen or damaged. 
Find Out: How To Save Money on Rental Cars for Your Upcoming Trip
Related: Don't Let Car Repairs Break the Bank — Here's How To Cut Costs Now
Before you agree to this pricey upsell, check to see if your credit card includes rental insurance as a benefit. If so, you could get the same peace of mind for free — but make sure that you know exactly what your card's benefits do and don't deliver before you get to the rental counter. 
Make Your Money Work for You
The Right Card Can Let You Waive Pricey Protection
According to the Insurance Information Institute (III), your insurance policy on your own car will cover your rental in most cases with the same coverage and deductibles. Most insured drivers, therefore, can pass on the rental company's collision damage waiver (CDW), which is also commonly called a loss damage waiver (LDW).
If you don't have personal car insurance, you'll have to take the CDW — unless your credit card has you covered, that is.  
"Most credit cards that offer car rental perks have what's called a collision insurance waiver," said Jake Hill, CEO of personal finance site DebtHammer. "To get this, you have to decline the insurance the rental office offers you and put the full amount on that specific card."
David B. Shipper, a strategic advisor of retail banking and payments for the Aite-Novarica Group, spent nearly 20 years managing credit card programs and now conducts related research. A credit card with rental coverage can help you "save quite a bit since coverage from the rental company can cost $10 or more per day," he said. "All cards are different, but this benefit usually pays to replace or repair the vehicle and related fees, such as towing and 'loss of use' charges." 
Make Your Money Work for You
There Are a Few Exceptions You'll Want to Keep in Mind
Like Hill, Shipper stressed that it's critical to pay for the entire rental amount with the covered card when you decline the rental company's CDW — and he also pointed out a few cases where coverage might not be guaranteed.
"The coverage is automatic, but there are exceptions to keep in mind," Shipper said. "There is typically a maximum dollar amount of coverage, and certain vehicles, such as moving trucks or luxury vehicles, may not be covered. The feature may not cover other losses, such as medical expenses, property damage, or damage to another vehicle. Finally, there are generally coverage exceptions if the driver is intoxicated or reckless when the damage occurs, but that should be no surprise."
Primary vs. Secondary Coverage
The most important variable is whether your card provides primary or secondary coverage. Primary coverage bypasses your personal policy and pays the claim directly. Secondary coverage, which is much more common, reimburses you for anything your personal car insurance doesn't cover. 
"With primary coverage, you file any eligible claims directly with your credit card company," said Phil Dengler, co-owner of The Vacationer, a resource for travel-focused credit cards. "With secondary coverage, you file first with your personal auto insurance policy. Anything not covered by your personal policy, such as your deductible, would then be covered by your card's secondary policy."
Make Your Money Work for You
Expect All Kinds of Variances in Coverage
If you do rely on your credit card, you should expect there to be gaps in coverage. 
"It's important for consumers to realize that a credit card issuer's rental coverage is a lot different than what you'd get from an insurance company," said R.J. Weiss, CFP and founder of the personal finance site The Ways to Wealth. "The biggest difference is the scope in coverage. Most credit card rental coverage covers you against damage only to the vehicle you're renting. It doesn't cover damage to other vehicles. So, if someone was at fault for an accident and there was damage to another vehicle, they could be responsible for paying for the repair of another vehicle. In most cases, rental car coverage from a credit card company doesn't include liability insurance, either.
Understand That You'll Be Dealing With Your Lender, Not Your Insurer
If you do have an accident or some other problem, don't expect your experience with your credit card company to be the same as it would have been with your insurer.
"One thing to be aware of with the credit card's insurance policy is that it's between you and the credit card company, not the rental company," said Nate Tsang, founder and CEO WallStreetZen. "What that means is that if there's a damage claim, the rental car company will simply charge the amount to your credit card. Then it's up to you to make the claim with them."
That process can look a whole lot different from person to person and card to card. 
"As with a lot of insurance-related expenses, experiences vary greatly," Tsang said. "For some people, it's a smooth process to have the charge reimbursed through insurance. For others, it's a long, drawn-out process."
In the end, the simplicity and peace of mind that you're offered at the rental counter might be worth paying for.
"While the rental car company's policy may be pricey, it also provides an easier avenue toward reimbursement in case of damage," Tsang said.
More From GOBankingRates
Last updated: Sept. 30, 2021 
Make Your Money Work for You