Tips for Saving Money on Your Museum Visit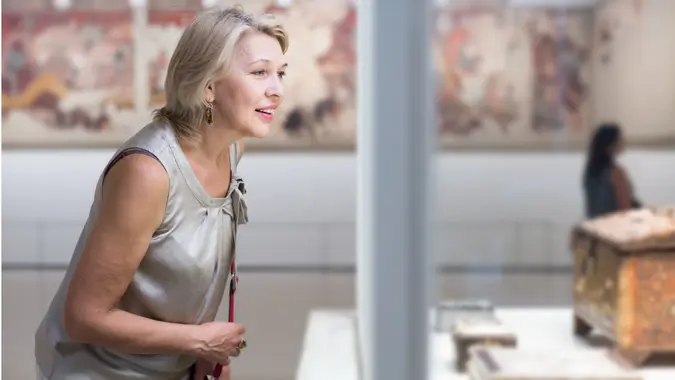 Summer 2021 is fast approaching and people are looking to get out and do things, and museums are the perfect outing. But museum tickets can be expensive — especially if you have an entire family in tow. And if you plan to visit a museum more than once, you can spend a small fortune.
Don't Miss: It's Not Too Late To Nominate Your Favorite Small Business To Be Featured on GOBankingRates — Extended to June 5
But there are ways to save. If you plan on visiting more than once, consider the price of an annual membership versus paying for separate general admission tickets for your family. You may find that it's cheaper. Additionally, some museums offer a discount if you buy tickets for nonpeak times. Here's some admission and membership information for several popular museums you may want to make part of your summer travel plans.
The Mob Museum, Las Vegas
The Mob Museum's exhibits, artifacts and interactive displays are dedicated to the power struggle between the mob and law enforcement beginning in the late 19th century through present day.
If you are not a Nevada resident, ticket prices to the Mob Museum are as follows:
$29.95 for an all-day general admission ticket that allows you entry to all exhibits
$41.95 for a Deluxe Pass, which offers all-day entry to all exhibits and one interactive experience
$48.95 for a Premier Pass, which offers all-day entry to exhibits, plus two interactive experiences
Make Your Money Work for You
Admission for law enforcement and military personnel is a bit cheaper at $27.95. Admission for students, ages 11-17 is $16.95 and admission for children 10 and under is free.
See: 20 Businesses With the Best Military Discounts
Also with this museum, you can save $10 if you visit after 5 p.m. on Sunday-Friday or before 11 a.m. on Saturday by adding the "Happy Hour Discount" to your cart when purchasing tickets. This offer is only good for people who are not residents of Nevada.
If you are a resident of Nevada, ticket prices are $16.95 general admission, $28.95 for the Deluxe Pass and $35.95 for the Premier Pass. However, if you plan to visit more than once and have children over 10, you can likely save money with a Basic Membership, which gives you free admission for a year, plus discounts on parking and special exhibits. Prices are $55 for Individual or $75 for Dual. But the best deal is $95 for Family, which includes membership benefits for two adults and four children; children 10 and under are free.
The Metropolitan Museum of Art, New York
The Met, which houses 5,000 years of art from all over the world, has two locations: The Met Fifth Avenue and the Met Cloisters. Prices for general admission tickets to the Metropolitan Museum of Art are as follows:
$25 for adults
$17 for seniors
$12 for students
Free for members, patrons and children
Check Out: 15 Unexpected Places To Score Senior Discounts
Make Your Money Work for You
New York State residents and New York, New Jersey and Connecticut students can save by making a reservation online and then paying what they wish at the admissions desk on the day of the reservation. All that's needed is a valid ID.
If you plan to visit the museum more than once as a family, and you have children, you may also be able to save by purchasing the museum's "Member With Early Views" membership for $110 annually, which allows free admission for one member, one guest and children under 18, plus dining, store and parking discounts.
The National World War II Museum, New Orleans
The National World War II Museum features exhibits, multimedia presentations, artifacts and first-person oral histories to illustrate the Second World War.
General admission to the museum is priced as follows:
Adult: $28.50
Senior (65+): $24.50
Military: $18
College Student (with ID): $18
Child (K-12 grade): $18
Child (under 5): Free
WWII Veteran: Free
At the time of purchase, if you want to buy a second-day pass, you can purchase one for $7. The catch is that you have to use it within seven days.
Make Your Money Work for You
Discover: 50 Ways To Live the Big Life on a Small Budget
If your plans include visiting the museum more than twice, you may be able to save by purchasing a membership. You can buy a Friend membership for $50, which is good for free individual admission for one year. The museum also offers a Friend Plus One membership for $90 and a Family membership for two adults and up to four children under age 18 for $160. And with a valid teacher ID or a student ID, you can get free membership for a year for $35.
More From GOBankingRates
Last updated: June 1, 2021
Make Your Money Work for You