Travel Cost Comparison: Time Share vs. Traditional Vacation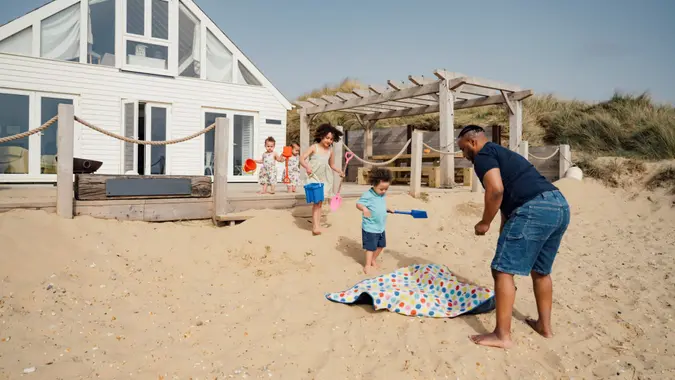 JohnnyGreig / Getty Images
Now that travel is back on the table, people are once again getting used to the idea of annual vacations as a regular thing. Many people have become more cost-conscious lately, however, especially with the current state of the economy. And unfortunately, everything seems to be increasing in price, including hotel accommodations.
Explore: GOBankingRates' Best Credit Cards for 2023
Find: How To Get Free Gift Cards From Your Everyday Purchases
Take Our Poll: Are You In Favor of More Inflation Relief in 2023?
If you've ever thought about buying a timeshare as a way to make your vacation costs more predictable, you're not alone. According to the American Resort Development Association, 9.9 million households have done more than just think about it as an option — they actually have taken steps to gain a stake in the industry.
To help you decide whether a timeshare is a right move for you, here are the typical costs involved and how they compare to a traditional vacation at a resort hotel.
Make Your Money Work for You
How Does a Timeshare Work?
"A timeshare is the shared ownership (or contractual right to use) of leisure real estate where purchasers acquire a specific period of time of annual use (often one week) in a condominium or other type of vacation accommodation," said said Sarah Conroy, senior director of marketing and communications with the American Resort Development Association.
"The time does not have to be for the same week every year or even the same type of accommodation," she added.
How Much Should You Expect To Spend on a Timeshare?
There are some upfront and ongoing costs with a timeshare. Here's an example.
"The typical upfront investment in 2021 was $24,140 per weekly interval in a two-bedroom unit (with full kitchen, washer and dryer, and living room)," said Conroy. "The average annual maintenance fee per weekly interval in a 2-bedroom unit in 2021 was $1,120."
What Other Costs Might You Incur With a Timeshare?
"Generally speaking, after the initial purchase price of the timeshare itself, the only required annual costs are the maintenance fees which go towards the maintenance and repair of the common areas of the resorts, including all of the furnishings in the units and throughout the resort, housekeeping and cleaning of the rooms and resort, and amenities such as pools, game rooms, sport courts, etc.," said Conroy.
Make Your Money Work for You
"As a point of reference, at the end of 2021, only 20.5% of all timeshare owners had an outstanding loan associated with their timeshare purchase. Oftentimes, parking is free at a timeshare resort and rarely are owners charged resort fees for Wi-Fi or use of the amenities as that is covered as part of the maintenance fee."
Timeshare vs. Resort Hotel: Which Is Cheaper?
A major difference between a timeshare and a resort hotel is that you must pay thousands of dollars to gain ownership in the timeshare upfront before you can ever begin using it, whereas that particular cost is nonexistent with a resort hotel vacation. But what about beyond that? Which of these accommodations is cheaper?
"While hotel rates have been shown to gradually increase over time, the surge in travel paired with inflation is causing a sharp increase in daily rental rates," said Conroy. "ARDA encourages value-focused vacationers to consider the financial advantages of timeshare ownership, such as the protection it offers from economic pressures that affect these rates, including inflation."
She continued, "The average daily rates charged by hotels varies based on demand; however, the purchase price of a two-bedroom timeshare unit has remained relatively consistent over the past five years. These ever-changing average daily rates combined with fees and taxes — typically $25+ for resort fees per day and state, local, and other taxes easily exceeding 10% of the daily rental rate — makes the costs of timeshare ownership more consistent and affordable, giving families the ability to plan their vacation spending with confidence."
Make Your Money Work for You
Conroy went on, "Over five years ending in 2021, the annual maintenance fee paid by timeshare owners only rose 15% compared to a 24% increase in the cost of a seven-night resort hotel stay before fees and taxes. From May 22, 2022, to July 22, 2022 — a span of just three months — a seven-night hotel stay in a one-bedroom resort hotel unit (one that does not include a kitchen or separate living area) rose from $1,569 to $1,720."
She concluded, "This does not include whatever savings an owner might have by utilizing the full kitchen in their [timeshare] unit to eat full meals or snacks versus having to dine out for every meal."
Clearly, it's not a simple answer as to which is cheaper, but if your wants and needs fit the use of a timeshare, it could definitely lead to savings in the long run.
More From GOBankingRates
Make Your Money Work for You