8 Ways To Travel Rich on Any Budget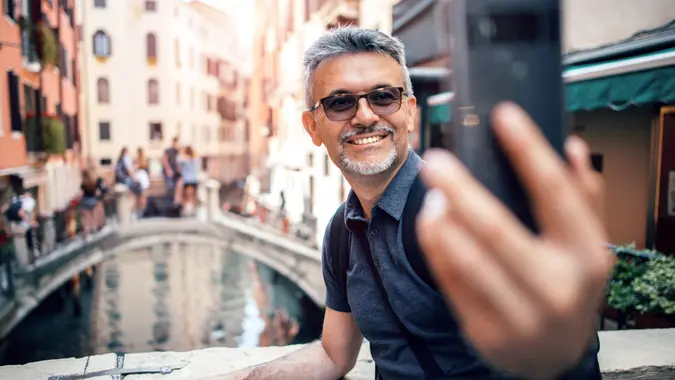 dardespot / Getty Images
You want to take a vacation and live large, but you don't want to feel remorse when you come home and see your bank account. There are definitely ways you can live the good life when you travel without spending thousands of dollars. You can even travel internationally and still stay on a budget — without feeling cheap.
Take a Look: 7 Best Side Gigs To Earn an Extra $1,000 a Month
More: 13 Best Items To Buy in Bulk at Sam's Club This Summer
Here are some tips and tricks to feel rich while you travel without actually spending a ton of money.
Go in the Off Season
If you avoid the peak season for your destination, you'll save on everything from airfare to lodging. In fact, some places will cost 70% less if you stay in them during the off season. This means you can look for large homes and mansions to give you that elevated feel without paying the premium price. Picking a month to travel outside of tourist season also gives you more money to splurge on fancy dinners while you're away. 
Make Your Money Work for You
Skip the Tourist Traps
Attractions filled with tourists are also filled with ways to drop a lot of money. Often, food and drink costs more, and any tickets will also be expensive, since vendors know people travel from all around and are willing to spend a lot. Try to pass up anything that's too filled with tourists and opt for spots off the beaten path. If there is a tourist attraction you'd really like to visit, try to go on a weekday or at a time where the price of admission might be lower than during prime visiting hours. 
POLL: Have Gas Prices Affected Your Driving Habits?
Split Costs
Planning to go to a hot vacation spot? It probably won't be hard to convince a few friends to join, especially if you go in knowing you'll divide travel expenses. This way, you can opt for a huge place to stay, and with the price split, still be paying less than you would be in an upscale hotel. 
Be Your Own Bartender
Once you've landed a great spot to stay at, stock it with your favorite drinks. You can get top shelf liquor and it would probably still cost you less than the marked up prices at bars. Drinks can sometimes get up to $30 a piece depending where you stay. For that price, you can have multiple drinks at your beach house you rented. 
Make Your Money Work for You
Fly in Style
First class is most likely out of the budget–but that doesn't mean you can't have a first class experience. JSX offers a luxurious flying experience for coach prices. JSX offers an expedited check-in process, without going through any commercial airline terminals. They say all you need is 20 minutes to get to the plane. Each seat comes with business class legroom, and you get a complimentary cocktail and snack when you board. Right now, JSX only flies within the United States, but they fly to hot destinations like Los Angeles, Miami, Las Vegas and Austin.
Go To Countries Where the Dollar Is Worth More
Truly stretch your dollar by visiting a destination where the dollar is worth more than it is in the United States. For example, in Portugal, a pint of beer will cost you around $3 and an inexpensive meal will cost you around $9. Peru is another place where the dollar goes far. You can get a three course meal for two people at a mid-range restaurant for around $20, and taxis start at about $1.33 a mile.
Make Your Money Work for You
Use a Travel Rewards Credit Card
If you're serious about taking a luxurious vacation, apply for a credit card with great travel rewards or airline rewards. For example, the Chase Sapphire Preferred Card gets you two times the amount of points you'd normally receive on travel purchases. You also get five times the points on travel purchased through Chase Ultimate Rewards. The Platinum Card from American Express gets you five times the points on any airfare you book, and complimentary elite status with Hilton and Marriott. Shop around to see which card will best fit your needs and get you the best deals on the travel you're looking to book.
Avoid Group Tours
It might be tempting to pay for a group tour led by a guide because you'll think an expert is showing you around. However, these can be costly and crowded. Instead, try to plan out your own excursions with your group. Each of you can take responsibility for planning one part of the day. That way, everyone has a stake in what's happening daily, and it costs less than paying a guide. 
More From GOBankingRates
Make Your Money Work for You