7 US Cities Where You Can Still Take the Entire Family on Vacation for Cheap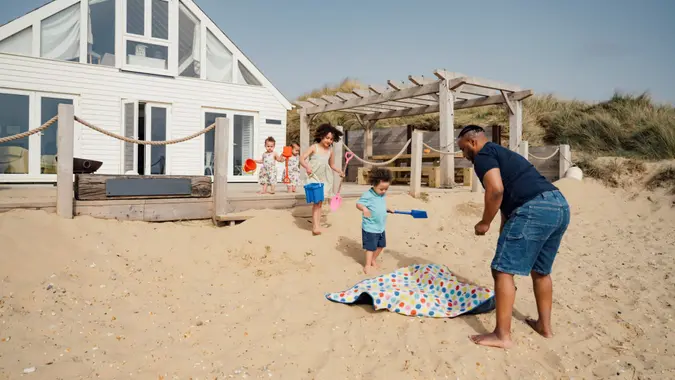 JohnnyGreig / Getty Images
Vacations can be expensive — especially when you bring the whole family along.
If you're starting to plan trips for 2024 but are feeling frustrated at the prices in front of you, it might be time to consider different destinations.
7 U.S. Cities For an Affordable Family Vacation
Gulf Coast (Florida or Alabama)
Visiting the Gulf Coast sections of Florida or Alabama offers several benefits, said Philip Ballard, chief communications officer and head of investor relations at HotelPlanner. This includes beautiful beaches, prices generally around one-third less than other beach areas, delicious fresh seafood and plenty to see and do.
"You can road trip all the way from New Orleans, Biloxi, Mobile, to Destin and Pensacola, or pick a beach town like Gulf Shores or Panama City Beach and enjoy an affordable and family-friendly vacation that won't break the bank," he said.
Syracuse, New York
"If visiting New York City's Broadway is too pricy for the family, take your theatre-loving kids up to Syracuse, New York and see some shows at the iconic Landmark Theater, Syracuse State or Palace Theater, not to mention Syracuse University's stellar theater program," Ballard said.
Clearly, he said Syracuse is a theater town.
"The quality of performances is on par with Off-Broadway in New York City, with much less expensive tickets, hotels and restaurants," he said. "While you're there, tour Syracuse University and attend a sporting event or two."
Make Your Money Work for You
Lancaster, Pennsylvania and Hershey Park
Something for everyone, Ballard suggested visiting the Amish in Lancaster, Pennsylvania, then heading over to Hershey Park.
"This road trip is a rite-of-passage for many families living in the Northeast or Midwest, who are close enough to take the family to see the Amish community, tour the Hershey chocolate factory and go on all the rides at Hershey Park, all in one weekend," he said. "This is a less expensive trip than Orlando and includes some of the same combinations of educational, cultural, historical immersion, entertainment and adventure."
Salt Lake City, Utah
"If you're looking to visit some national parks, Salt Lake City in Utah is a great place to start with," said Mercedes Zach, a travel expert at ASAPtickets, part of Trevolution Group. "Zion, Arches, Canyonlands, Capitol Reef, Bryce Canyon or Antelope Island State Park are just some of the many options around there that any nature lover will appreciate."
Home to the 2002 Winter Olympics, she said admission to Utah Olympic park is free, which features preserved Olympic venues and two public museums.
"Other activities that don't require a lot of money include visiting the Utah State Capitol building and the Utah Museum of Fine Arts," she said. "And if cultural events are something you enjoy just as much as nature, don't miss out on the many outdoor concerts in Temple Square."
San Antonio, Texas
The second-largest city in Texas, Zach said San Antonio is full of history, Mexican culture, amazing food and outdoor fun — with plenty of budget-friendly options.
"Visit the popular Alamo Catholic mission, stroll along the popular River Walk, wander around the Pearl District, take a safari drive at Natural Wildlife Ranch, explore Natural Bridge Caverns or have a picnic at Brackenridge Park to get the most out of this wonderful city before hitting the road again," she said. "And if you need a little break from the big city life, I suggest taking a quick day trip to Krause Springs, about an hour and a half drive from San Antonio."
Make Your Money Work for You
Washington, D.C.
While it might not be the cheapest place to visit in terms of accommodations or dining out, Zach said Washington, D.C. offers a ton of free activities.
"You can get around a lot of Washington D.C. on foot to visit such landmarks as the Library of Congress, the U.S. Capitol, the White House, the Old Post Office Pavilion, Freedom Plaza, the Supreme Court or the Smithsonian Museums — perhaps the most famous museums in the United States, if not the whole world," she said. "Georgetown is another popular area with a historical flavor in D.C. to explore, while looking at the colorful homes and cobblestone streets."
St. Thomas
Located in the U.S. Virgin Islands, Zach said St. Thomas is one of the most popular destinations for travelers seeking an exotic Caribbean destination, without needing a passport.
"It's an excellent place for all-year-round summery weather, sunny beaches, tropical forests [and] picturesque mountains, as well as shopping, dining and lots of entertainment," she said. One of the main places I would suggest visiting there is the Virgin Islands National Park, that welcomes over a million visitors each year, making it the single largest tourist attraction in the entire archipelago."
Whether you're looking for relaxation or entertainment, she said you'll find it here.
"The capital of the U.S. Virgin Islands, Charlotte Amalie, is one of the most popular cruise ports in the Caribbean, with beaches for swimming and snorkeling making it an excellent vacation spot worth adding to your bucket list," she said. "And don't miss out on Coral World Ocean Park that will offer fun interactive marine experience for travelers of all ages."
Most Affordable 2024 Destinations by Flight Cost
Curious about how much flights will cost to some of most popular cities in the U.S. next year? Brett Keller, CEO at Priceline, shared data from the company projecting the most economical U.S. destinations by flight.
Chicago, Illinois: $252
Denver, Colorado: $263
New York City, New York: $276
Orlando, Florida: $282
Fort Myers, Florida: $283
Tampa, Florida: $286
Atlanta, Georgia: $305
Boston, Massachusetts: $306
Washington, D.C.: $309
Los Angeles, California: $313
Houston, Texas: $313
Nashville, Tennessee: $320
Las Vegas, Nevada: $322
Phoenix, Arizona: $328
New Orleans, Louisiana: $334
Most Affordable 2024 Destinations by Hotel Cost
Accommodations can make or break your vacation budget. Keller also shared Priceline data highlighting the cities expected to have the lowest hotel rates next year. Here's a look at expected average rates per night.
Bridgeview, Illinois: $68
Winston Salem, North Carolina: $131
Gatlinburg, Tennessee: $134
Kissimmee, Florida: $134
Tuscon, Arizona: $138
Oklahoma City, Oklahoma: $148
Pigeon Forge, Tennessee: $150
Miami Springs, Florida: $155
Bloomington, Minnesota: $166
Las Vegas, Nevada: $169
Jacksonville, Florida: $169
Denver, Colorado: $171
Sedona, Arizona: $172
Atlantic City, New Jersey: $172
Myrtle Beach, South Carolina: $176
Ultimately, family vacations are a time to bond and make precious memories together. Choose a destination you can afford, so you can enjoy yourself, instead of stressing about the price of the trip.
Heading a bit off the beaten path can allow you to enjoy a more unique destination, while simultaneously saving money. Essentially a double win, you'll come home with different vacation stories than your friends and without a mountain of debt.
More From GOBankingRates