Vacation Season: 10 Essentials You Should Buy at Dollar Tree for Your Next Trip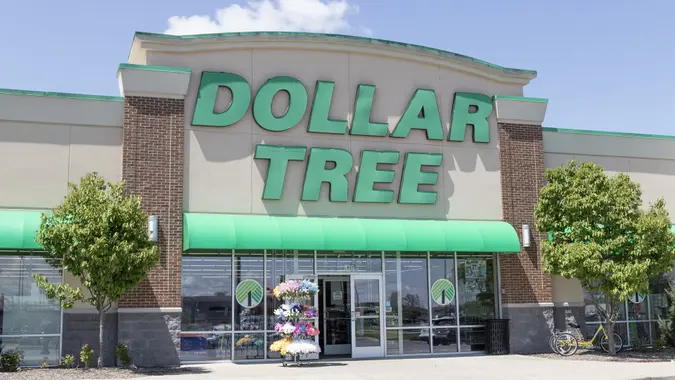 jetcityimage / iStock.com
When you're traveling, it pays to take advantage of hotel freebies like soap, shampoo and lotions. But there are still essential items you'll need to pack, whether for the drive or flight, or to use when you reach your destination.
You can stretch your vacation budget by purchasing common travel items at dollar stores. With the first day of summer upon us, we rounded up some of the best bargains at Dollar Tree for your vacation.
Plastic Travel Toothbrush Cases
You want to protect your toothbrush when you travel. Dollar Tree offers an affordable way to do so with these simple plastic cases. They come in packs of two with your choice of blue and white or red and white — each pair of cases is just $1.25.
Kleenex Tissues
Whether you're in the car, at a theme park or at the beach, you might find yourself in need of tissues. We love these mini three-packs in fun colors and designs for just $1.25.
Colorful Plastic Water Bottles with Flip Top Lids
If you're spending a day at the beach or a theme park, carrying your own water bottle and filling it from water fountains can save big money. Plus, drinking fresh water is healthier than the sugary soft drinks or iced tea you might pay $5 or more for at tourist destinations. You won't be able to resist taking a sip from these colorful bottles in your choice of green, pink, gray or blue for $1.25 each.
Make Your Money Work for You
Barbasol Shaving Cream
Don't pack that large can of shaving cream when you can grab this mini 5 oz. for $1.25 that will fit perfectly in your toiletries bag and leave plenty of room on the hotel sink for other necessities.
Portable Sewing Kit
If your summer travel includes weddings or other formal affairs, you'll want to pack a sewing kit in case of rips, tears or snags. Wherever you go, you never know when you'll need to do some quick repairs on the road.
Travel Novelty Luggage Tags
These travel novelty luggage tags in your choice of a pineapple cocktail glass, old-fashioned bus or coffee cup are too cute to resist for just $1.25. Give your suitcases some personality — and make them easier to spot on the luggage carousel — with tags for everyone in your family.
Bic Silky Touch Disposable Razors
You may not want to pack your expensive razor in case you forget it in the hotel room. Grab a two-pack of Bic Silky Touch Disposable razors and leave one in your travel bag so you always have a razor before you hit the beach, water park or hotel pool.
Clear Plastic Travel Bottles
If you're particular about your shampoo, conditioner or lotion, these TSA-approved clear plastic bottles make it easy to bring your favorite brands wherever you go. Holding 2.7 ounces of liquid, cream or gel, they're perfect for your carry-on bag when you're traveling light.
Kids Sterile Bandages
Accidents happen. Stock up on these adorable kids' bandages. At just $1.25 for a box of 20, you can buy one for the car, one for your bag and another for each suitcase. Just in case.
Make Your Money Work for You
Thera Plus Antibacterial Wipes
The pandemic might be over, but most people have maintained some healthy habits from those traumatic years. People rarely travel without antibacterial wipes anymore. Great for clean-up after that truck stop fried chicken or to wash your hands when the rest stop facilities are less than clean, these Thera Plus Antibacterial Wipes have aloe and Vitamin-E to keep your hands smooth as well as clean.
Before you hit the road or the skies, remember to hit up Dollar Tree for your favorite travel essentials.
More From GOBankingRates
Note: Prices above were researched on June 21, 2023 and may vary by location.