6 Ways To Fly Economy and Check All Your Bags for Free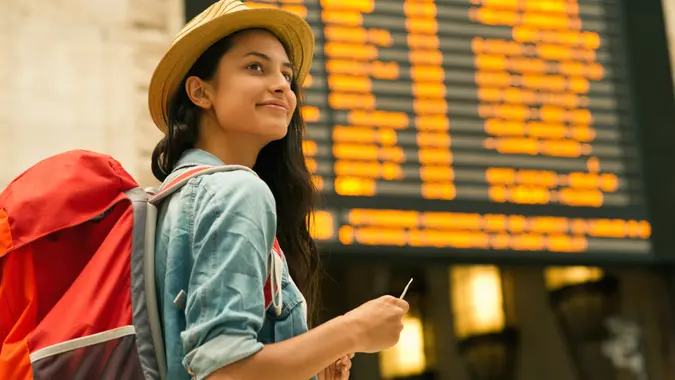 MStudioImages / Getty Images
Remember the days when you could fly and not pay for checked bags?
American Airlines was the first airline to announce it would charge $15 for checked bags back in 2008, and it wasn't long before other major airlines followed suit.
Luckily, there are a few ways to get free checked bags even if you fly economy. Here are some examples.
Choose Premium Economy
Many people believe you have fly first class to get free checked bags, but that's not true on every airline. American Airlines allows two free checked bags if you choose to fly in premium economy. United Airlines and Delta also allow two free checked bags for premium economy flyers.
While basic economy might be less expensive than premium economy, it's worth it to calculate your checked baggage cost. It's possible it's more cost-effective to purchase a premium economy ticket and get two free checked bags, which is why it always pays to do the math when making your travel plans.
Fly International
Many airlines waive checked bag fees if you fly internationally, although American Airlines just announced they will now charge $75 for a checked bag on international flights when you book a basic economy ticket.
On many other major airlines, you will get at least one free checked bag when you book a long-haul, international flight. However, depending on the airline, it might be limited to specific destinations.
Make Your Money Work for You
That's why it's important to do your research when booking international flights to see what each airline charges. It's better to plan ahead than be surprised by expensive baggage fees when you get to the airport.
Open an Airline-Branded Credit Card 
Many airline credit cards offer free checked bags as a reward. Several different airlines, from American Airlines to Jet Blue to Delta, offer free checked bags for their cardholders and sometimes for their companions, too. 
The Delta SkyMiles Gold American Express Credit Card is especially generous as it offers the first checked bag free for you and up to eight companions traveling with you. This can save a significant amount of money on checked baggage fees if you're traveling with a large group.
Airline-branded credit cards have other perks too, such as generous sign-up bonuses, priority boarding and different status levels.
Remember that many airline credit cards have annual fees and required spending to receive certain perks. It's important to know what you're signing up for and what you should receive after getting one of these credit cards. [6]
Open a Travel Credit Card
If you don't want to open an airline-affiliated credit card, you can apply for a credit card with travel benefits. That way, you can shop around for the best flight prices without being restricted by a carrier. 
Many credit cards, like the Chase Sapphire Reserve and The Platinum Card from American Express, give airline fee credits to their cardholders. That means you can use those credits to pay for baggage fees.
Make Your Money Work for You
Typically, these credit cards come with terms, rates, and fees, so be sure to understand the requirements to get those credits before applying.
Become a Frequent Flyer
Many airlines reward their frequent flyers with several different travel perks. If you get elite status with an airline, you might get free upgrades, access to their upscale lounges, and more. Typically, once you reach elite status with an airline, you will also be allowed to check bags for free.
For example, on Delta and Alaska Airlines, all elite members get a free checked bag. On United, Premier Silver members get a free checked bag, and on American Airlines, AAdvantage Gold members and above get free checked bags. The good news is, as long as you have status with an airline, your companions traveling on the same reservation usually get to benefit from free checked bag perks as well.
Fly Southwest
If all else fails, choose Southwest. At present, Southwest is the only major airline in the United States that's committed to allowing its passengers to check their luggage for free. Every passenger, regardless of their status, gets two free checked bags. 
Final Thoughts
Last year, airlines in the U.S. made an astonishing $7 billion dollars from bag fees, and over $1 billion of that came from checked bags, according to the Bureau of Transportation Statistics.
However, you don't have to pay for your checked bags if you use the tips above. While it might require some upfront planning, there are several different ways to avoid that cost when you travel.
Make Your Money Work for You
More From GOBankingRates