What Are the Best and Worst Days To Book Holiday Travel?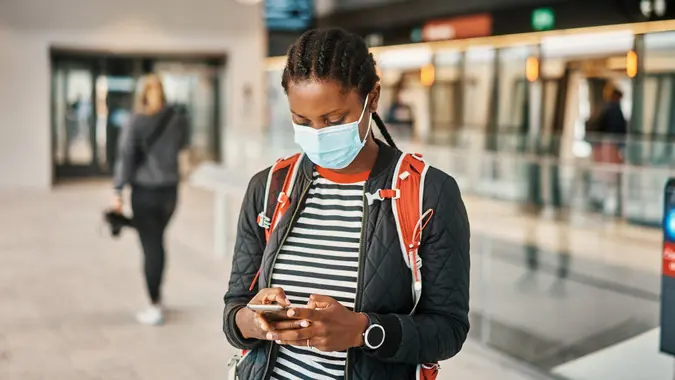 pixdeluxe / iStock.com
As we adjust to traveling in the ongoing reality of the pandemic, with its protocols and hassles, it can be daunting to find a good flight or hotel for a decent price.
With so many people still traveling, demand is high, which is driving up prices for flights and hotels, says Andrew Wasserman, communications and branding manager for Guesty. "Even amid COVID-19 and new variants such as Delta, we are seeing pent-up demand to travel which has resulted in consumers seeking out alternative options to traditional, crowded hotels…with less inventory and travelers booking stays further in advance, we are ultimately seeing higher prices."
Important: 13 Insider Secrets From Travel Agents That Will Save You Money
Don't Break the Bank: Cheap Places To Travel on $100 a Day or Less
He says that Thanksgiving reservation volume is up by 302% compared to 2020, and Christmas reservation volume is up 469% compared to 2020. "Christmas is set to be the most expensive holiday of 2021 in the US," Wasserman says.
Make Your Money Work for You
Still, it's possible to find affordable flights with a combination of savvy and timing. Here are some strategies that can help you pick the best days to book flights:
Travel Prep: 10 Financial To-Dos Before Going on a Trip
It's Not When You Book, It's When You Fly
When you book may have a lot less to do with your flights than when you fly, according to The Thrifty Traveler. Airfare actually changes quite often, but in general, she says that the cheapest days of the week to fly are Tuesdays, Wednesdays and Saturdays.
The best part is, if you book a flight and then realize it's not the best deal, or you find a cheaper flight, most flights booked in the U.S. can be cancelled for a full refund within 24 hours.
The Thrifty Traveler also recommends using Google Flights over any other booking search engine because it populates the cheapest and most up-to-date pricing you can find online, with customizable filters. Hopper.com also will alert you to price changes.
Check These Out: 10 Credit Cards To Consider for Travel Rewards
Make Your Money Work for You
Don't Book Too Close
Last minute trips happen, and sometimes they're the best vacations you ever have. But they are rarely the cheapest, unless you've found some kind of special or deal. The Thrifty Traveler recommends that you not book your flights 30 to 45 days prior to your flight, as these are often more expensive, and definitely not if these fall in holiday or peak travel windows. She recommends booking between two and six months prior to your trip.
A 2021 survey by Cheap Air found that the lowest prices on tickets appear when you book approximately 64 days before you intend to fly, but you may get "first dibs" prices on flights as far as six to 10 months in advance, though this can be too far out for many people to plan.
Think About This: Things You Can Get For Free in Every State
Make Your Money Work for You
International Flights
For international flights to Europe, Travel + Leisure states that 180 days out from your travel date will garner you the best flights, and the cheapest fares to Europe are usually available in November.
However, international travel poses other concerns you want to stay up to date on. "If you're traveling internationally, keep in mind that travel restrictions have been changing regularly so it's important to stay up to date on the entry requirements at your destinations," adds Steve Oliverez, CEO of Insanely Cheap Flights.
Whoa: Running Disneyland for Just One Day Costs an Insane Amount of Money
Holiday Flights
Holiday flights are sure to be the trickiest to book for a good deal. Anton Radchenko of Air Advisor says, "Traveling during the holidays in this COVID-19 pandemic can be stressful; we worry about the spread of the virus and the safety protocols anywhere we go. However, flying the day before Thanksgiving, Christmas and New year can be expensive because of last-minute booking; you cannot avoid heavy crowds during this time."
According to Cheap Air's 2021 Holiday Report, you should look to book your Thanksgiving flights in September and November, not August or October. For Christmas and New Year's flights, however, booking earlier is better, as demand may outrun supply.
If you can make it work, Cara Johnson, PR specialist for Kayak, recommends, "Fly on the holiday to save money. Flying on the day of the actual holiday is the cheapest option. Looking at the last two years of Thanksgiving travel, for example, travelers can save about $50 when flying on Thanksgiving day versus the day before. For Christmas, prices are typically lowest when flying on Christmas Eve."
For the holidays, there are some dates that are truly considered "too late" to book a good flight, according to Jonathan R. Smith, CEO of CamperGuide.com: Nov. 22 for Thanksgiving; Dec. 23 for Christmas, and Dec. 30 for New Year's.
Still Time: 7 Steps To Take for Financial Wellness in 2021
Remember We're Still in a Pandemic
"The realization that you shouldn't have thrown out your masks was one of the biggest burns of summer 2021," says Alec Pow, CEO at The Pricer. "Booking a trip that you later decide not to go on might be disappointing (not to mention a waste of time). Consider how the ever-changing safety requirements, as well as the possibility of increased case rates, can affect your desire to fly."
Watch Out: The Best and Worst Airlines for Cheap Flights
Be Sure You're Checking Cancellation Policies
If you have buyer's remorse about a too-expensive flight, Daniel Carter of Debt Advisor says,
"Change and cancellation policies are generally good these days, making it reasonably straightforward to book now and cancel later if things don't work out."
Many major airlines eliminated change costs from most prices indefinitely during the pandemic (basic economy is usually excluded). "That means you can usually change your flight without incurring any additional fees, except for a cost difference if you upgrade your ticket to a more expensive one," Carter says.
More From GOBankingRates
Last updated: Oct. 8, 2021
Make Your Money Work for You